This focaccia bread is so good, Carson had to make sure he got every last crumb from the counter.  No, he was not food deprived and yes, his mom does feed him…it's just that good and he didn't want to miss a bit. It a recipe Superbowl fans will get into also. A superbowl party is a fun excuse to pull out my family's all-time favorite recipes.  Many  are from Dave's mom who would serve a wonderful appetizer buffet every January.  Her recipe box is full of great ones like artichoke dip and spinach-cheese squares.  She was the inspiration for our tradition of appetizers for Superbowl Sunday. My spread has evolved to include focaccia bread.
This focaccia recipe is really one I designed long before I knew what focaccia bread was. I would make huge pans of it for the football team, wresting team, track team and any other occasion when my kids friends would magically appear whenever they heard there would be food at the Nyenhuis house. The first I remember serving it for a group was when my daughter Ashley had her 8th grade volleyball team over for a post-season celebration of pasta and bread.  I used my favorite bread dough and spread it out in pans. Rubbed it with garlic, butter and a hard cheese like Asiago, slipped the trays in the oven for 15 minutes and cut it into squares. The team loved it and it became a signature bread in our family.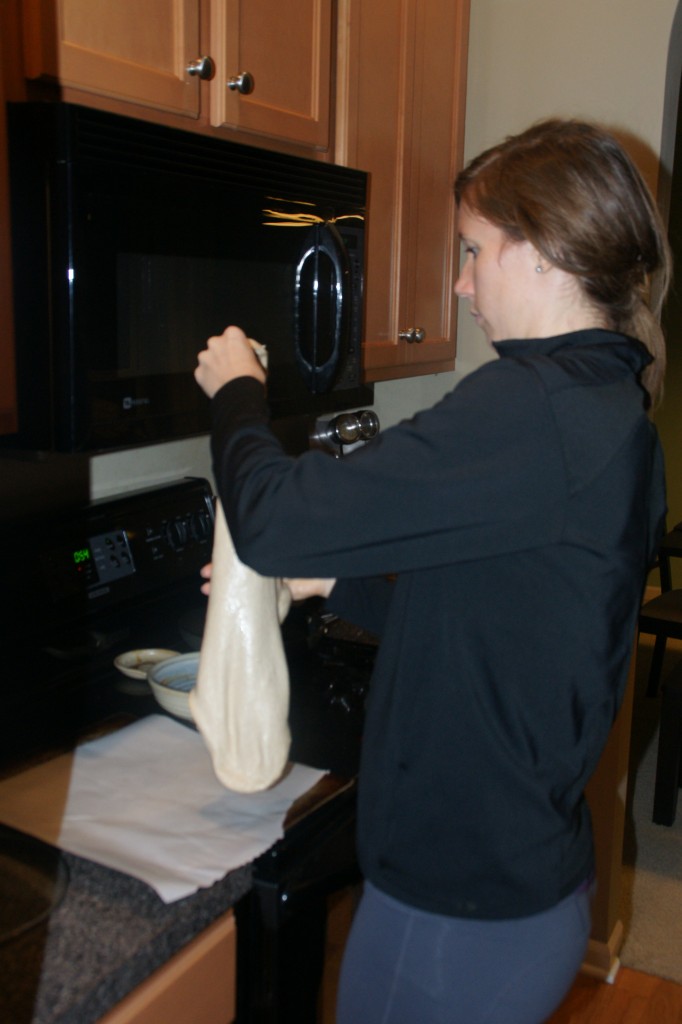 Ashley is stretching the dough with a gentle hand.  The dough has great aeration from the first rising period. A rolling pin used to flatten out the dough removes too much air. For a light, airy bread we use the Italian method of handling the dough with our bare hands.  Gently turning the dough over on itself after it comes out of the  food processor helps aerate the dough, replacing the air that the yeast consumes during fermentation and it stretches and redistributes the air bubbles.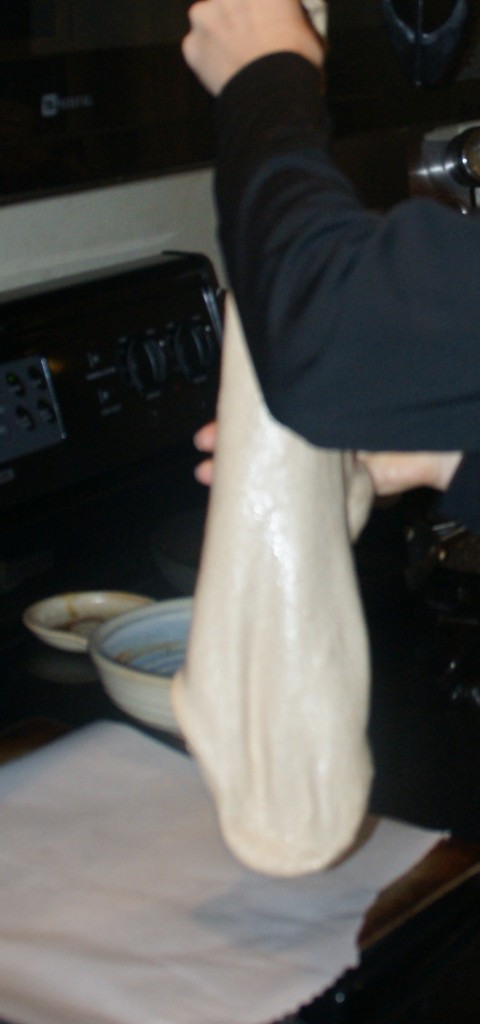 Gently stretching the dough to fit a baking pan after the first rising makes shaping the Focaccia Bread easy.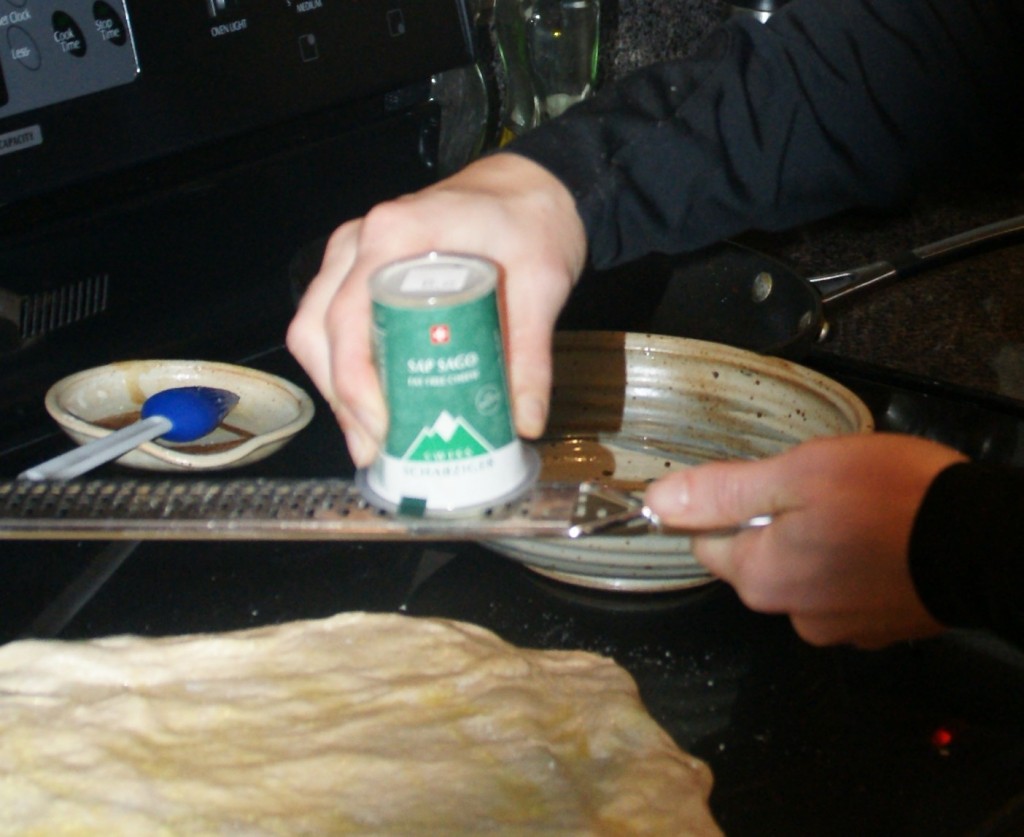 A special cheese I got at the Gibbsville Cheese Store is Sap Sago. It is a delicious hard cheese that comes in a container that is designed to turn upside down and grate. Other cheeses like Asiago or Parmigiana-Romano  can be used also.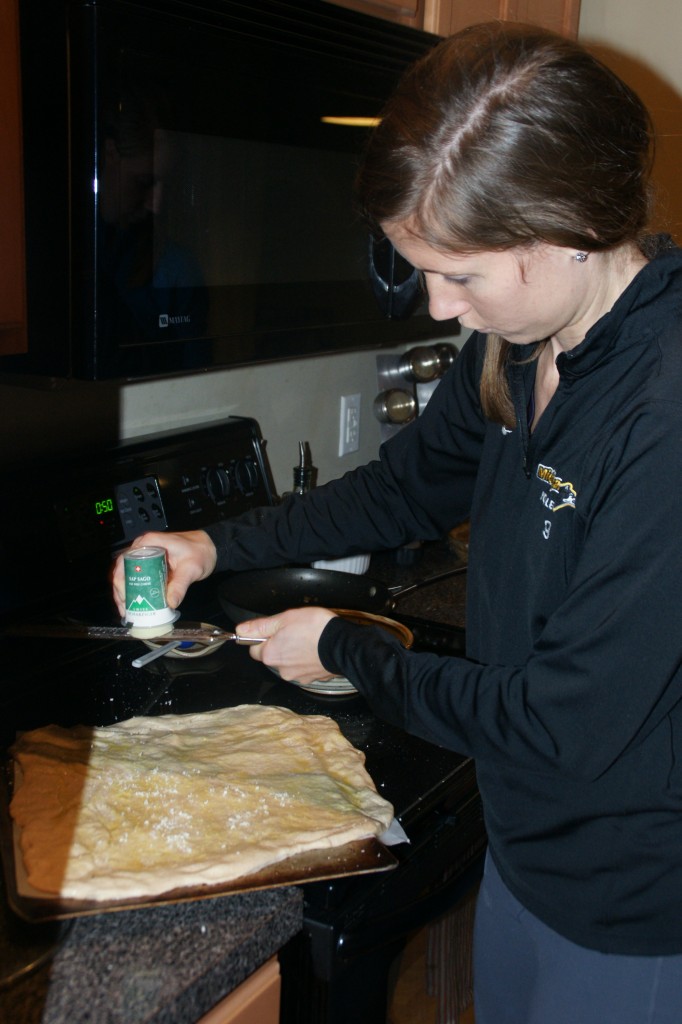 Ashley is using parchment paper to line the baking pan.  It makes clean-up a snap but a preheated baking stone or an greased cookie sheet would work too. Insulated baking pans prevent the bottom of the bread dough from browning and crisping so choose a plain baking pan instead.
Focaccia Bread
2 tablespoons warm water
1 teaspoon dry yeast
3 cups flour
1 1/4 teaspoon salt
1 teaspoon sugar
1 1/2 cups warm water
1/4 cup olive oil
1/2 teaspoon coarse salt, optional
1/4 cup grated hard cheese
3 garlic cloves, minced
4 sprigs fresh rosemary leaves
Combine yeast in 2 tablespoons warm water to proof yeast.  Combine flour, salt, sugar, water and proofed yeast  in a food processor. Add yeast and salt. Process for 90 seconds or until well mixed. Remove dough and fold over on itself several times. Place in a greased bowl, turning greased side up. Cover with a wet towel or plastic wrap and allow to stand until double, about 1 1/2 hours.  Spread half of olive oil over a 11 x 14 baking pan.  With hands stretch dough to fit a greased baking pan.  Spread with remaining olive oil and minced garlic. Top with cheese, salt and rosemary leaves. Bake at 400 degrees for 15 to 20 minutes or until lightly browned.