Valentine's Day is a great reason to pull out a recipe for a spectacular dessert. This one has it all: chocolate, whipped cream and strawberries. The bonus is that it goes together in minutes once the cake is baked.
On the farm, cream fresh from the barn was always available to bake with. I can still see my mom using an old-fashioned separator which sat out on our back porch.  The cream was thick and rich and had a wonderful flavor. My mom would turn the cream into scalloped potatoes, creamed peas or on special occasions,  whipped cream for desserts or ice cream. When the cream was not used fast enough, wild yeasts would culture it naturally to make sour cream which made the best sour cream chocolate cakes.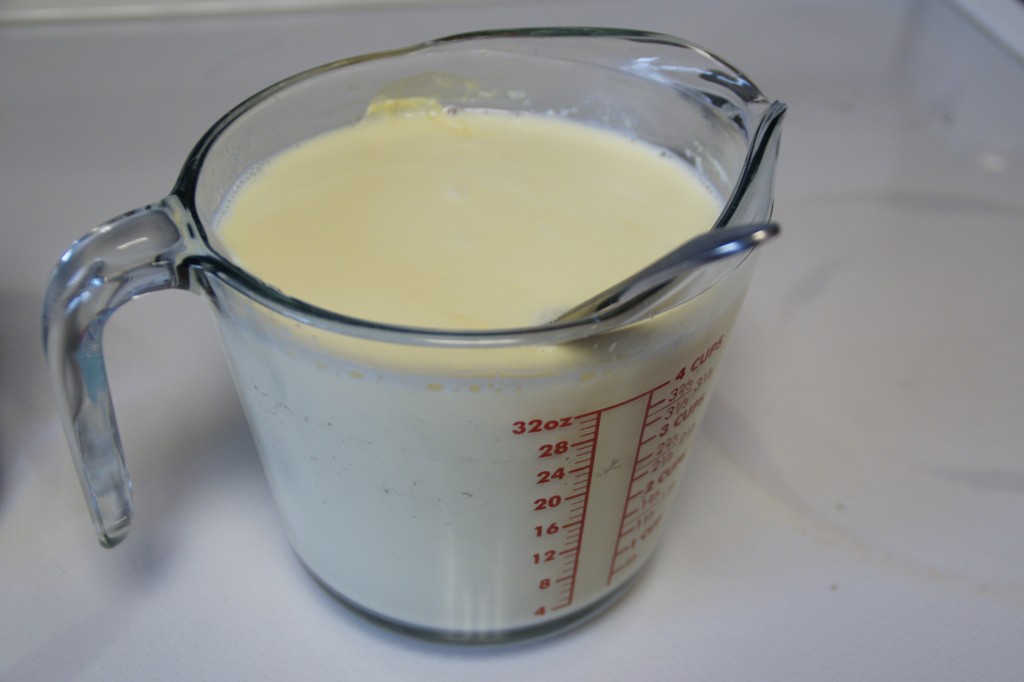 The cream rises to the top of fresh milk from the farm. Skim just the top cream off to make whipped cream. Sour cream can be made from a mixture of the top cream and the lighter cream. For a low-fat sour cream-type product, allow the milk (with cream removed) to culture).
Dairy products will culture naturally from wild yeasts in the air in a day on the counter or in about 1 1/2 weeks in the refrigerator. You can also add 1 teaspoon of lemon juice to fresh milk or cream. It only needs to sit for a few minutes before it is ready to add to the batter.  Commercial sour cream is a different type of product than naturally soured cream and can not be substituted.  Commercial buttermilk found in the dairy case at the grocery store would be a good substitution.  It is also cultured and the acid from the cultured products react with the chocolate during baking to create an exceptionally delicious chocolate cake.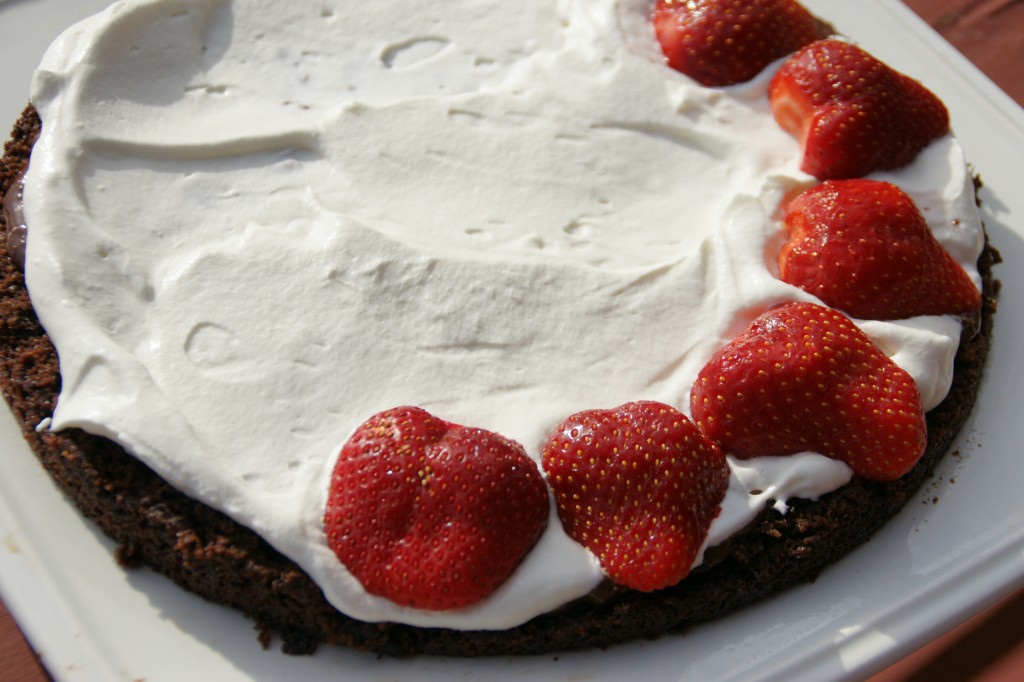 Layers of decadent chocolate cake, fresh strawberries and real whipped cream makes this a cake that all the trappings expected of a Valentine Dessert.  It goes together easy because whipped cream makes up both the filling between the layers and the frosting.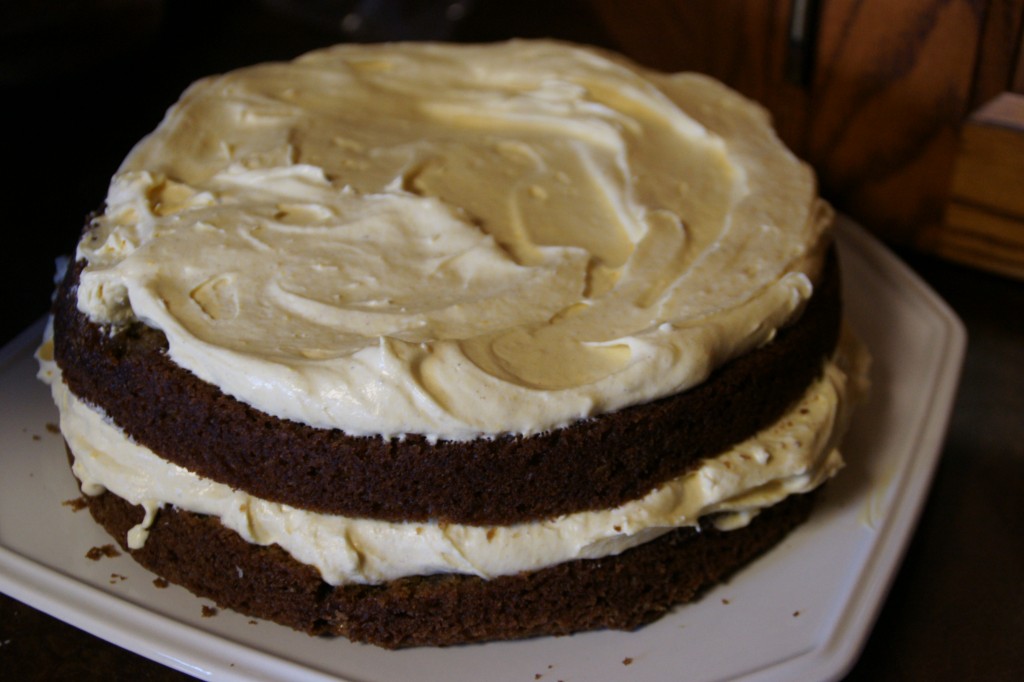 Strawberry between the layers (especially when they are sliced) means the cake is best served the same day it is served.  To make the cake ahead, omit the strawberries from the cake layers and just layer a butter cream frosting between the layers. My favorite type of filling and frosting is whipped cream. On the farm, we never had to worry about the cake being highly perishable. With 9 in our family, we rarely knew what leftovers were.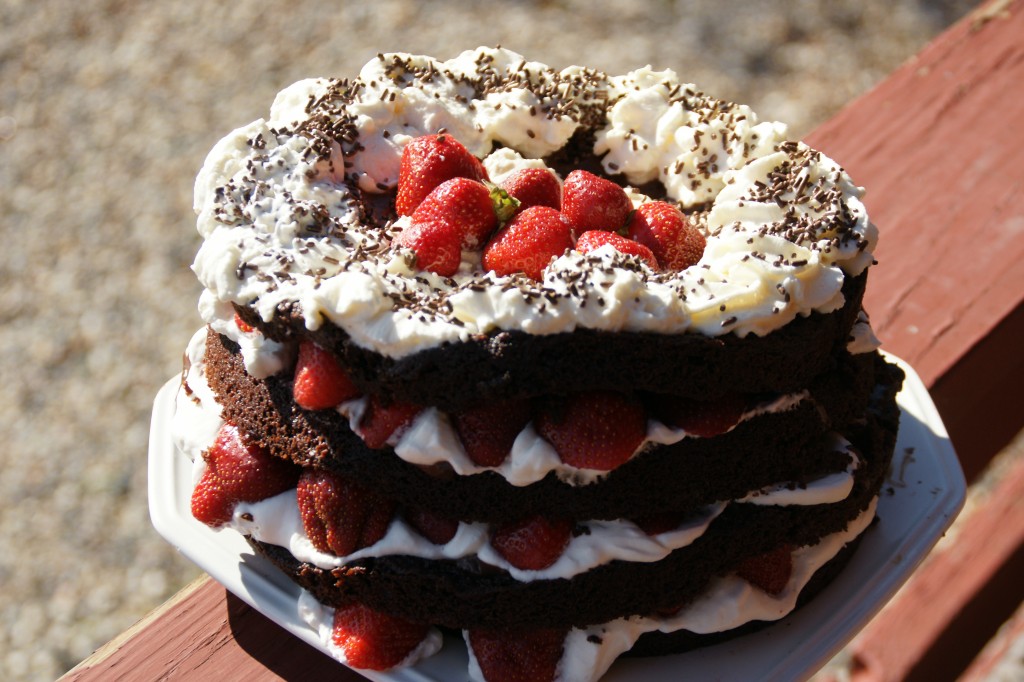 I like the open layers showing the fruit, with an obvious "made with love" look.  The photo below looks beautiful but the I think the cake above says "I love you" in all the luscious layers and imperfections.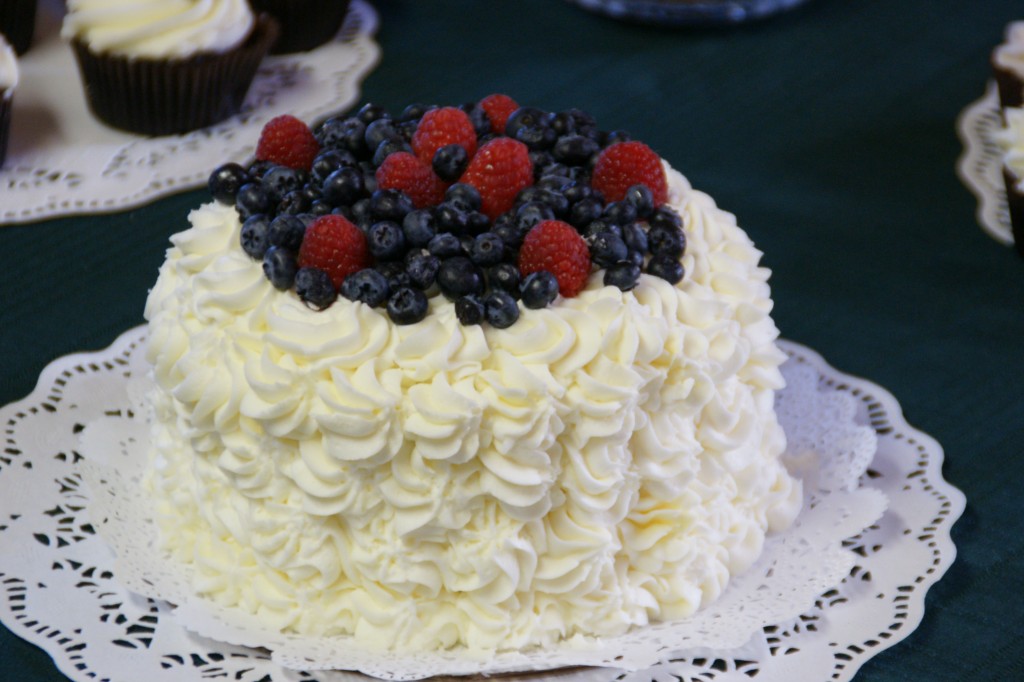 Professional cakes often have the sides covered with pipped frosting. Whipped cream spooned into a decorators bag can be piped onto the sides of the cake. For this technique, the whipped cream needs to be slightly stiffer than usual. Just beat the cream about 30 seconds longer (and add a bit of softened, unflavored gelatin) and it will hold its shape when pipped. Take care not to over-beat the cream or it will curdle.
Sour Cream Chocolate Cake With Whipped Cream Filling and Frosting
2 1/2 cups cake flour
1 cup unsweetened cocoa powder
1 1/2 teaspoons baking powder
1 1/2 teaspoons baking soda
1/2 teaspoon salt
2 1/4 cups whole milk or cream soured naturally or with 1 tsp lemon
2 teaspoons vanilla
1 cup butter, softened
2 cups  sugar
2 large eggs
Filling:
1 cup heavy cream
1/4 cup powdered sugar
1 teaspoon vanilla
2 cups sliced strawberries
Sift dry ingredients together and set aside. Beat butter,vanilla and sugar until smooth. Beat in eggs one at a time.  Alternately, beat in dry ingredients and cream. Beating well after each addition. Pour batter into two 9-inch round baking pans that have been sprayed with non-stick spray with flour (or grease and flour pans). Bake at 350 degrees for 30 to 35 minutes or until a toothpick comes out clean. Cool for 10 minutes and turn out of cake pans to finish cooling.
In a bowl with an electric mixer beat cream until light and fluffy. Add sugar and vanilla and beat just a second longer to combine.
Assemble cake:
Arrange 1 cake layer on a large cake plate and carefully slice it in half. Set the top half aside. Spread the first cake layer with about 3/4 cup whipped cream. Top cream with strawberry slices and then repeat with remaining cake layers and whipped cream, garnishing the top with additional strawberries.