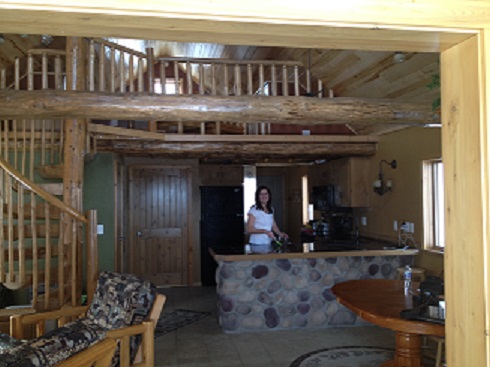 This log cabin was a magical place to live. This magic was captured in an impromptu song that one of our young guests proclaimed as she danced around the outside of the cabin. It had a charm that only comes from being in a remote location that is all at once beautiful and rugged. The winters were unforgiving but I found healing and forgiveness in this little cabin. I loved that the kitchen was open to every room of the house. Even the loft up above opened into the main room. The kitchen was small but included everything I needed.
Moving to distant places has given me the feeling that I have lived more than just one life. Each place holds a place in my heart. Louisiana was where we lived as newlyweds. Jackson Hole, Wyoming is where we lived while Dave built the Jackson Lake Dam with the Grand Tetons reflecting in the water. It was a time of exhilarating mountain climbing and writing a syndicated newspaper food column. Buffalo, WY was much more mellow than Jackson which made it perfect to raise our family. Just about the time we needed colleges and universities close for the kids to choose from, God moved us to Gladstone, MI.  They all attended colleges within a few hours of home and were able to play college sports. Then, we lived in a sweet little house near Angel Street where a pastor's daughter with cancer was prayed over.  There was a miracle wall in the tiny backyard. All the little girl wanted from the Make-A-Wish foundation was a little swing set. The backyard was a hill and a retaining wall was built so there was a tiny flat spot just big enough for a swing set. We also loved North Dakota and now we are living on the bay just off the Gulf of Mexico. Who would have thought? And who could have imagined this bio of me written by my daughter Ashley:
Nyenhuis has competed at marathons and triathlons. She routinely bike commutes and enjoys bike touring around Lake Michigan. She has led many hiking expeditions, including a climb of Grand Teton and Cloud Peak, and other tours through the Rockies. She has planned the high altitude menu for a successful expedition. She has learned international cuisine from those who enjoy Eskimo Ice Cream and Stink Head, and made pineapple upside down cake over an open fire in an African Village. Her newest sports are extreme cooking (for 100 hungry football players) and kayak touring. She and her husband Dave live in North Dakota while she was a full time professor in St Paul Minneapolis and a full time graduate student.
That was all fun and I will always laugh at how my daughter writes about me, but teaching food science is high on a list of wonderful opportunities I have had. We test and experience recipes from every country imaginable. Seafood steamed in banana leaves, nopal salad, passion fruit cheesecakes, ceviche and the list goes on. Recipe testing is a little like life. Sometimes you get it good the first time but more often good can be taken to great with a little more work. So it is with my life. It only takes the faith of a mustard seed to see God move mountains and that is what he has been doing in my life.
I see mountains as faith opportunities and God is showing me that not making it to the top may be his design and not necessarily a failure. In that light, I have seen valleys that taught me more than I ever set out to learn. My guiding light is the Lord Jesus Christ and he often has led me against the wind and through the valley. Sometimes the only way I know the wind is at my back is by remembering what it felt like to have the wind battering against me.
Jacquelyn Nyenhuis PhD RD LD
Food Science Professor
Journal of Nutrition and Health Editorial Board
Author-Researcher
Cooking School Instructor