A four-layer cake might sound a little intimidating, but this one goes together really quick.  A luscious filling of pumpkin and cream cheese is smoothed between the layers and a caramel sauce is drizzled over the top.   Black walnuts are easy to spot in the woods. They have a huge greenish black husk surrounding the nut that when removed, reveals a black shell. Cracking the shell and picking out the meat of the black walnut is work but the flavor they add to baked goods is well worth the work. Black walnuts are a delicious way to add a special flavor to Pumpkin Cake but pecans or English walnuts which are easier to find in stores can also be used.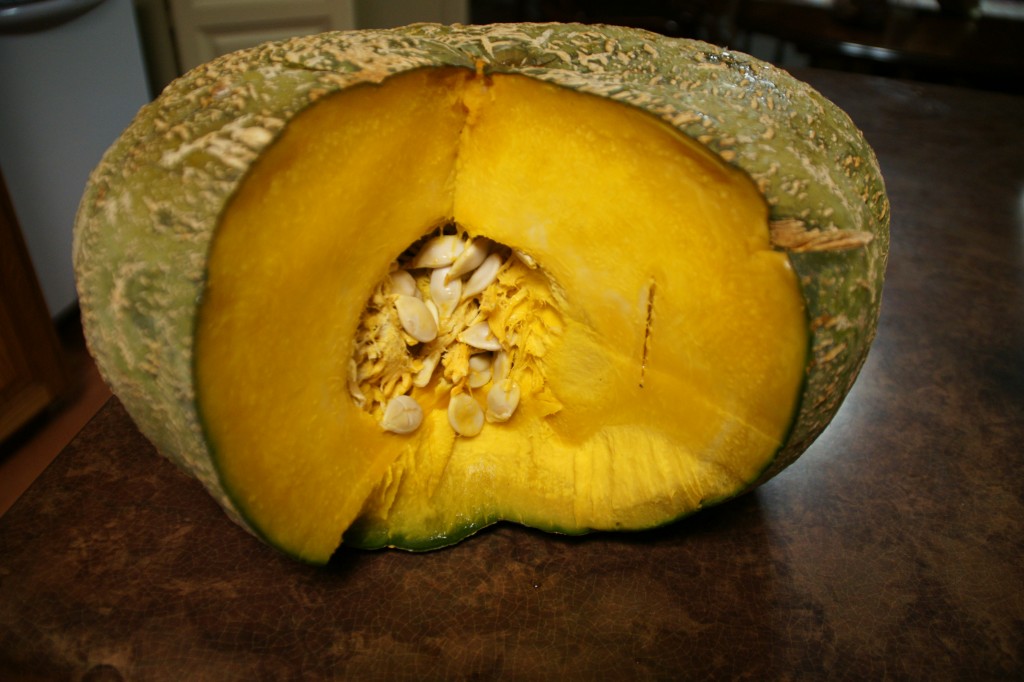 I call this a "pumpkin" cake but I actually used this winter squash that has deep orange flesh and a bumpy green exterior. Most winter squash can be used interchangeably with pumpkins and are often sweeter and less watery.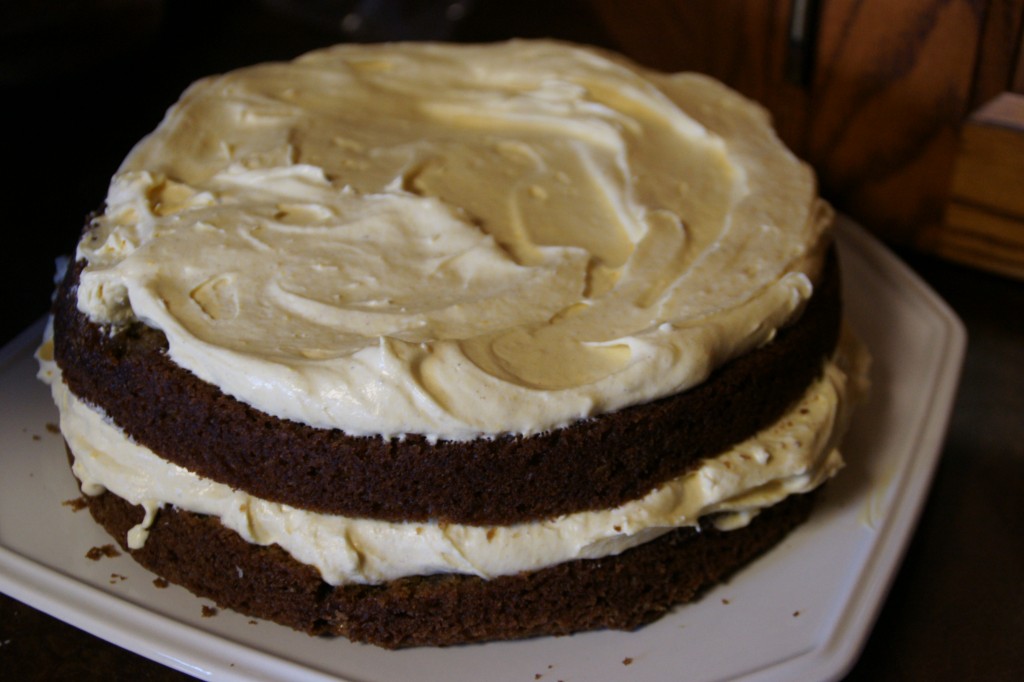 Each baked layer of pumpkin cake is sliced in half and filled with a mixture of whipped cream, pumpkin, spices and cream cheese.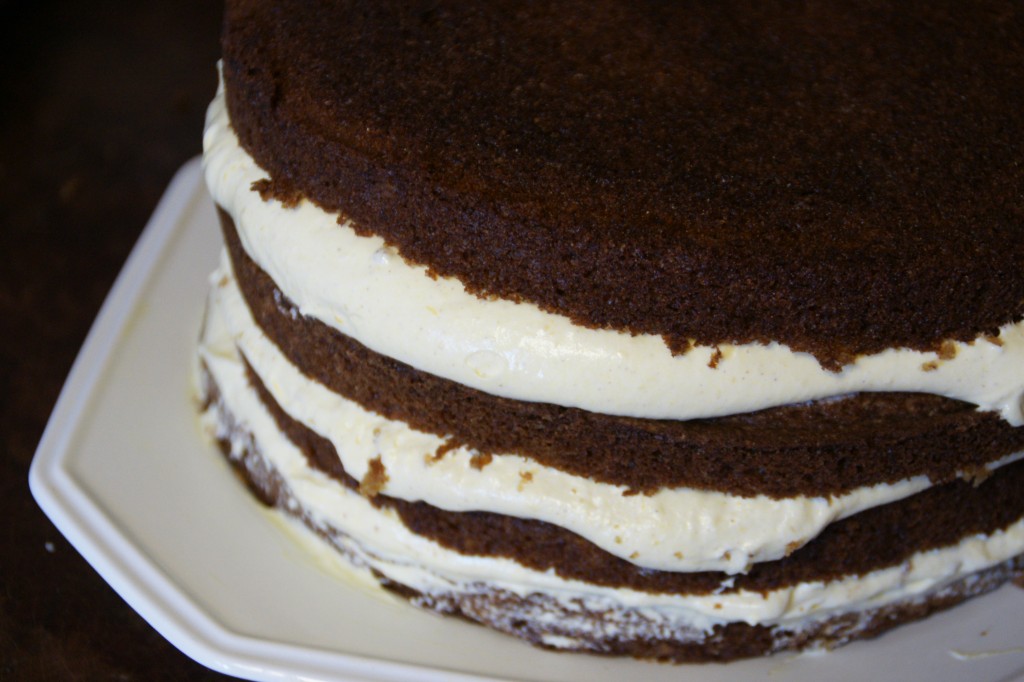 Leave the last layer plain. This is where the black walnuts and caramel topping are drizzled on the top and over the sides of the cake.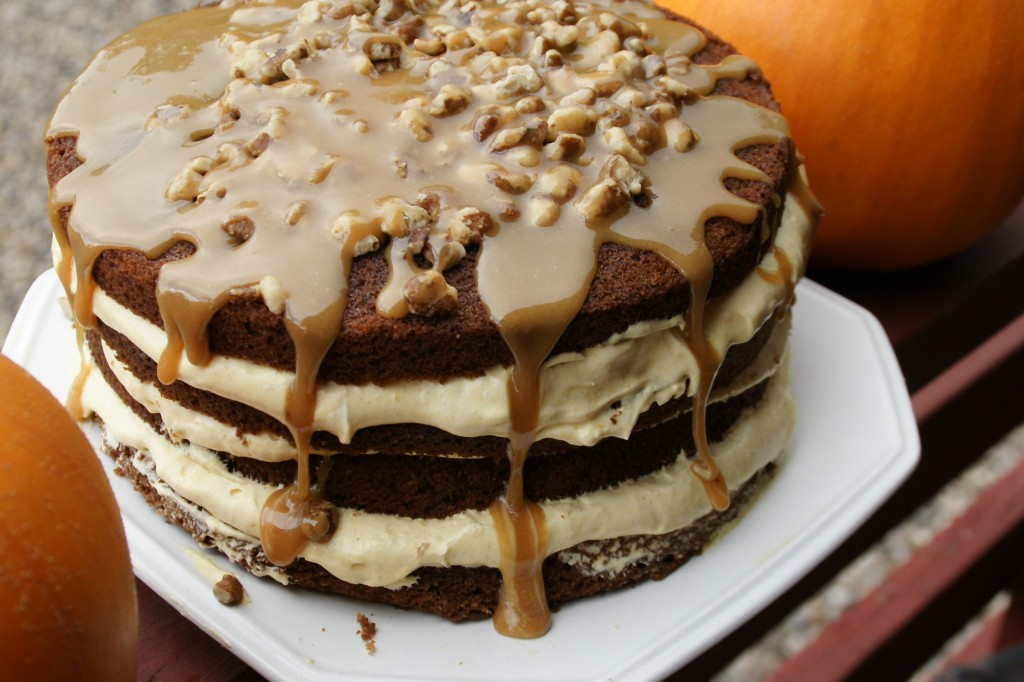 This cake might look like it has to be eaten right away, but I saved it for our church Pot-Luck and it was just as beautiful as this picture the next day. The filling in the cake keeps it moist and the pumpkin flavor is even better the second day.
Pumpkin Cake With Caramel Sauce and Black Walnuts
2 cups sugar
1 cup canola oil
4 eggs
1 tablespoon vanilla
2 cups all-purpose flour
2 teaspoons baking soda
1 teaspoon baking powder
1/2 teaspoon salt
1 teaspoon ground cinnamon
1/2 teaspoon ground ginger
1/4 teaspoon ground nutmeg
1 cup fresh or canned pumpkin
1 recipe of filling
1 recipe of caramel sauce
1/2 cup toasted black walnuts
Combine sugar, oil, eggs and vanilla in mixing bowl; beat until combined.  Add remaining ingredients and beat until well mixed.  Divide batter between  two 9-inch cake pans that have been sprayed with non-stick coating.  Bake at 350 degrees for 40 to 45 minutes.
Let cool about 5 minutes. Remove cake from pans. Cut each layer into two layers. When completely cool, spread filling over a cake layer and place another cake layer on top. Repeat with remaining layers and filling. Do not spread filling over top layer of cake. Sprinkle toasted nuts over top of cake. Spoon caramel topping over nuts and allow to drizzle over the sides.
Filling:
1/3 cup fresh or canned pumpkin
1/2 teaspoon cinnamon
1/4 teaspoon nutmeg
1 package (8 ozs) cream cheese, softened
3 cups powdered sugar
1 teaspoon vanilla
1 cup sweetened whipped cream
Mix pumpkin, cinnamon, nutmeg, cream cheese, powdered sugar and vanilla  in mixing bowl until soft and well mixed. Fold in whipped cream until fluffy and smooth. Spread over each layer of cake as directed in the cake recipe above.
Caramel Topping:
1 cup brown sugar
1/2 cup light cream
1/4 cup butter
2 tablespoons corn syrup
1 teaspoon vanilla
Combine all topping ingredients in a 4-cup measure. Microwave on high for 3 to 4 minutes or until mixture boils and thickens slightly, stirring two or three times.
Pumpkin Puree from fresh Squash or Pumpkin
Prick a 3 to 4 pound pumpkin or other winter squash with a sharp knife, making sure it goes at least 1/2-inch deep into the pumpkin. Place pumpkin on a paper towel and place in microwave. Microwave on high for 18 to 21 minutes or until it yields to finger pressure (6 to 7 minutes a pound for larger or smaller pumpkins). Allow to cool and cut open.  Remove seeds and scoop out puree for use in pumpkin cake or other recipes calling for pumpkin.
Toasted Black Walnuts
Combine 1/2 cup black walnuts or other nuts in a small microwave-safe dish. Add 1/2 teaspoon olive oil. Microwave on high for 1 to 2 minutes or until nuts are lightly toasted, stirring twice. Let stand until cool enough to handle. Use as directed in recipe.