The best ever banana pickles have to be those from your own garden.  And the best ever day of canning is when it is done with a friend. Gracie and I took an afternoon to do just that. Some canning takes lots of long, hot work or time consuming, tedious preparation  and cleaning. Banana Peppers are nearly ready while still on the vine. Banana pepper are typically used for pickling while still yellow-green. If left in the garden to mature, they will turn orange and then red. The red peppers are great to dry by tying with a string and hanging in the kitchen until ready to use. The crisp, immature peppers are perfect for making rings of peppers for sub sandwiches, and salads.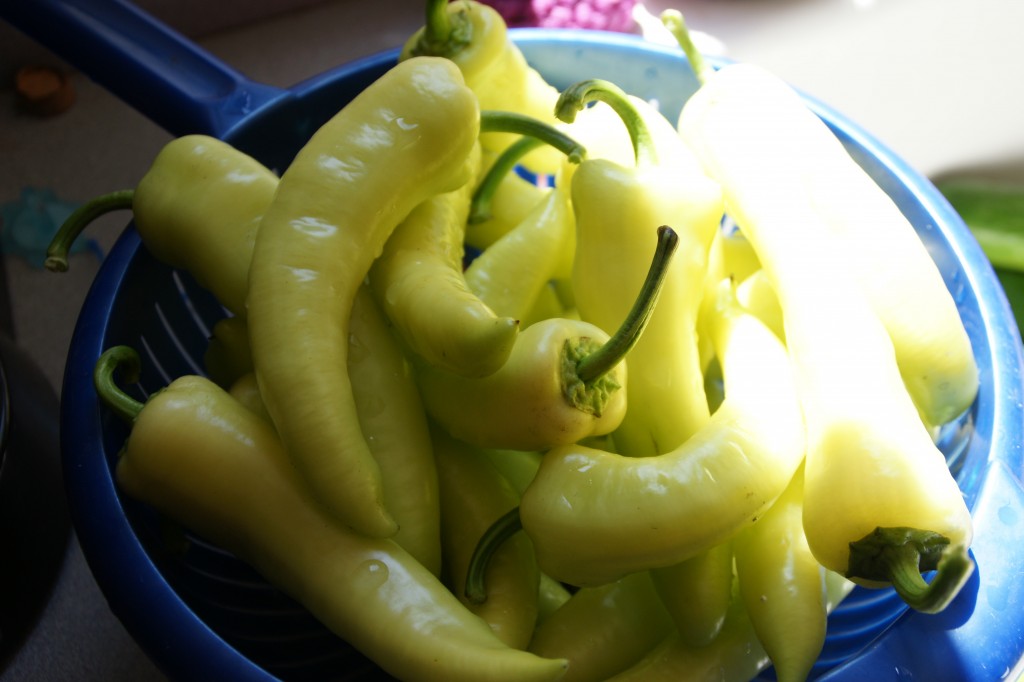 A bowl of unblemished peppers shinning in the morning sun. It is always a good idea to pick, prepare and process produce all on the same day.  The produce will be crispier and more flavorful once canned. One nice thing about peppers is that they are easy to grow in just about every part of the country. They are usually free of pests so can be grown organically with very little effort.
Slice the peppers into beautiful little rings. The seeds can be included in the jar for more flavor. Sterilize the jars and lids by boiling in water.  Then you are ready to fill the jars. I pack the jars by hand, filling the jars as full as possible.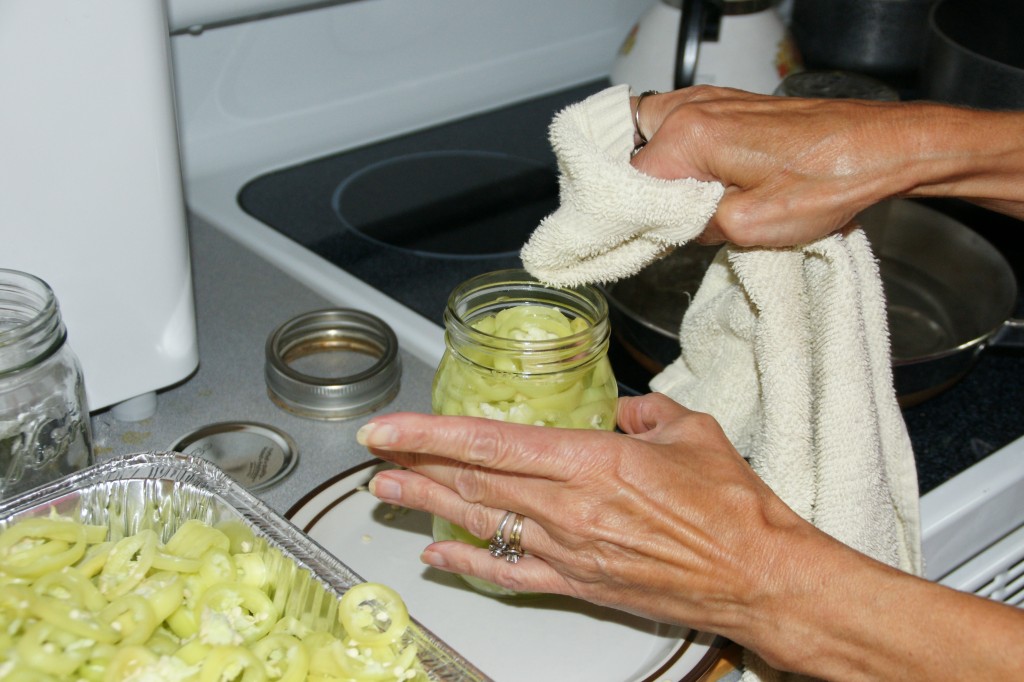 Wipe the rims of the jars with a towel to make sure they are clean, dry and free of any pickling residue.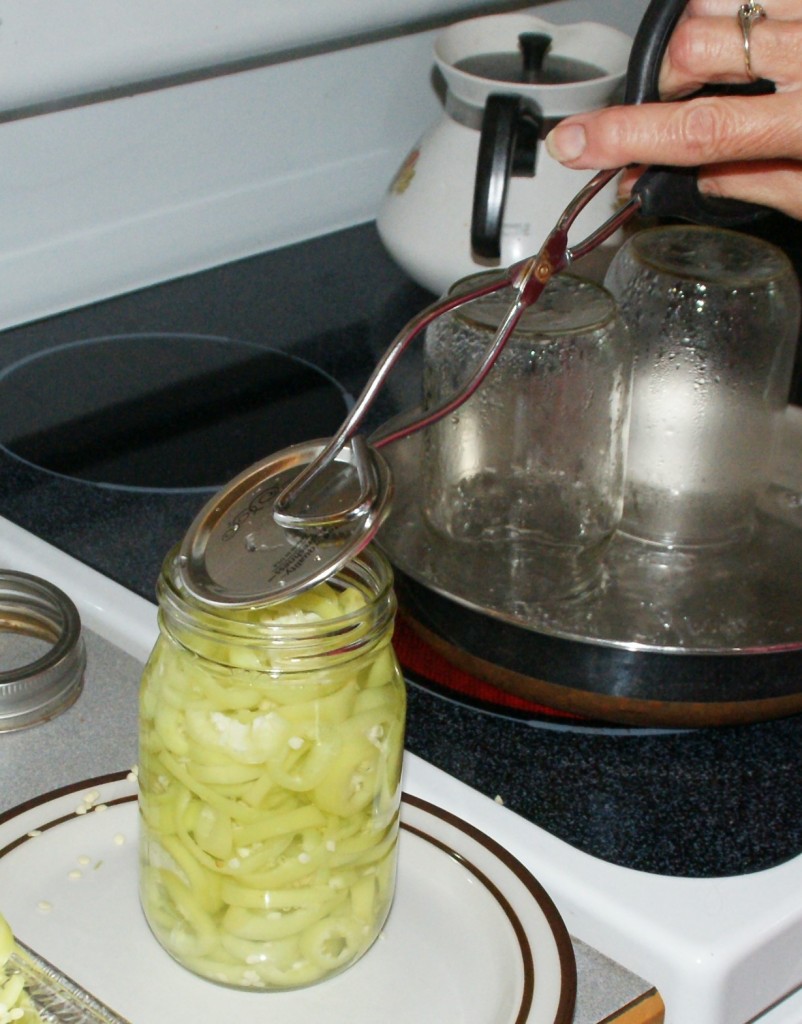 Pull the hot lids from the boiling water and place on each jar.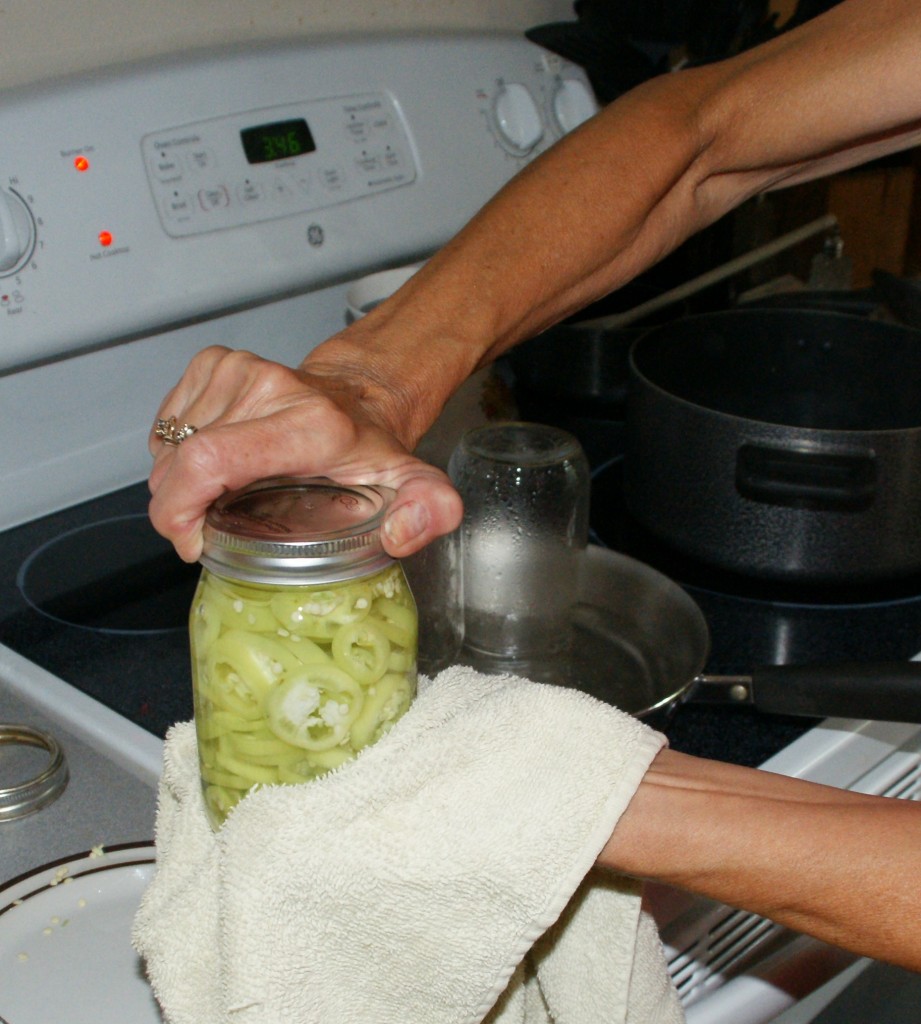 The rings are hand tightened. Turn the lids 1/2 turn past the point you first feel resistance. This assures that the rings are tight enough to form a seal, but can still be easily removed when cool.
Pickled Banana Peppers
2 lbs. yellow banana peppers
3 cups white vinegar
2 cups water
2 tablespoons salt
2 tablespoons sugar
4 cloves garlic
Stem and slice peppers. Combine vinegar,  water, salt and sugar in a 2-quart glass measure. Microwave for 10 to 12 minutes or until boiling, stirring twice. Pack peppers into hot sterilized jars. Pour vinegar mixture over pepper rings, leaving ½-inch head space. Add 1 clove of garlic to each jar.  Remove any air bubbles by running a utensil inside each jar. Wipe rim of jars and place hot lids and rings on  jars. Hand tighten rings and place in a boiling water bath. Process for 10 minutes, making sure that water is at least 1-inch above jars. Allow to cool, undisturbed for 24 hours. Store up to 1 year.
Makes 4 pints