Sushi is not so easy to find where I  live (since I am  miles from the nearest town, which has a population of less than 1200,  neither is milk or flour – unless I milk the goats myself or pick the wheat and mill it…which I have been known to do but that is for another post.). But we love living in the country. It is beautiful, peaceful and did I mention the deer who ate my garden….. he was beautiful. And now he is full!!  But back to sushi. As much as I love living in the country, it is not conducive to finding sushi, day old, week old… not even a year old sushi in these parts. So I just set out to figure out how to make the best sushi ever.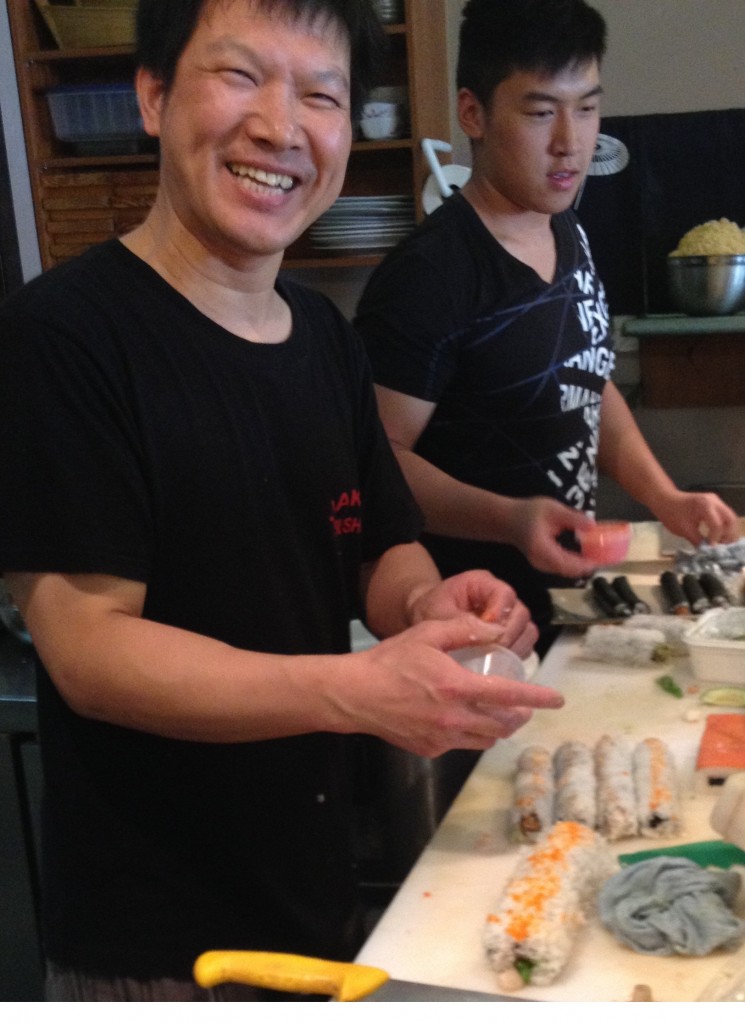 I found wonderful sushi chefs who taught me the unique art of sushi making. Everything from the perfect rice seasoning to how to layer each roll.  They kindly brought a 60 lb sushi-grade ahi tuna to my food science class to show the students the wonderful flavor of the freshest ahi ever. Did I say I learned the perfect way to layer the ingredients?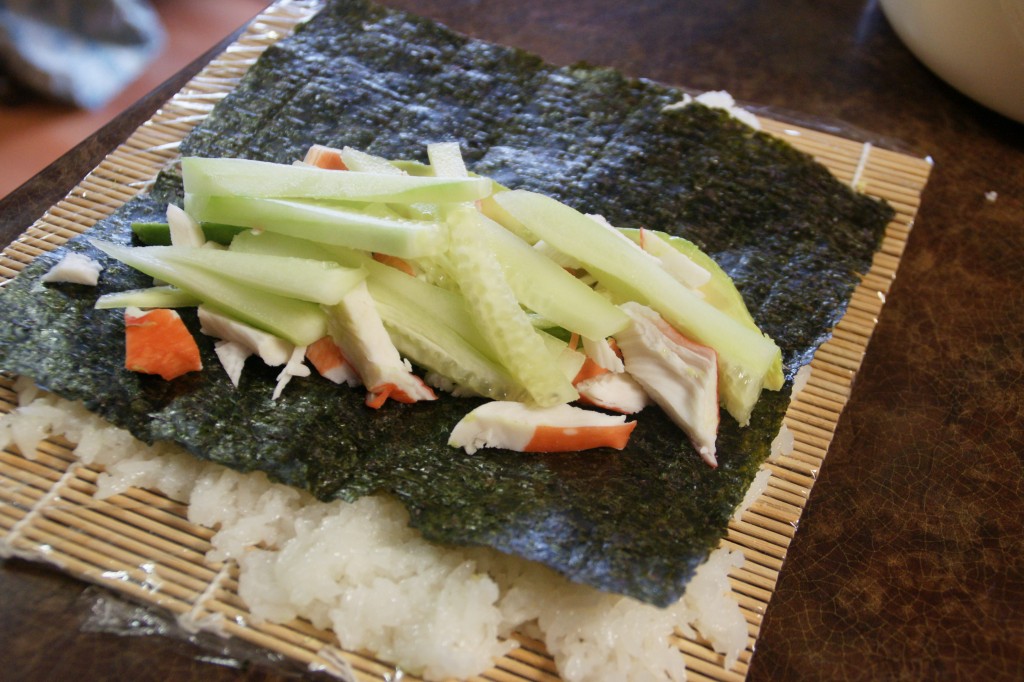 OK, maybe my layering is not quite as good as his but it worked. The sushi chef carefully placed the vegetables and fish lengthwise on the rice and seaweed. If there is  too much filling, it can make it more difficult to form a perfect  roll.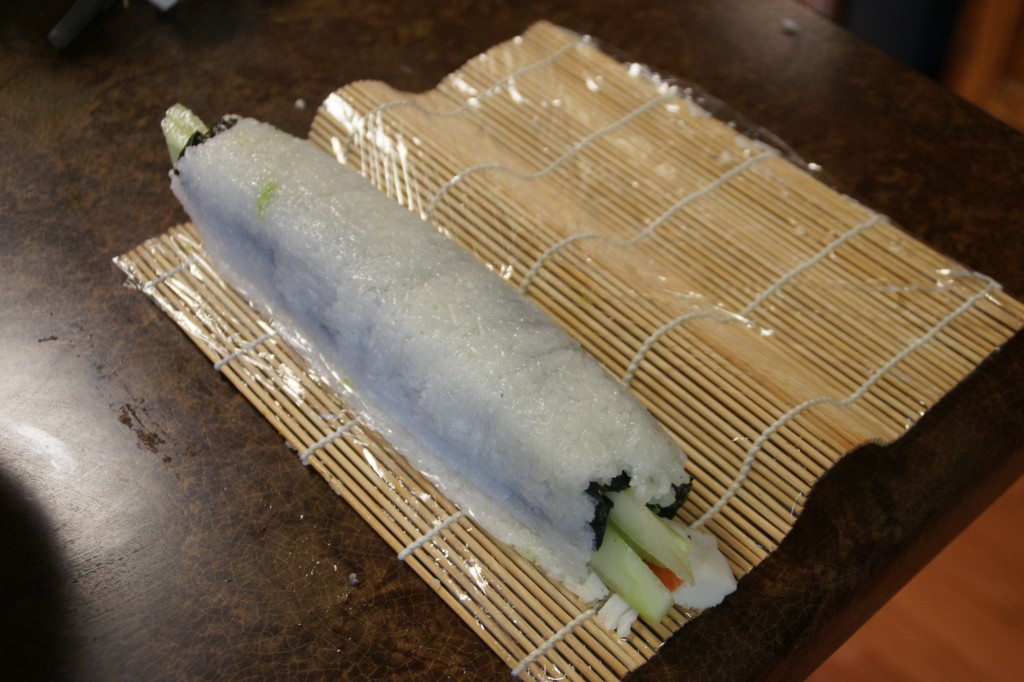 The mat is wrapped with plastic wrap before spreading with rice. seaweed and fillings.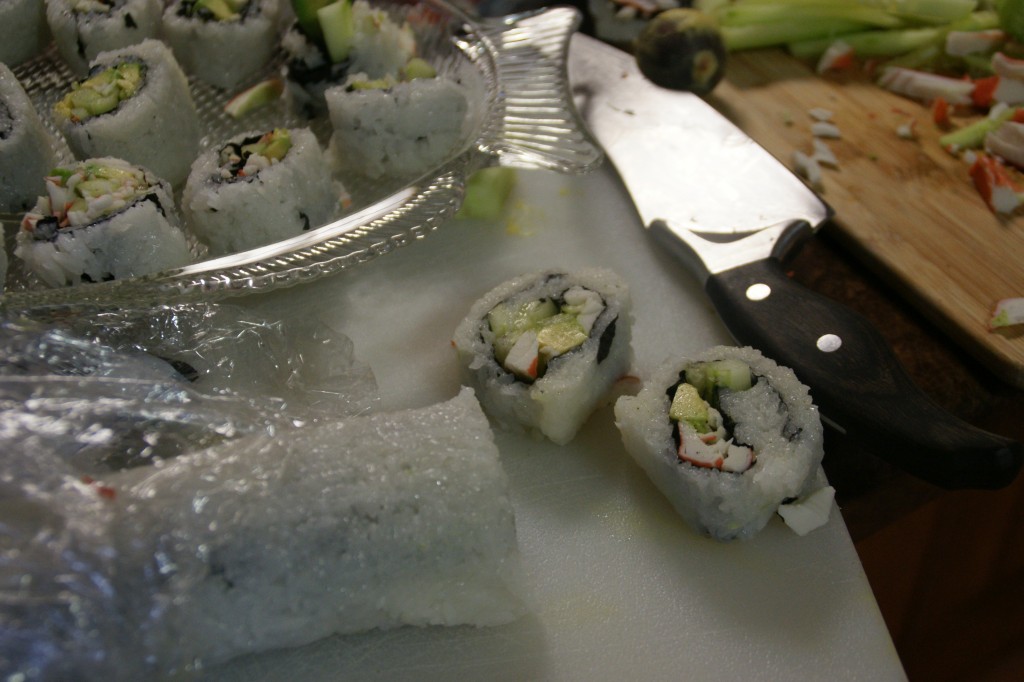 A sharp knife allows the sushi roll to be cut into perfect individual  slices.
Sushi Rice
1 cup short-grained sticky rice
1  cup water
1/4 cup rice vinegar
3  tablespoons sugar
1 teaspoon salt
2 tablespoons mirin
1 kelp leaf, about 1-inch long
Fillings:
Crab
Avocado
Cucumber
Sheets of nori
Pickled Ginger
Wasabi
Spicy Sauce:
2 tablespoons mayonnaise
1 teaspoon siracha sauce
Rinse rice in a strainer and drain well. Combine vinegar,sugar, salt and mirin together in a bowl and mix well.  Wipe kelp leaf lightly and make slits in it to allow release of flavor.  Add rice, water and kelp to a microwave-safe 2-quart pot.  Place lid on pot. Microwave on high for 12 minutes. Let sit for 15 minutes with lid on.  Place dish on the counter to cool and lightly fan the rice while adding the vinegar mixture. Mix rice gently, careful not to break it. Sushi rice is best used at body temperature.
Spread rice over a plastic wrapped covered mat and top with a sheet of nori. Layer fillings and roll up with fillings in the center. Combine ingredients for Spicy Sauce.
Cut sushi rolls into slices with a sharp knife.   Serve with wasabi, spicy sauce and pickled ginger.