Andria is headed to Italy so be prepared for lots of great Italian food ideas. She arrived for work just in time for the Italian shut down. That means she has two weeks to travel across Europe. Above are a few photos she sent.
Love those mountains with the clouds hanging low. And that cobblestone street in Fabriano! Look at the Orzo with fresh basil and tomatoes. Andria said the tomatoes have amazing flavor.  And that last photo is Andria and Greg just a short while before they had to say goodbye. Carson is wondering what all the fuss is about? He is probably thinking:  "Greg already has a ticket to visit and I don't. Why am I left out of this picture?"
I thought we  needed a little Italian pasta recipe to celebrate with her and to appease Carson.  The penne pasta  is flavored with shrimp, lemon and garlic….and don't forget the Asiago cheese. I often reach for Asiago cheese  because of its tang and nutty flavor even though Andria's Italian friends made sure to let her know that no self-respecting Italian would allow cheese to be served in a dish with fish.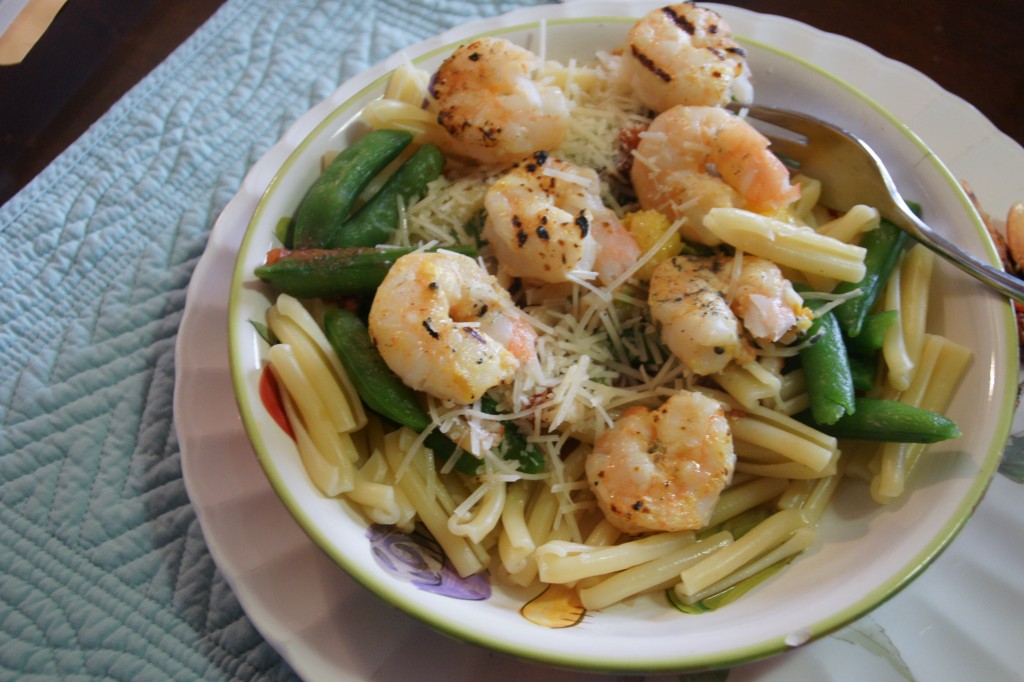 The stores in Italy have so many more types of cheese than we do. Andria was really surprised at how many different varieties of fresh Mozzarella there were even in the small town grocery in Fabriano. She also gave me a mini lesson on Italian food lore: Pasta is never, ever called noodles and chicken does not belong on pizza. Orzo is Italian for barley which is what our orzo was originally made from. The photo with tomatoes and basil is whole grain barley with tuna.  So many new things, so little time!
Meanwhile, here in the states we are trying our best to replicate some of those great Italian favorites. Change up the veggies and seasonings in this recipe for pasta to fit the season and delete the cheese if you want to be authentic.
Shrimp and Pasta
3 garlic cloves, minced
1 lemon, zest and juice
1 teaspoon red pepper flakes
1 teaspoon salt
¼ teaspoon freshly ground black pepper
3/4 pound medium shrimp peeled
1 teaspoon shrimp or seafood base
2 cups chopped pea pods
3/4 pound penne pasta, cooked
2 tablespoons butter
1 small bunch chives, chopped
½ cup shredded Asiago cheese
In a bowl, combine the garlic, lemon zest and juice,  red pepper flakes, salt, pepper, and the shrimp. Set aside to marinate. Microwave shrimp on high for 3 to 4 minutes or until shrimp is opaque, stirring halfway through. Stir in shrimp or seafood base, pea pods and ½ cup of reserved water from cooking pasta.  Microwave on high for 2 to 3 minutes or until kale starts to wilt. Add cooked pasta, butter and chives. Garnish with cheese.