The culinary medicine lecture for the UCF College of Medicine second year medical students focused on nutrition issues in dermatology and immunology. The class started with a case study of an infant with a skin rash. The infant had additional issues at 1 year of age when other foods were added in to his diet. One significant finding from the history of the patient is that his father has asthma. It is very common for allergies and asthma to run in families. The good news is that over 80% of all children, even those with life-threatening allergies, grow out of them by the time they are 18 years of age. In the meantime, parents are sometimes struggle with a diet where the trigger foods are avoided. Celiac sprue is one auto-immune diseases that requires avoidance of gluten for life. Thankfully, there are lots of grains that can be served in place of traditional wheat-based foods such as ancient seeds like sorghum, quinoa or many different rices. Pastas can be made out of similar gluten-free grains and seeds like in the following photos.
Red Lentil Pasta Salad
1 lb pasta, cooked (red lentil, rice pasta or any other pasta)
2 cups broccoli pieces
1/4 cup shredded Parmesan cheese
1/2 cup sliced, canned hearts of palm
1 cup cherry tomatoes
1/2 cup Mozzarella cheese, shredded
Dressing:
1/2 cup chicken broth
1/4 cup olive oil
1/3 cup red wine vinegar
2 cloves garlic, minced
2 tablespoons basil, cut into ribbons
1 teaspoon salt
1/4 teaspoon pepper
1/4 teaspoon crushed red pepper
Combine cooled pasta, broccoli, cheese, hearts of palm, tomatoes and mozzarella cheese in a salad bowl. Combine dressing ingredients in a jar and shake vigorously. Pour over pasta and vegetables. Serve fresh. This salad will keep 1 to 2 days but is best when served right after it is made.
Freekha is an immature or green wheat that is roasted and partially cooked. It is similar to Bulgar but has more depth of flavor and its larger pieces work well in this salad with vegetables. The dressing changes flavors depending on what herbs are used and how strong the herb flavors are. If the basil has started going to seed, it can be slightly bitter so use a little less. If it is young, fresh sweet basil more makes the salad even better.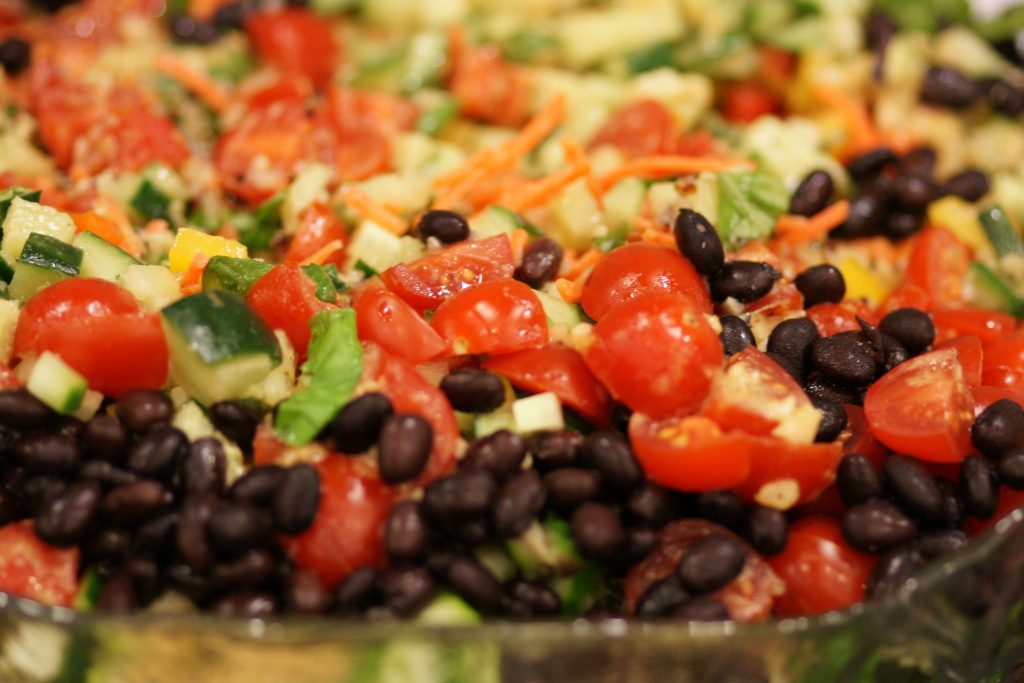 Freekha and Black Beans with Lemon Basil Dressing
1 cup cooked freekha
1 cup grape tomatoes, sliced
1/2 cup cubed red, yellow or green pepper
1 cup cubed cucumbers
1 can black beans, drained and rinsed
1 cup basil leaves, cut into ribbons
Lemon Basil Dressing
2 to 3 basil leaves
1 cup fresh flat leaf parsley leaves, stems removed
2 cloves garlic, minced
1/2 cup olive oil
2 tablespoons lemon juice
1 tablespoon Dijon mustard
1 teaspoon salt
Dash Pepper
Directions:
Combine all dressing ingredients in a high powered blender and blend for 60 seconds until very smooth.
Taste and adjust salt and pepper as needed. Use immediately or refrigerate the vinaigrette for up to 5
days.
Toss freekha, tomatoes, pepper, cucumbers and beans with about 3 tablespoons of dressing.
Power Bites
1 cup dates
1/2 cup dried mango
1/2 cup whole almonds
1/2 cup flaked coconut
2 tablespoons ground flax
1 teaspoon vanilla
2 tablespoons honey
1/4 cup dried cherries
Combine all ingredients except  in a food processor. Process about 30 seconds or until chopped and well mixed. Roll into balls and serve immediately or refrigerate up to 2 weeks.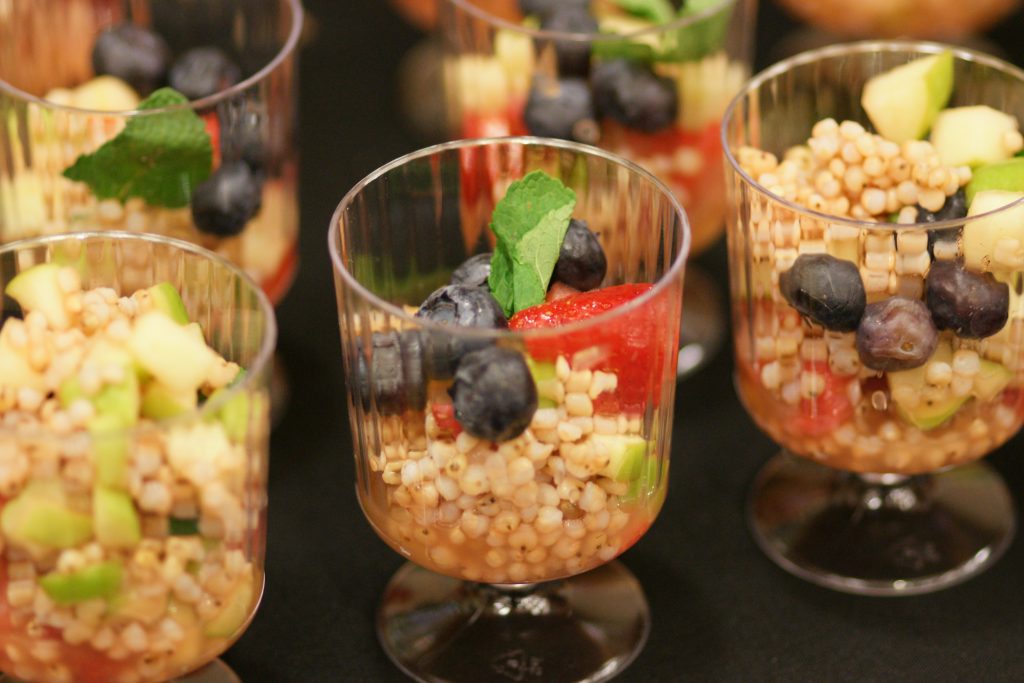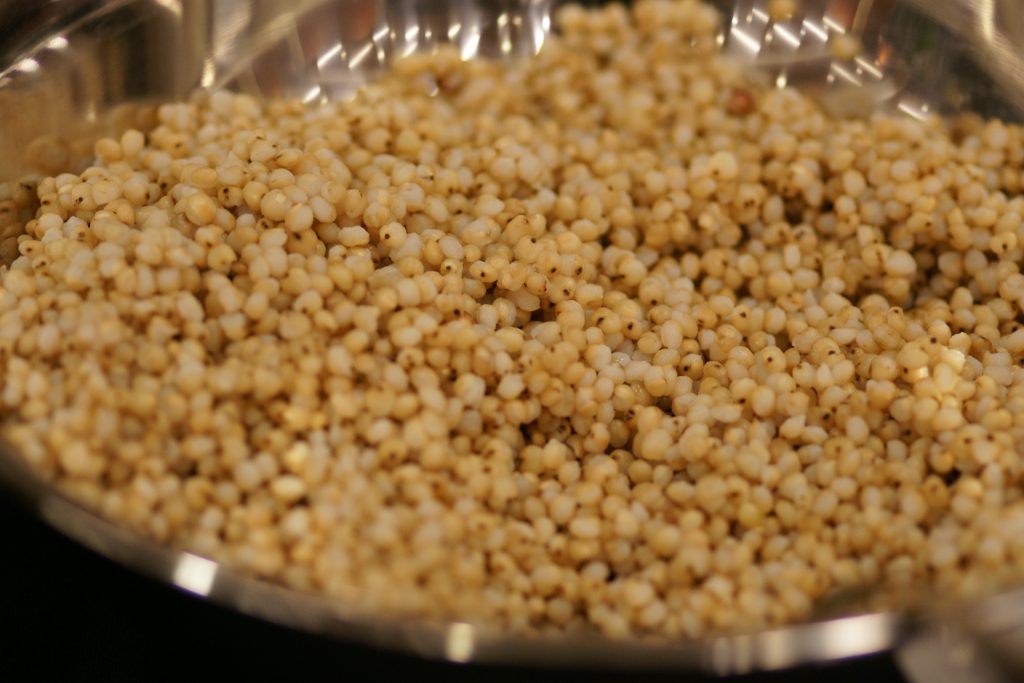 Sorghum Studded with Strawberries and Apple
3 cups of fresh strawberries, diced small (about 1/4 inch)
2 apples, diced small (¼ inch dice)
1 cup cooked Sorghum
1/4 cup orange juice
2 tablespoons apple jelly
1 tablespoon coconut sugar or brown sugar
Combine all ingredients and serve immediately. Salad also keeps for a day or two when refrigerated but is best when served freshly made.
Dried Cherry and Flax Crisps ( a lot like Raincoast Crisps)
2 cups flour
2 teaspoons baking soda
1 teaspoon sea salt
1 cup plain yogurt
1 cup milk
¼ cup brown sugar
2 tablespoons molasses
1 cup dried cherries
½ cup almonds lightly chopped
½ cup pumpkin seeds pepitas
¼ cup sesame seeds
¼ cup ground flax
Combine the flour, baking soda and salt. Add the yogurt, milk, brown sugar and molasses. Stir in the dried cherries, almonds, pumpkin seeds, sesame seeds and flax. Stir just until blended. Pour the batter into loaf pans that have been sprayed with non-stick coating. Bake for 25-30 minutes in a preheated 350 degree oven until golden and springy to the touch. Allow loaves to cool. Slice thinly. (For easier slicing, freeze for 45 minutes and slice as thin as possible). Place the slices in a single layer on sheet pans. Bake for 15 minutes in a 300 degree preheated oven. Then flip them over and bake the slices for another 5-10 minutes or until crisp and golden. Cool completely and store in an airtight container.