Sometimes a meal is special because of an event and other times it is special for the food itself. There was one specific meal that I will always remember because of the event and it just happened that the food was really special too.
Coulter would be deployed with the United States Marine Corps the next day but just for the evening we had a little precious time with him for a meal together. Dave and I flew across the country to see him off.  Little did we know that one of his men were killed in a motorcycle accident and another one was in the hospital. He attended the funeral  and then needed to head to the hospital to visit the other marine. That meant we had literally 2 hours to spend with him. We went to a restaurant in San Diego  that Coulter chose. It was a memorable meal in that goodbyes before a deployment are never easy but I remember how proud I felt. He was putting himself out there for his marines, for his country and for us.  It was one of those meals where the food was not really that important compared to having he chance to share heart to heart with him, but it turned out that the food was exceptionally good. Dave ordered Macadamia Crusted Mahi Mahi and I still remember it as special.  The following recipe recreates the flavorful  macadamia nut topping and the beautiful texture of the mahi mahi.
In recreating this recipe, it needed to have a crunching topping  and the fish all perfectly done at the same time. To achieve this, the fish is cooked for about 5 minutes before the topping is added. By adding the macadamia nut topping to the partially baked fish, both the fish and topping  come out perfectly done at the same time.
Mahi Mahi is done when it turns from  translucent to opaque white and it flakes easily when a fork is inserted into the center of the fillet. The reason the fish turns color is because the heat denatures the proteins as they reach a specific temperature. It is similar to what happens to egg white as heat is applied. The egg white turns from a clear liquid to an opaque white. It is difficult to take the temperature of most fish fillets because they are too thin for a thermometer to accurately record the temperature. Just as reliable as a number on a thermometer is the change of the fish color.  If there is any difficulty seeing a change in color, a backup test is inserting a fork in the thickest part of the fillet and twisting it slightly to see if the fish flakes. When the fork test shows flakes of fish as well as white, opaque flesh, the fish is done.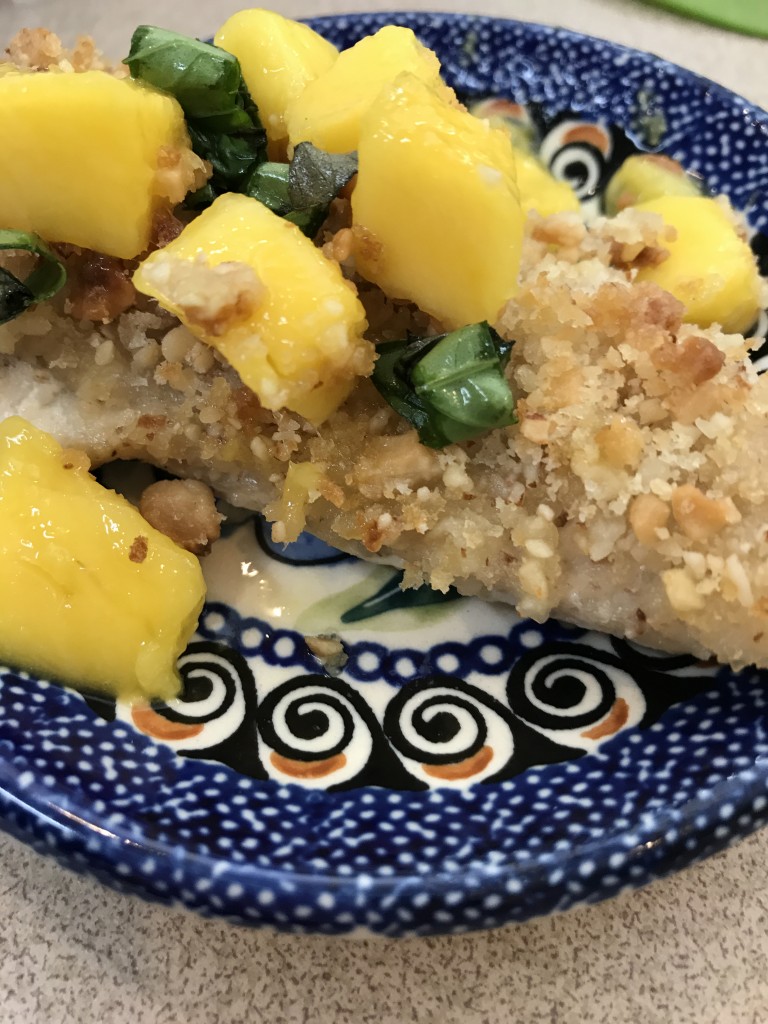 We just happened to have fresh mahi mahi for this recipe but most other fish can be used. The time can be increased 4 to 5 minutes for thicker fish or decreased a little for thinner fillets. Using a fork to check if the fish flakes easily and looking for a change in color of the flesh are both doneness tests that work on any fish.  Fish does continue to cook a little after it is removed from the oven so allow it to stand a few minutes before serving.
Macadamia Crusted Mahi Mahi
2  pounds mahi mahi
1/4 teaspoon salt
1/8 teaspoon pepper
1/4 cup unsweetened canned coconut milk
1 cup macadamia nuts|
1/4 cup butter
1/2 cup panko bread crumbs
Mango Salsa
2 fresh mangoes
1/4 cup cilantro , chopped
1 tablespoon fresh Thai basil
1 jalapeno, minced
1 tablespoon lime juice
Preheat oven to 425 degrees. Place fish on foiled lined baking sheet that has been coated with non-stick cooking spray. Sprinkle both sides of fish with salt and pepper. Bake for 5 minutes. Spoon coconut milk over fish. Combine nuts, bread crumbs and butter in food processor and process until coarsely chopped. Top fish with nut and bread crumb mixture. Bake for 10 to 12 minutes longer or until fish flakes easily with a fork.
Combine all ingredients for mango salsa and serve with fish.
Makes 6 servings