Ashley and I just got back from Magnolia Farms in  Waco, Texas.  Magnolia Flour, also known as Chip and Joanna Gaines' fixer upper silos, was a quaint little turn of the century grainary turned bakery.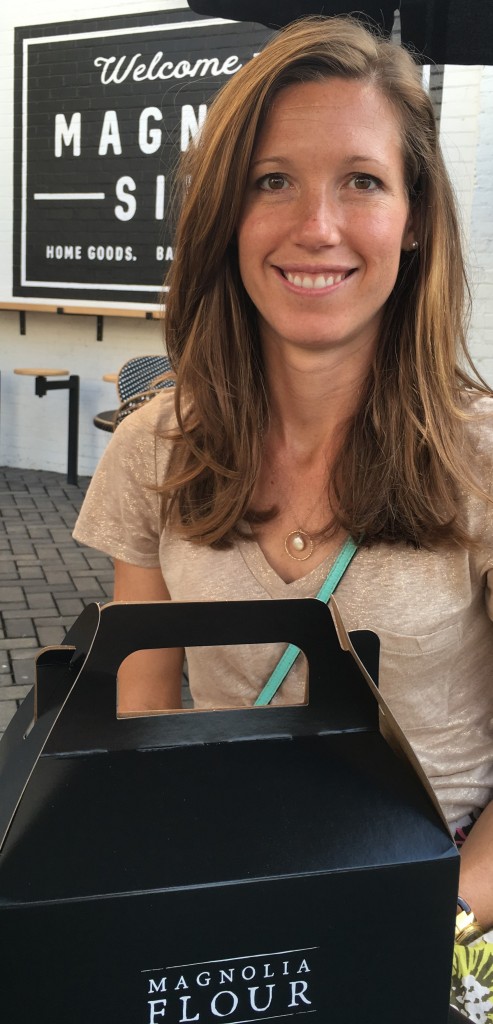 There were only a few different biscuits, rolls and cupcakes but every single one of them were like little treats of perfection. And the packaging, ohhh the packaging. Black and white and classy and so Joanna. Definitely worth finding space on the plane for those. Need I say anymore?

Graced with scripture, the setting in and around the bakery and store felt comfortable and welcoming.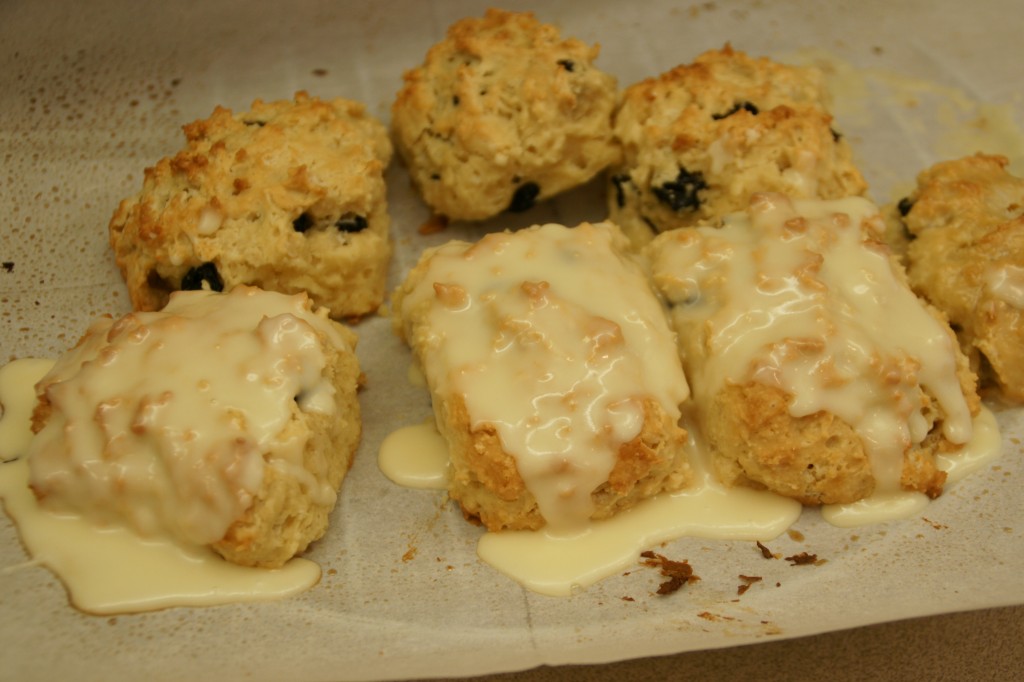 One of our favorites from the bakery were the Cranberry Orange Biscuits which were a little like a glazed scone.
…….But in a square biscuit shape.
…….But baked close together so the sides were pillowy soft.
……..But oh so tender and melt-in-your-mouth goodness.
……..But with a glaze speckled with orange zest!
OK maybe not really like scones.
But these were like no other biscuits. But what would you expect from Joanna Gaines of  Fixer Upper fame?
I thought I could find a copy cat recipe online for some of the bakery items. Ashley scoffed at me and  bet that I could not. I lost that one. I guess the bakery is too new or maybe the biscuits are too out of this world. But since I lost, I told her I would put a copy cat recipe on my blog to remember such a great day together.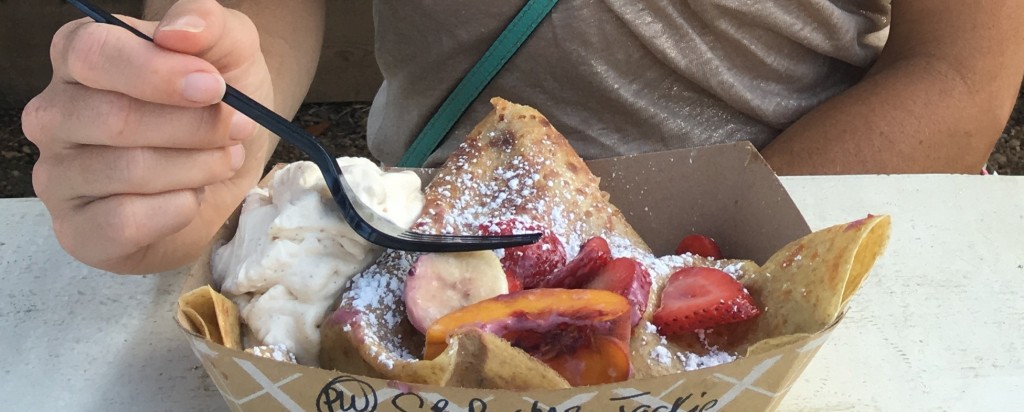 Give me a minute here to rave about the whole place. Tastefully done, simply delightful and  food trucks, did I mention food trucks?And shopping for home goods.  And simple gardens of zinas and herbs and Swiss chard. And a large green space for yard games. And did I mention food trucks?
The silos are old grain bins used in an era past to store grain before it was shipped out on the railroad. What was once an eyesore in Waco is now a destination for 15,000 visitors a week.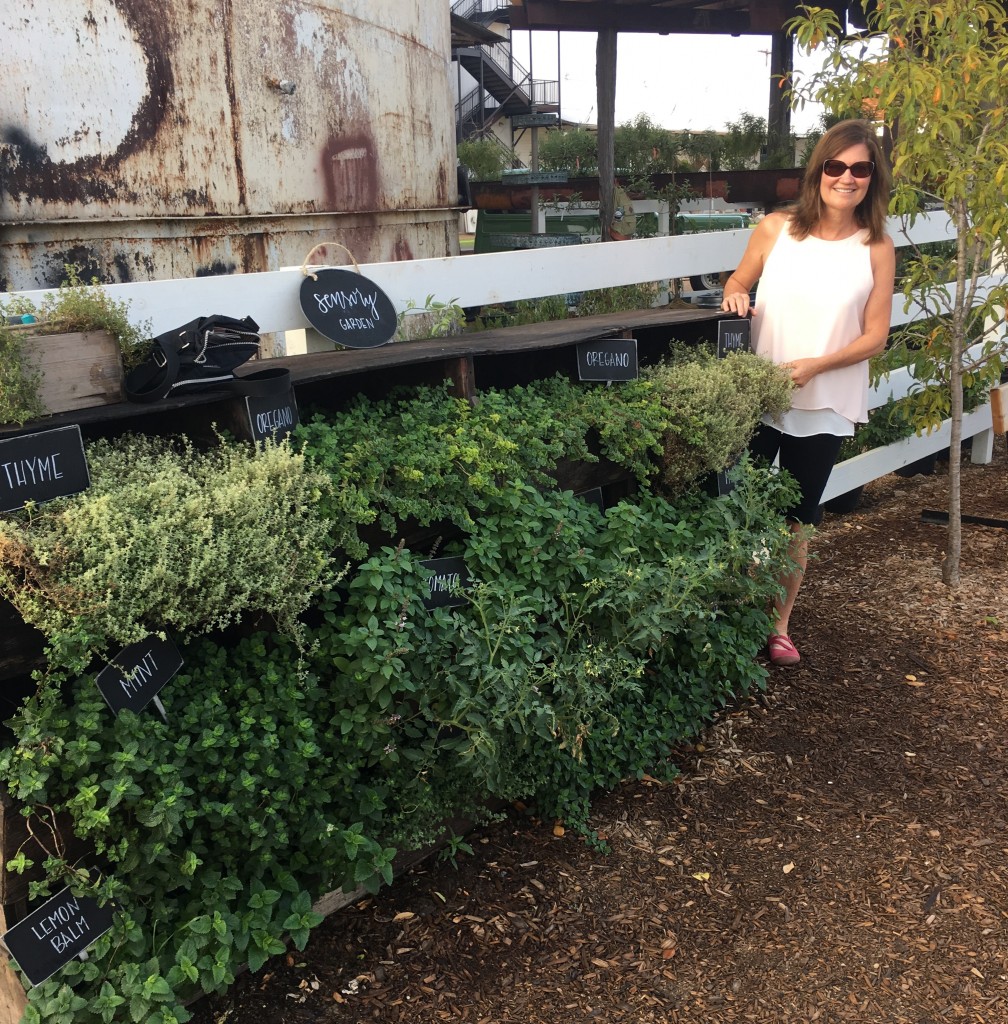 Look at these "laying hens" nesting boxes that are filled with oregano, basil, mint, lemon mint and more. What a great way to grow herbs in a small space .
OK so now on to the recipe for Cranberry Orange Biscuits. They are easy and you have to keep them easy. No over stirring. No over kneading, No over handling. No over thinking. Just 5 minutes to mix up and 12 minutes to bake. That's it. Make them any harder and I promise, they won't be as good.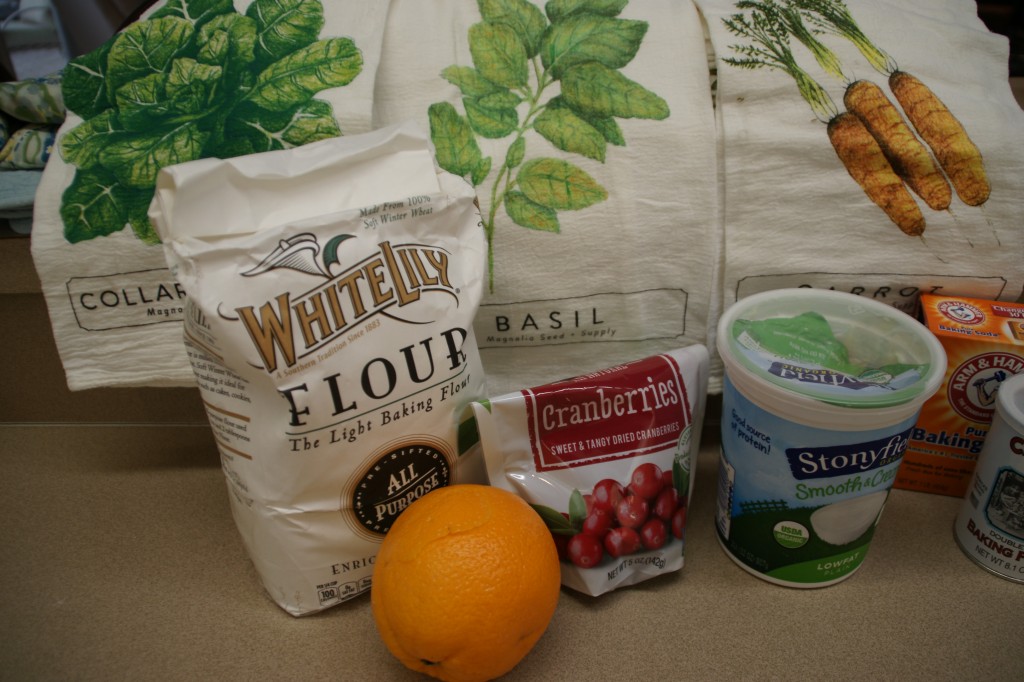 First of all, I am sure being in the south and now a Texas Girl, Joanna and staff use a traditional southern biscuit flour such as White Lilly or some other low protein flour. It makes the biscuits light and the crumb tender. This is the flour to use and self rising flour would be even more perfect. But in some markets, this is hard to find.  That is also a lot of different flours to keep on hand all the time. So to get this same effect as using a low-protein flour, I gave tips with the recipe for substitutions such as using all purpose flour and adding 2 tablespoons of cornstarch per cup of flour.  The results are a slightly coarser crumb than Magnolia Flour's but letting the dough sit for about 1/2 hour before baking makes the crumb more tender.
The real secret is to handle the dough as little as possible and as gently as possible. This takes lots of practice but this recipe is so delectable that everyone will oooh and aww over your first biscuit. Only you will know how much better your biscuits are after many times of working the dough and knowing how gently to knead the dough.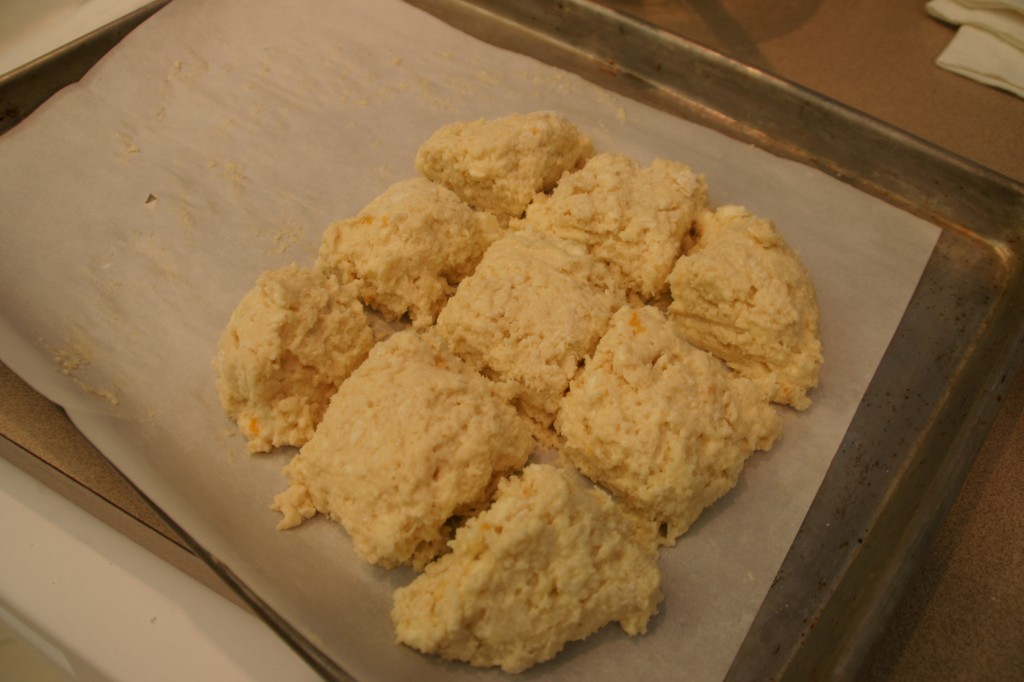 Placing the biscuits close together was another tip I learned from the bakery. It allows the biscuits to raise straight up and tall but still have soft, luscious sides.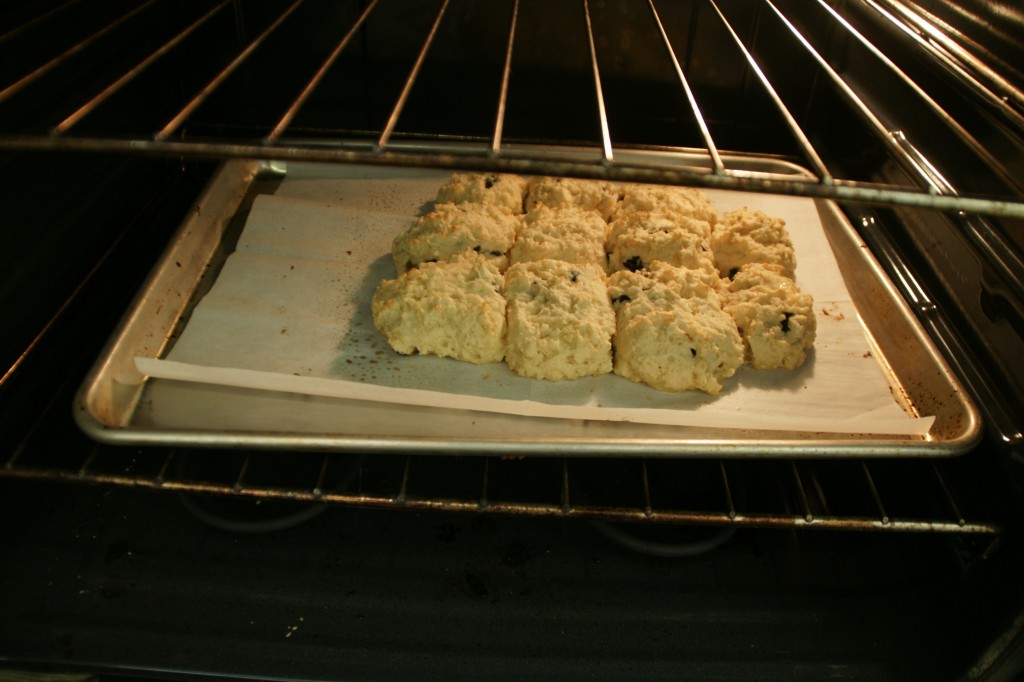 I noticed that Magnolia Bakery cook their biscuits just until barely done. That's right. The center biscuits are incredibly moist and I bet  that even the biscuits at the edges of the baking sheet are absolutely, perfectly moist and tender. One tip for this recipe is to err on the side of under-cooking the biscuits.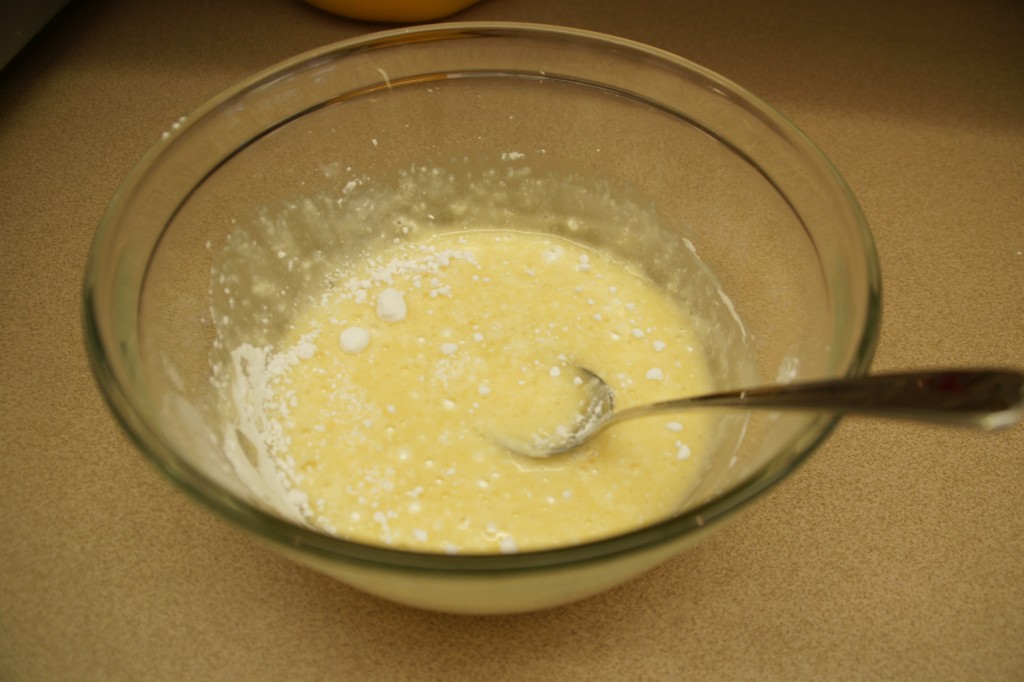 A glaze of orange zest,  juice, vanilla and powdered sugar is spread over each biscuit. I experimented with the glaze and the best time to spoon it on the warm biscuits. If it is put on too soon, it melts and dissolves into the biscuit, so let it cool a little.  Pour on the glaze  so it drys  to make a slightly stiff coating.
Orange Cranberry Biscuits
(AKA:  A lot like Joanna Gaines' Biscuits from Fixer Upper and Magnolia Farms fame)
Biscuits:
2 1/2 cups White Lilly self rising flour
1/4 cup sugar
2 1-inch pieces of orange peel without any white pith on it
1/2 cup butter, cut up in pieces
2  teaspoons baking powder
1/2 teaspoons baking soda
3/4 teaspoon salt
2/3  cup buttermilk, milk or  light cream or as needed
1 egg, lightly beaten
2 tablespoons frozen orange juice concentrate
3/4 cup dried cranberries

Glaze:
1 cup powdered sugar
2 tablespoons orange juice
1 tablespoon grated orange zest
1/2 teaspoon vanilla extract
For Biscuits:Combine  cream and orange juice concentrate. Set aside while mixing remaining ingredients. The cream might thicken slightly which is a good thing.
Combine sugar and orange zest in food processor. Process until the orange peel is very fine, about 15 seconds.  Add flour, butter, baking powder, soda and salt to mixture in food processor. Process for 2  to 3 seconds or until butter is cut into pieces about the size of a pea (so easy to over-process so you can also cut the butter into the dry ingredients with a fork or pastry blender). Pour this dry mixture into a mixing bowl. Pour liquids into the center of the dry ingredients. Add dried cranberries. Stir lightly, just until flour is no longer visible. Turn out onto a floured board and gently fold dough in half 3 to 4 times, turning and kneading as gently as possible.
Place dough on a parchment paper lined cookie sheet. Pat out to about 2-inch thickness and shape into a 8×8-inch square. Cut into 2-inch squares and gently spread squares apart about 1/4-inch so they can rise but will still touch after baking. (optional: let stand 30 minutes before baking)  Bake for 12 to 15  minutes at 400° or until lightly browned. If the biscuits are really close together, they may take a few minutes longer.  Let cool slightly. Combine glaze ingredients, adding more or less orange juice to get a nice consistency to drizzle over the biscuits, stirring until smooth. Spoon over biscuits and allow glaze to set for a few minutes.
Tips: In place of White Lilly flour which is a lower protein flour, you can substitute other brands of all purpose flour. Each flour will give a slightly different texture.
My sister Debbie did not have cream so she used yogurt and orange juice in place of the concentrate. She said they turned out really good. You can also substitute buttermilk.
If your dried cranberries are not fresh they will draw moisture out of your biscuits and they will not keep as well. To freshen dried fruit, boil 1 cup of  water or orange juice and let the cranberries plump up. Drain well and stir in with other ingredients for biscuits.