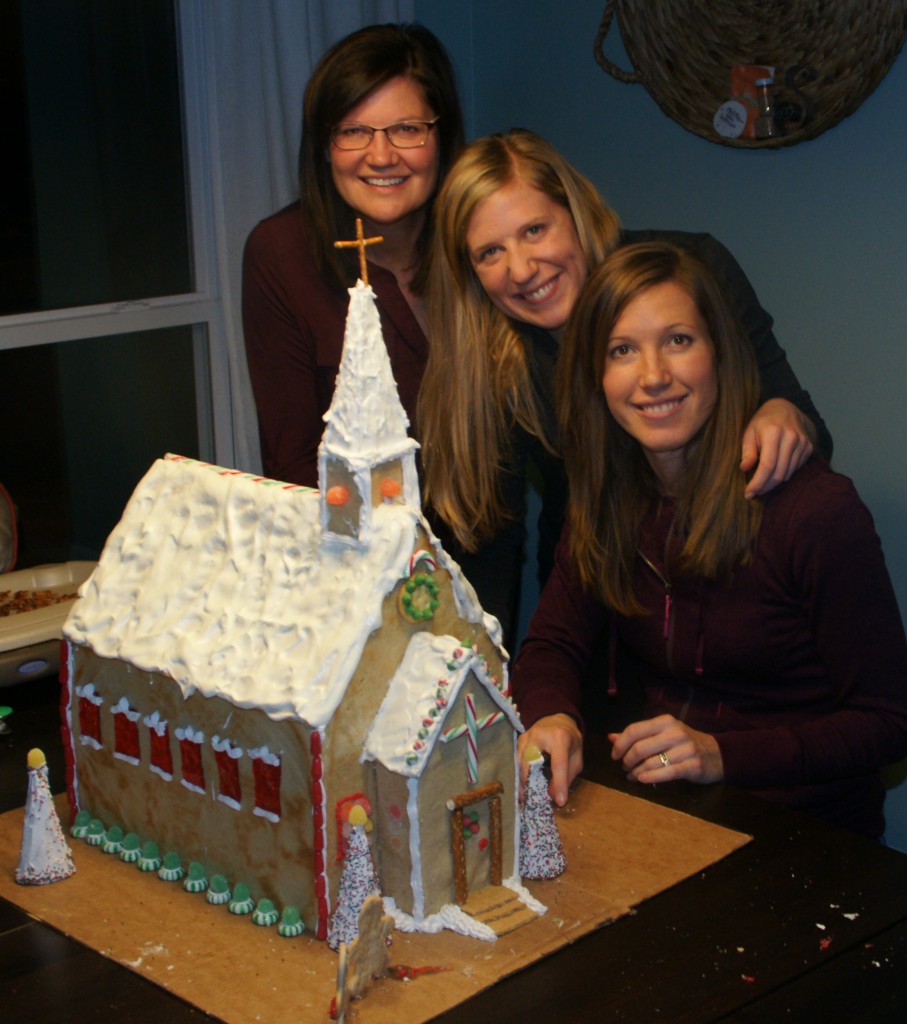 Gingerbread houses can be as simple as a few graham crackers propped up with frosting and candy or as elaborate as little church with stained glass windows.  Our family tradition of making a gingerbread house gets bigger and bigger with every new family member.  Many years when the kids were young, they were more mess than beauty.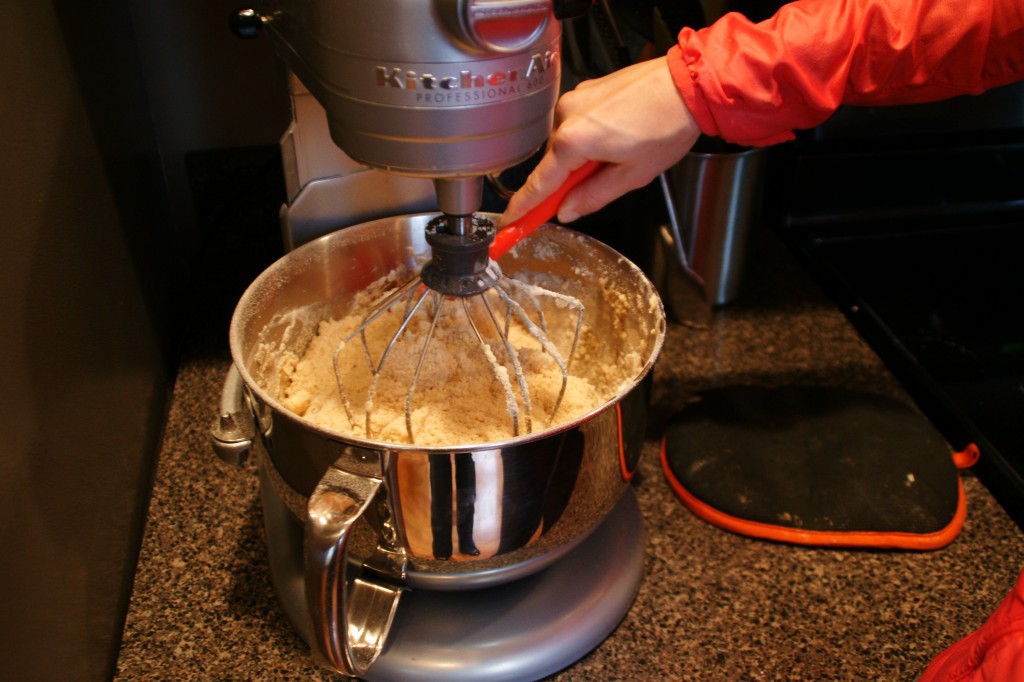 Start with a gingerbread dough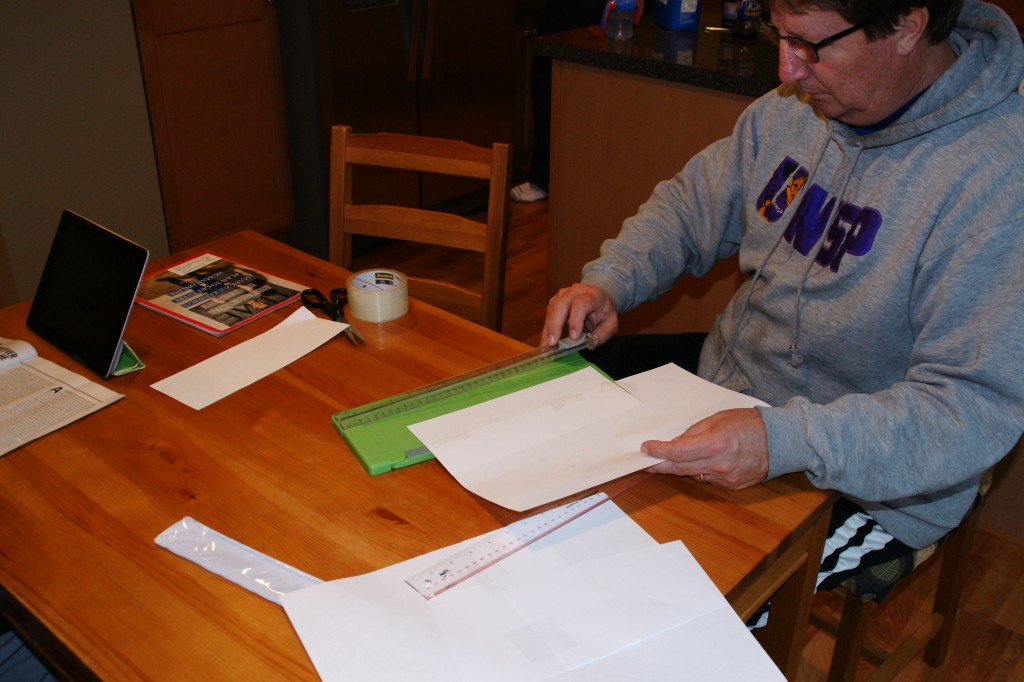 and a pattern.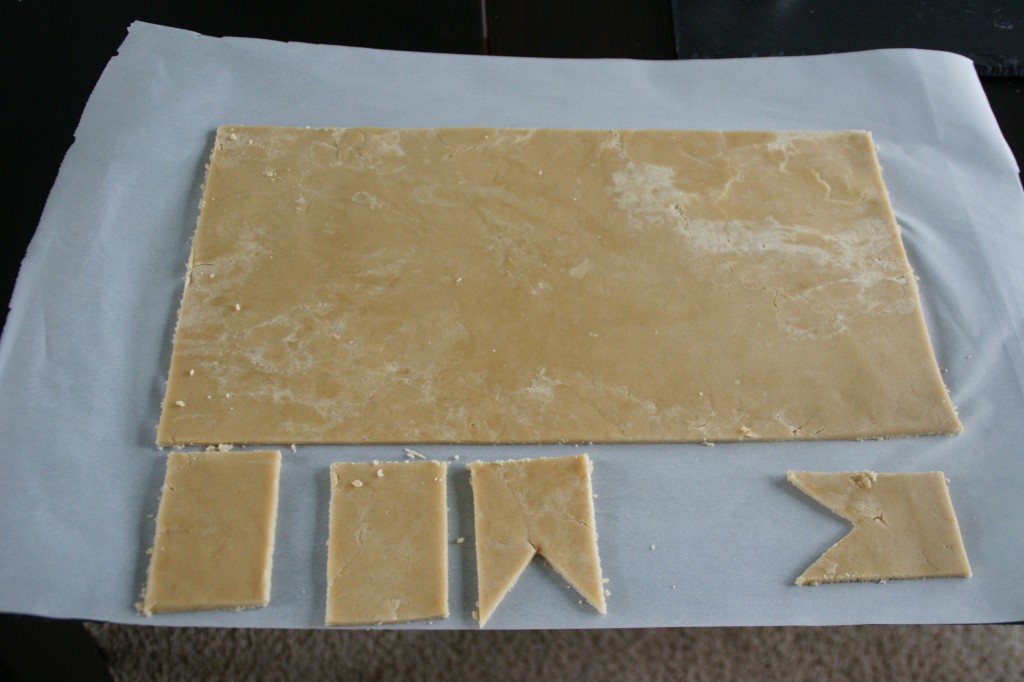 Cutting out the pieces from gingerbread dough. We cut out the pieces and left them on the parchment paper to bake.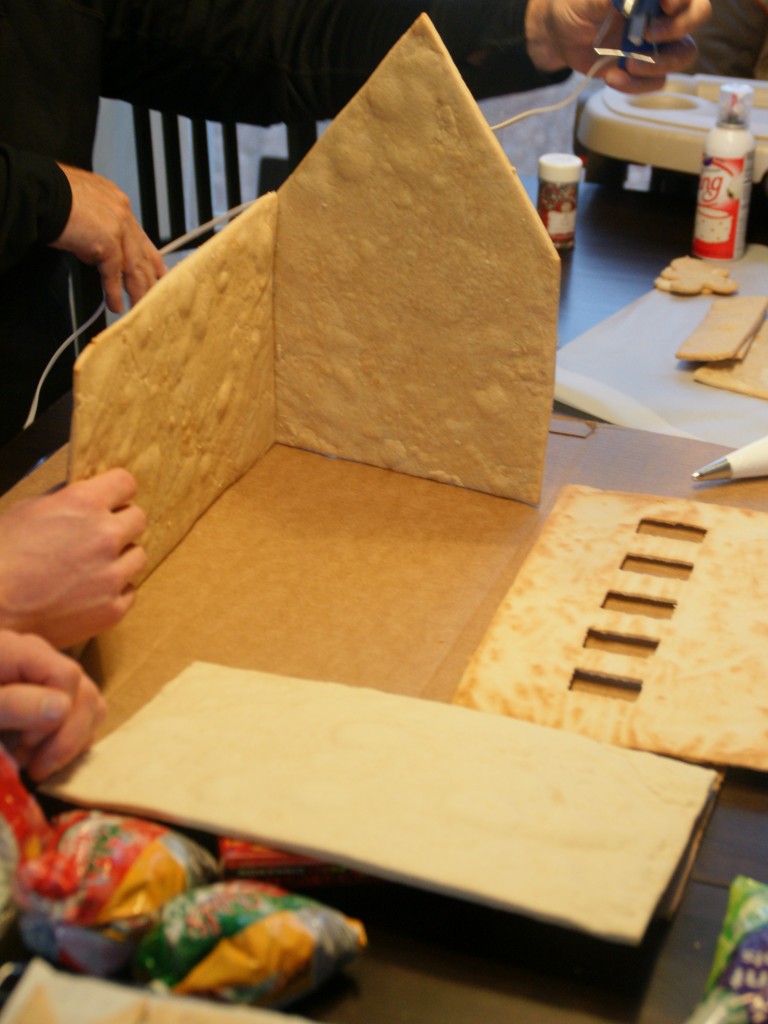 This year we had 2 mechanical engineers, a civil engineer, a food scientist, a senior actuarial analyst,  and an 18 month old working on this project.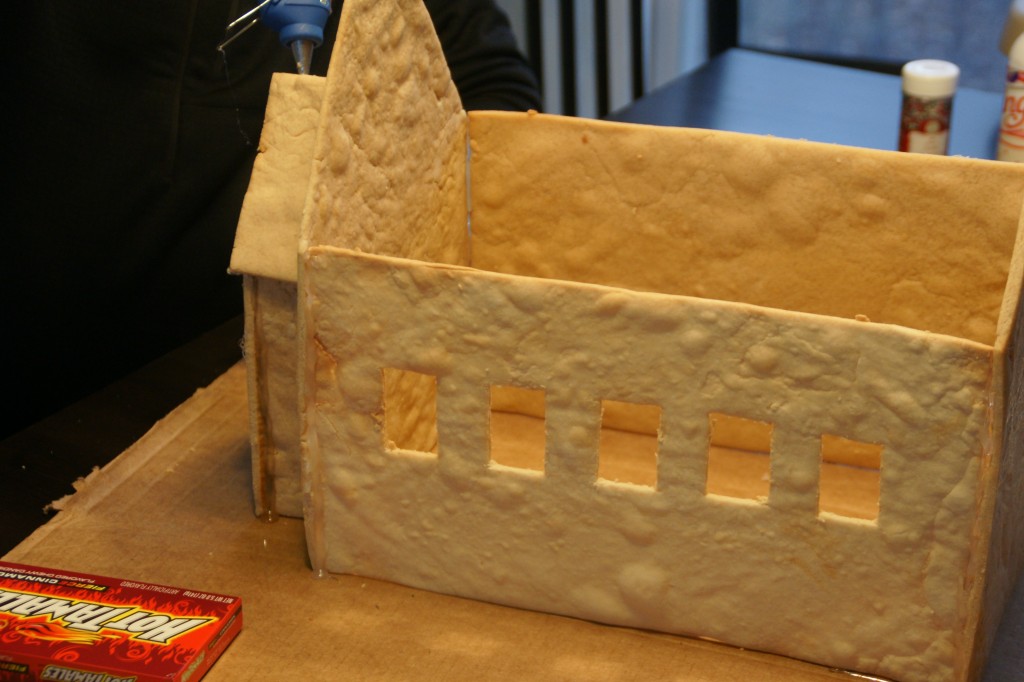 The structural components were designed by the civil engineer,  and one mechanical engineer was the consultant (who did lots of consulting with very little pay…. a gum drop or two).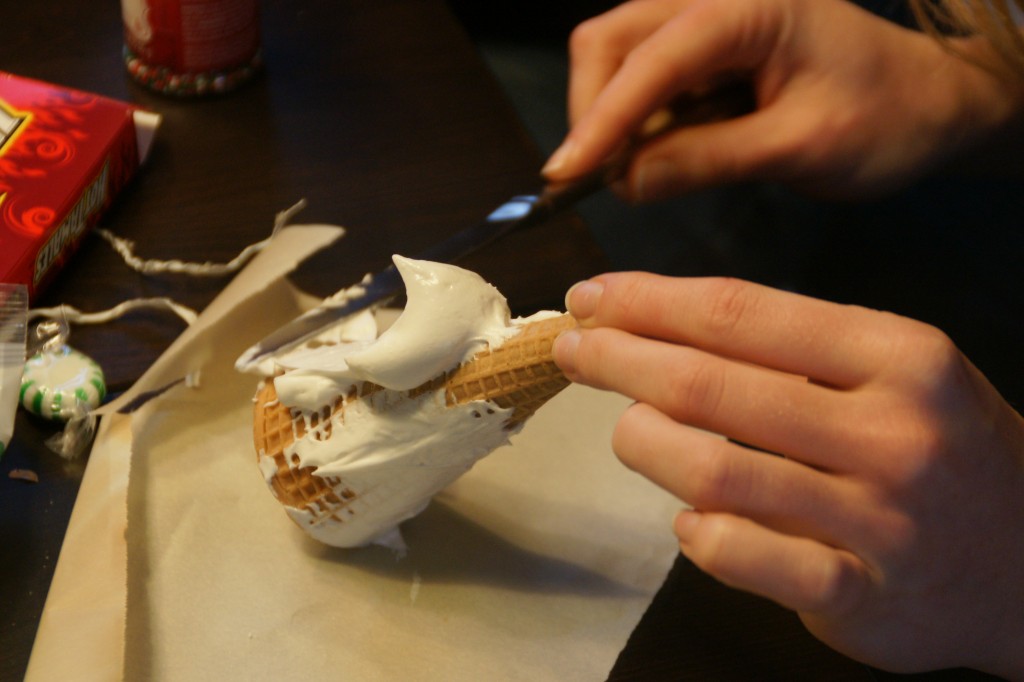 Andria our mechanical engineer came up with the plan to cover ice cream cones with frosting to make trees.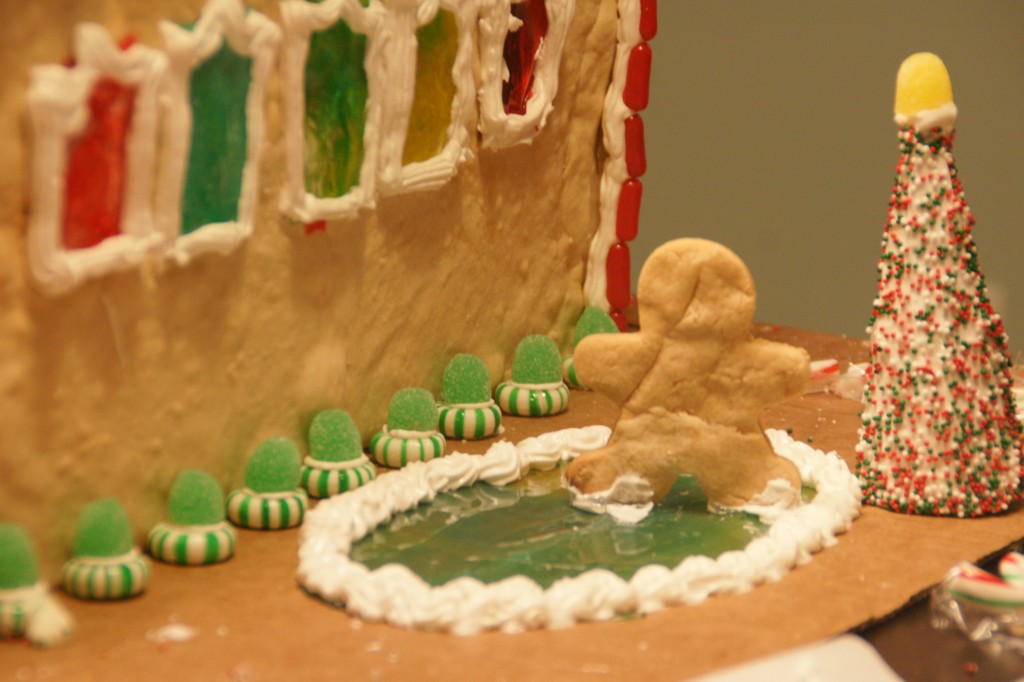 A gingerbread hockey player on the pond. We made the pond by microwaving sugar and water until it makes a hard candy. At the last minute we added food coloring.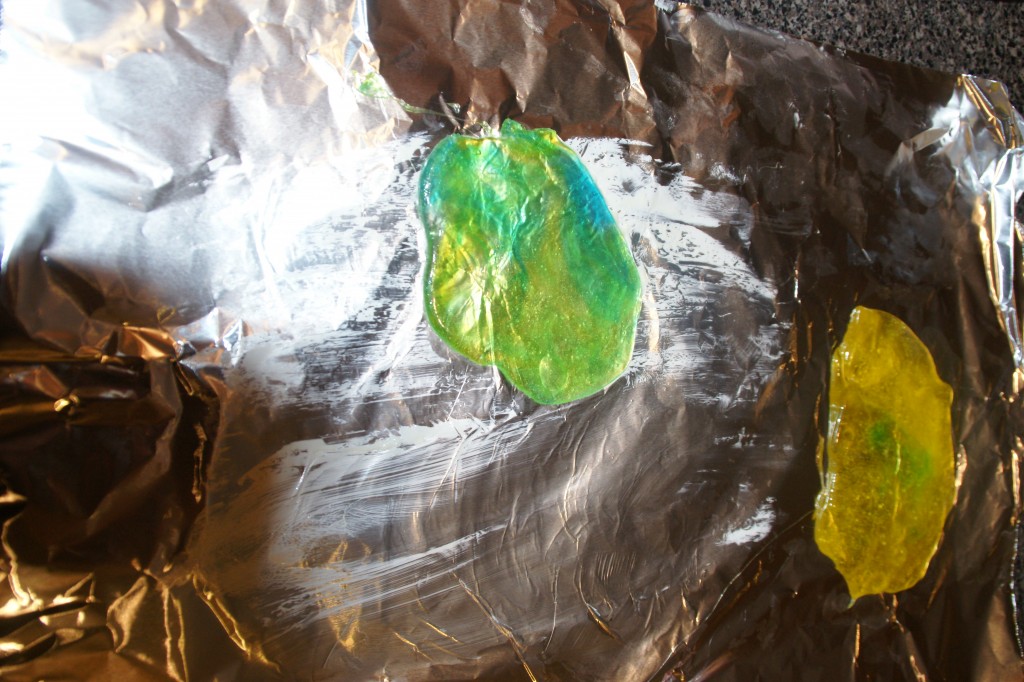 We also used hard candy with food coloring to make stained glass windows for the church.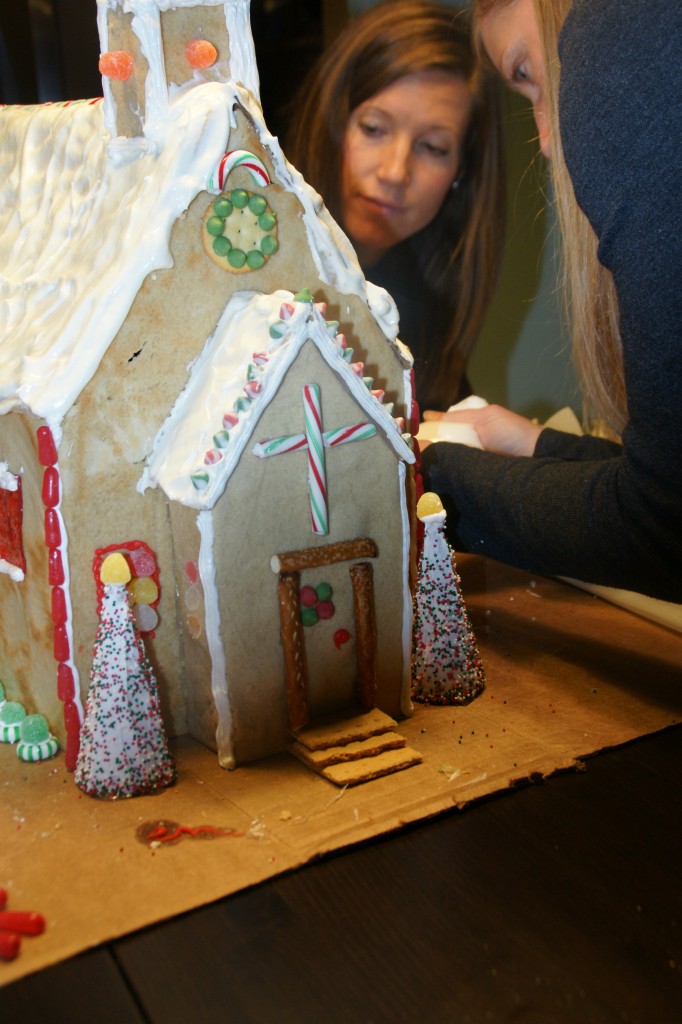 Some of these details required multiple talents. Royal icing in a plastic bag with the corner cut off or a cake decorating bag is used to add special touches.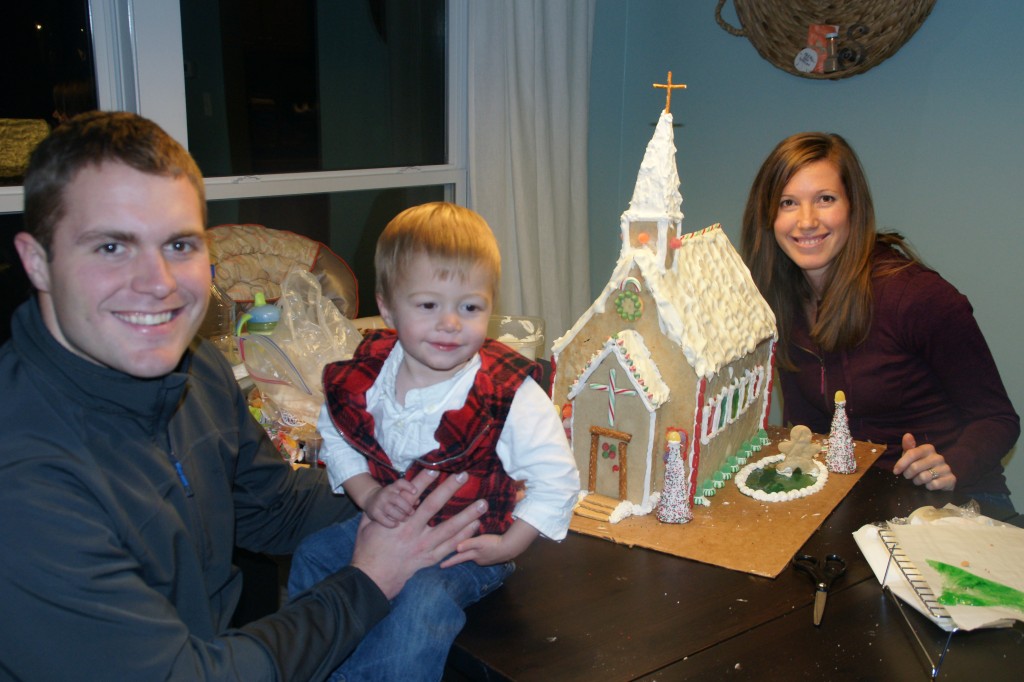 In the end, it was our replica of the church Ashley was married in. It was a weathered little church on the shores of Lake Michigan.
Gingerbread House Dough
9 cups flour
2 cups corn syrup
1 1/2 cups brown sugar
1 1/4 cup margarine
Put flour in mixing bowl. Heat corn syrup, brown sugar and margarine in microwave on high for 2 to 3 minutes or until heated through. Add to flour and mix until it forms a ball. Roll out 1/4-inch thick and cut to make walls, roof, sides and other desired pieces.
Bake at 350 degrees for 15 minutes or until lightly browned. Let cool and dry before putting house together with frosting or hot glue.
Royal Icing
3 egg whites
1 pound powdered sugar
Beat egg whites until foamy, add powdered sugar and continue beating until stiff peaks, about 5 to 6 minutes.  Keep covered until ready to use. Frosting will firm up quickly.
Hard Candy
1/3 cup water
1/3 cup corn syrup
2 cups sugar
Food coloring
Butter a large piece of foil.
Combine water, corn syrup and sugar in a 2-quart measure. Microwave on high for 5 to 6 minutes or until mixture reaches hard crack stage (300 degrees) stirring several times. Use a candy thermometer or drop a spoonful into ice water. If syrup makes a cracking sound and forms a brittle string, it has reached 300 degrees. The microwave cooking time is approximate, cook syrup to hard crack stage, stirring several times.
Quickly stir in food coloring and pour out onto buttered foil.  Allow to cool just a few minutes and score to desired window size. When completely cool, break candy along scored lines. An alternate method is to make a foil mold of the desired shape and size. Butter foil mold. Make sure mold has secured foil sides so hot syrup can not spill out. Pour hot syrup into the foil mold and allow to cool completely.