Toss pecans with a touch of brown sugar, a sprinkling of cinnamon, an infusion of vanilla and a few zests of orange for a indescribable candied pecans for this   salad. The dressing features blueberry pomegranate dressing. Salad greens can be baby field greens, spinach or a mixture of lettuces.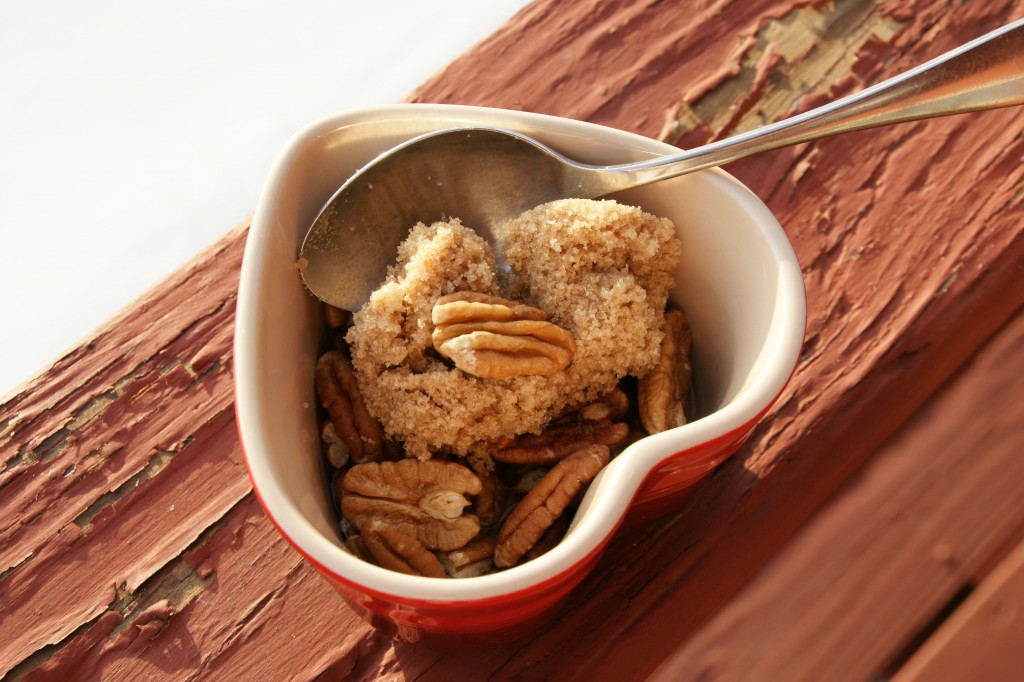 It takes only 1 1/2 to 3 minutes in the microwave for the nuts to caramelize and become toasted.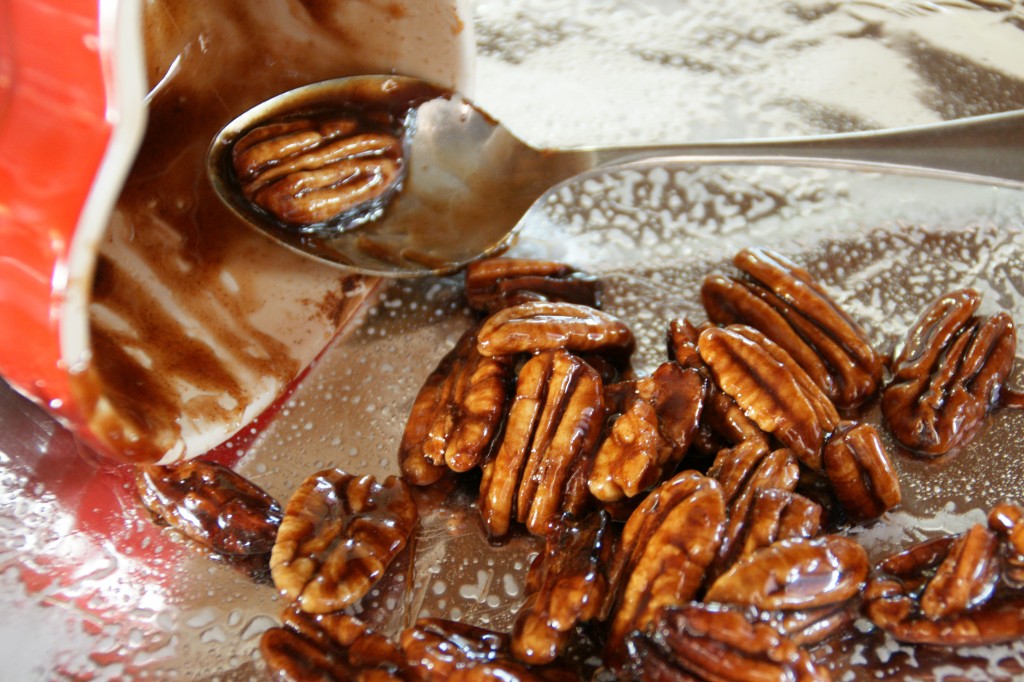 Stir the pecans often and watch them carefully. If a smell is wafting from the microwave, chances are the pecans are  burning in the center.  Salvage them by quickly turning them out onto a foil-lined baking sheet. Spray the foil with butter to help the candied pecans to release easily.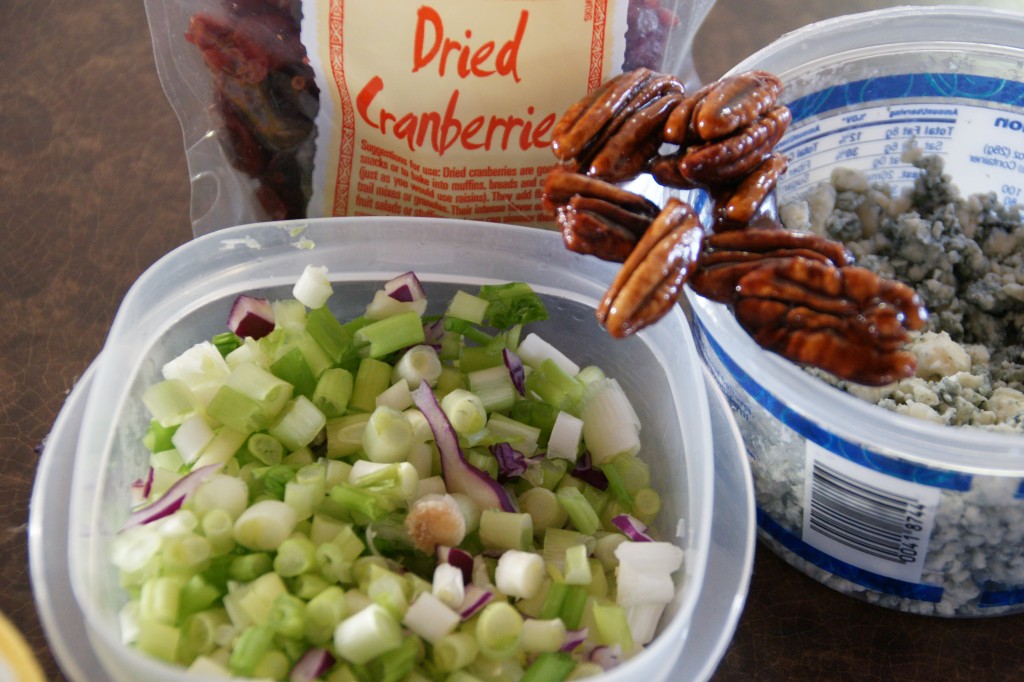 Once the pecans are toasted, just add crumble blue cheese, dried cranberries and sliced green onion.  The dressing is blended in the blender and is a great contrast with the salty, tangy cheese.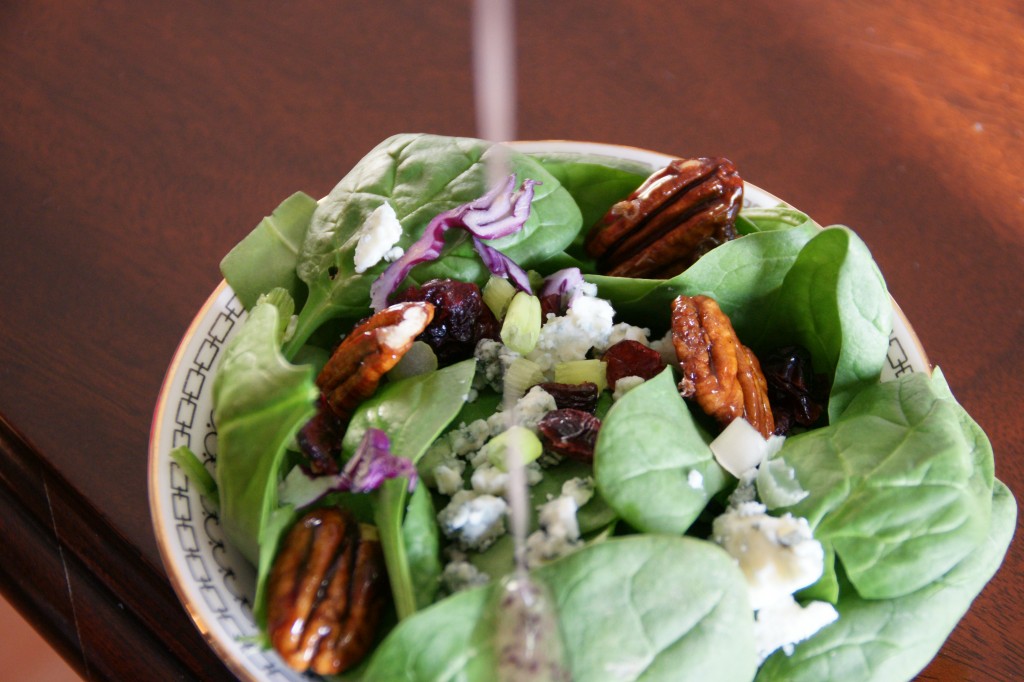 Above,  the dressing is drizzled over each salad but it can be tossed with the entire salad to coat everything well.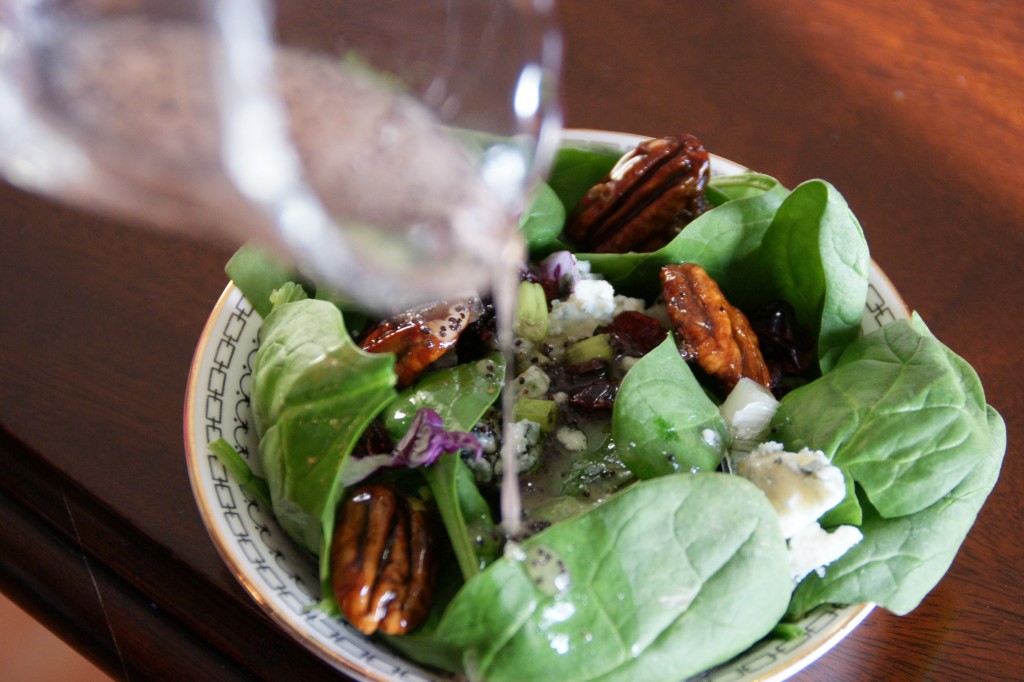 Blueberry Pomegranate Dressing over Salad Greens, Dried Cranberries and Candied Pecans
8 ozs washed salad greens
3 green onions, sliced
1/2 cup candied pecans (recipe follows)
1/4 cup crumbled blue cheese
1 cup shredded red cabbage
1/2 cup dried cranberries
1/3  cup Blueberry Pomegranate Dressing (recipe follows)
Toss dressing with all the ingredients just before serving.
Candied Pecans
1 cup pecans
1/2 cup brown sugar
2 tablespoons water
1/4 teaspoon cinnamon
1/2 teaspoon vanilla
Combine all ingredients in a small glass bowl. Microwave on high for 1 1/2 to 3 minutes or until pecans are toasted and syrup hardens when tested in cold water. Spoon out onto a foil lined tray that has been coated with cooking spray. When cool, break into pieces and sprinkle over salad.
Blueberry Pomegranate Dressing
3/4 cup sugar
1 teaspoon salt
1/3 cup blueberry pomegranate infused red wine vinegar
1-inch piece of onion
1 cup salad oil
2 tablespoons poppy seeds
Combine all ingredients in blender and process until blended, making sure onion is completely pureed.  Toss with salad just before serving.