Town and Gown Event Recipes
The Culinary Medicine lecture I gave for our community included some really innovative recipes. Overnight oats are super simple and the buckwheat crepes are a little more involved, but so amazingly fun that is totally worth it. The lecture was in the morning so we featured fresh produce in crepes, a frittata and some added to quinoa.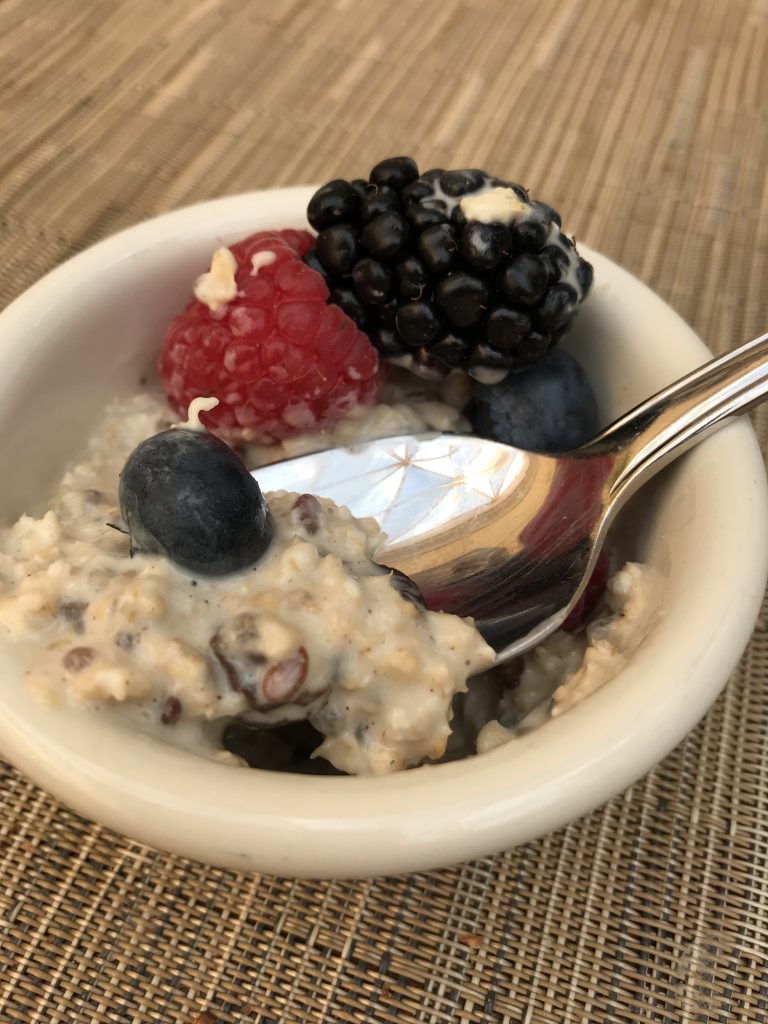 Menu
Overnight Oats with Flax and Fresh Raspberry and Mint
Buckwheat Crepes with Sautéed Fresh Vegetables
Vegetable Frittata
Quinoa Fruit Salsa With Cinnamon Wedges
Overnight Oats with Flax and Fresh Raspberry, Coconut and Mint
¼ cup rolled oats
1/2 cup plain yogurt
½ cup milk or kefir
1 tablespoon whole flax seeds
2 tablespoons honey, sorghum or maple syrup
½ teaspoon pure vanilla extract
Divide ingredients between serving dishes or small mason jars or into individual clear containers. Top with fresh raspberries, toasted coconut and a drizzle of almond butter if desired.
Buckwheat Crepes
1 cup buckwheat flour
¾ teaspoon salt
2 large eggs
1 ¼ cups whole milk
2 tablespoons brown sugar, maple syrup or honey (optional)
1 teaspoon vanilla
1 tablespoon butter
Combine all ingredients in blender or a bowl and mix until smooth.  Pour a small amount of batter into a crepe pan or small sauté pan that has been coated lightly with oil. Cook the crepe for 1 to 2 minutes on the first side and then flip.
Fill crepes with sautéed mushrooms and vegetables. Top with a drizzle of maple syrup.
Quinoa Fruit Salsa
3 quarts of fresh strawberries, diced small (about 1/4 inch)
2 kiwi, diced small
6 Granny smith apples, diced small (¼ inch dice)
1 cup cooked Quinoa
½ cup orange juice
¼ cup apple jelly
2 tablespoons brown sugar
Combine all ingredients and serve with homemade cinnamon tortilla wedges or with cinnamon graham crackers.
Cinnamon Wedges
Cut 10-inch flour tortillas into wedges and spray with cooking spray. Sprinkle with sugar and cinnamon. Arrange on a baking sheet in a single layer. Bake at 350 degrees for 8 to 10 minutes.
Vegetable Frittata
1 cup chopped fresh asparagus
¼ cup chopped green pepper
2 tablespoons chopped red onion
¼ cup chopped tomato
6 eggs
½ cup milk
1/4 to 1/2  teaspoon salt
1/8 teaspoon ground black pepper
1 cup shredded aged cheese
Preheat oven to 375 degrees. Spray 12 muffin cups with cooking spray. Sauté vegetables in 1 tablespoon of oil. Place a spoonful of vegetables in each muffin cup. Combine eggs, milk, salt and pepper in a mixing bowl. Pour over vegetables in each muffin cup and top with cheese. Bake about 6 minutes for mini frittatas and up to 12 minutes for larger frittatas or until almost set.
Brussel Sprout and Mushroom Stir Fry
2 Tablespoons olive oil
8 ounces sliced mushrooms, may use white button or crimini, cleaned off with a paper towel
10 ounces of Brussel sprouts, sliced
2 medium garlic cloves, minced
1/2 cup walnuts
1/2 teaspoon salt
1/4 teaspoon black pepper, freshly ground
Heat olive oil on medium in a large sauté pan until shimmering. Sauté the mushrooms and garlic until soft, about 8 minutes, stirring occasionally. Add brussel sprouts and walnuts to cooked mushrooms. Add salt and pepper. Cook for 5 minutes or until broccoli is tender. Adjust seasonings to your liking.
Tofu Ricotta
1/2 pound firm tofu, pressed between paper towels with a weight on top for 10 minutes to get rid of excess moisture
3 Tablespoons olive oil
2 Tablespoons lemon juice
1/2 teaspoon sea salt
2 garlic cloves, roasted and peeled from a whole head of garlic
1 teaspoon mellow or white miso
Preheat oven to 400 degrees. Cut 1/3 of the top of a whole head of garlic off. Pour 2 teaspoons of olive oil over the cut top and wrap the whole head in foil. Roast the whole head of garlic in a 400 degree oven for 40 minutes, let cool. In a food processor, combine tofu, olive oil, lemon juice, salt, 2 roasted garlic cloves, and miso. Process, stopping a few times to scrape down the sides, until tofu is smooth. It may have a slight granular texture. Adjust seasonings to your liking.