Hawaiian Poke made yellowfin tuna famous. So many Hawaiian cooks develop their own favorite ingredients but yellowfin tuna is the go to base. Other sushami-grade tuna can be used but the time honored tradition for Poke is yellowfin tuna.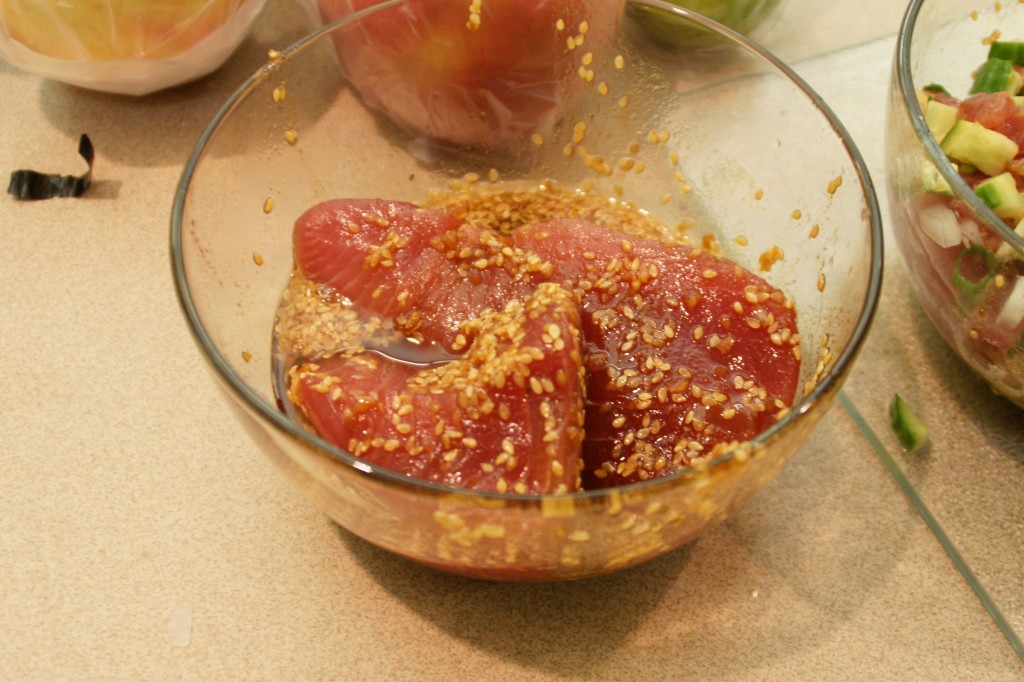 Dice  onion such as maui or vadallia in a uniform piece similar in size to the tuna and cucumber pieces. Sometimes traditional poke contains 1/2-inch pieces but for those who might not want to bite into that large of piece of raw tuna, a tiny dice works best.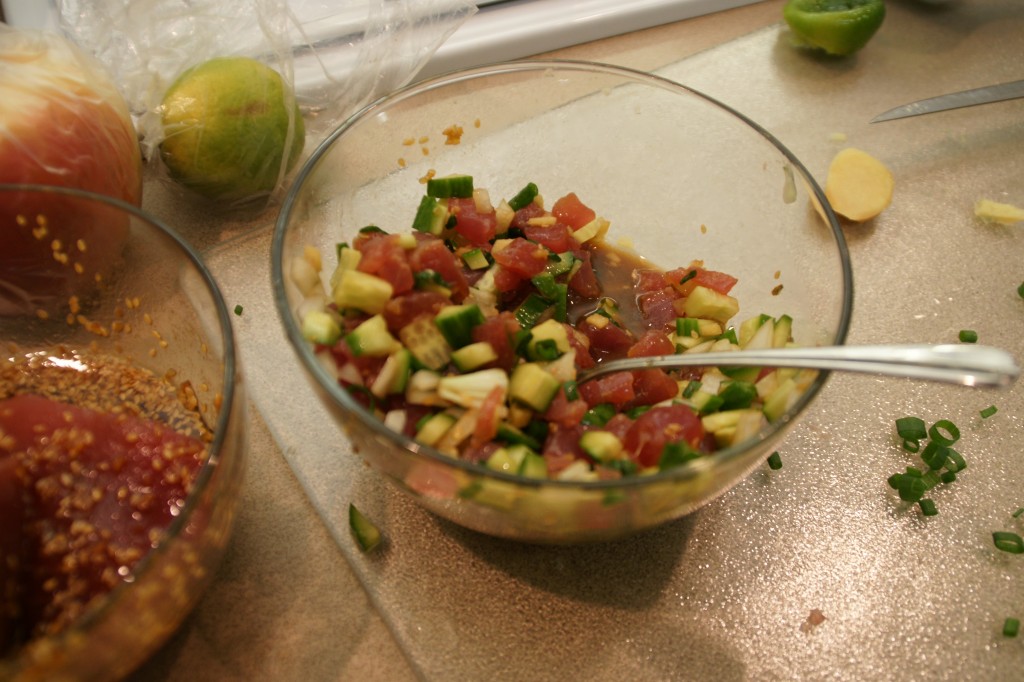 Ponzu citrus seasoning and dressing is a great sauce for this recipe with notes of lime and orange. Soy sauce can be substituted with a touch of lime added. The seasonings only need a few minutes to meld with the raw tuna. Serve chilled and eat immediately.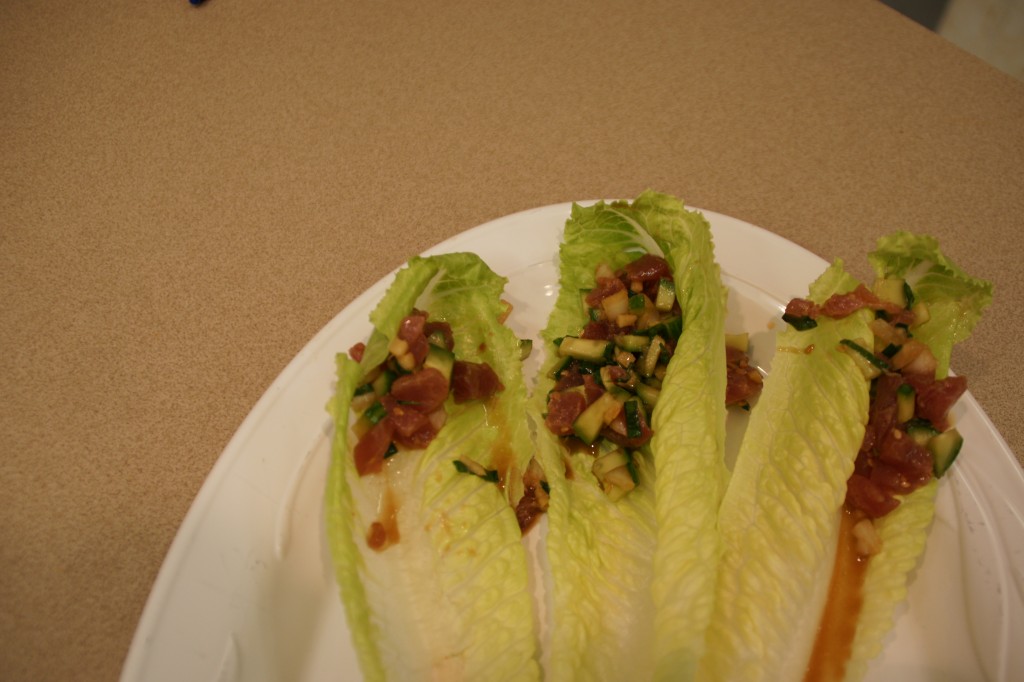 Endive  is a good carrier for Poke and adds  a fresh taste. It can also be served with rice for a meal.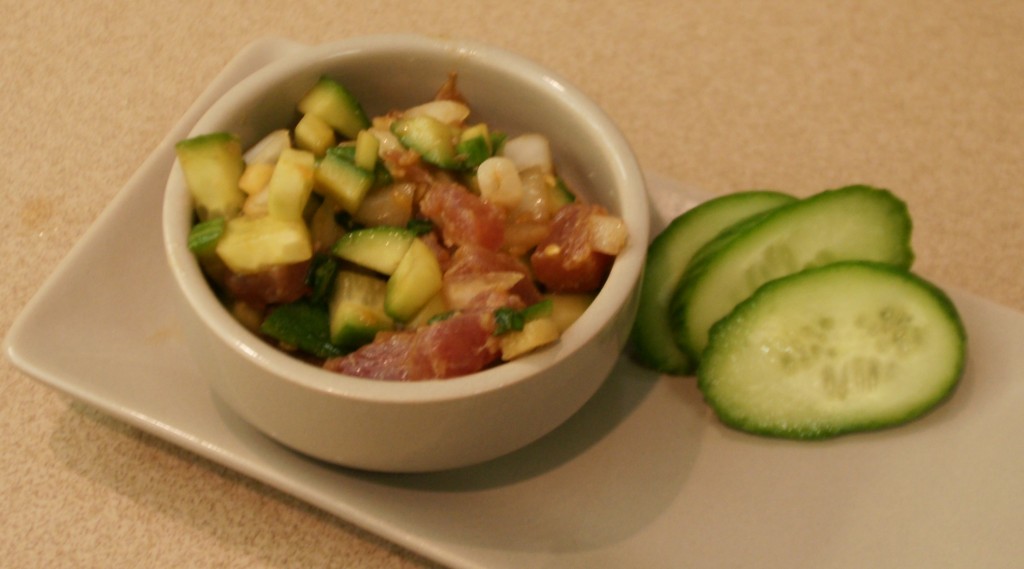 Served as an appetizer with cucumber slices is another idea for serving.
Ahi Poke
¾ lb. yellowfin tuna or other sashimi-grade tuna, diced
¼ cup diced sweet onion
2 scallions, thinly sliced
½ cup diced cucumber
1 teaspoon black and white sesame seeds
1 tablespoon Ponzu citrus dressing or soy sauce
2 teaspoons toasted sesame oil
1 teaspoon honey
Pinch crushed red pepper flakes
¼ teaspoon salt
Combine diced tuna with remaining ingredients. Marinate in refrigerate for 5 to 10 minutes to r before serving. Place a spoonful on an endive leaf and arrange on platter.