Andria and Ashley found one of the perks of living in Italy included a short walk to the bakery for fresh bread. The bread loaves in Fabriano were baked without salt which took a little getting use to.  Panettone, on the other hand, was love at first bite.  A wonderful, orange zest-flavored sweet bread with an iconic shape  defines Panettone.   At Christmas, this was the gift Andria was given from her place of work.
To achieve the traditional shape, Panettone molds made of paper can be purchased in kitchen stores and online. They work well but  I improvised using an empty tin can. I removed the contents, took off the label, cleaned it well, sprayed it with non-stick baking spray and filled. It worked beautifully. The trick is to fill the can at least 2/3 full so that when it rises, it is above the can rim and blooms into a beautiful Panettone shape.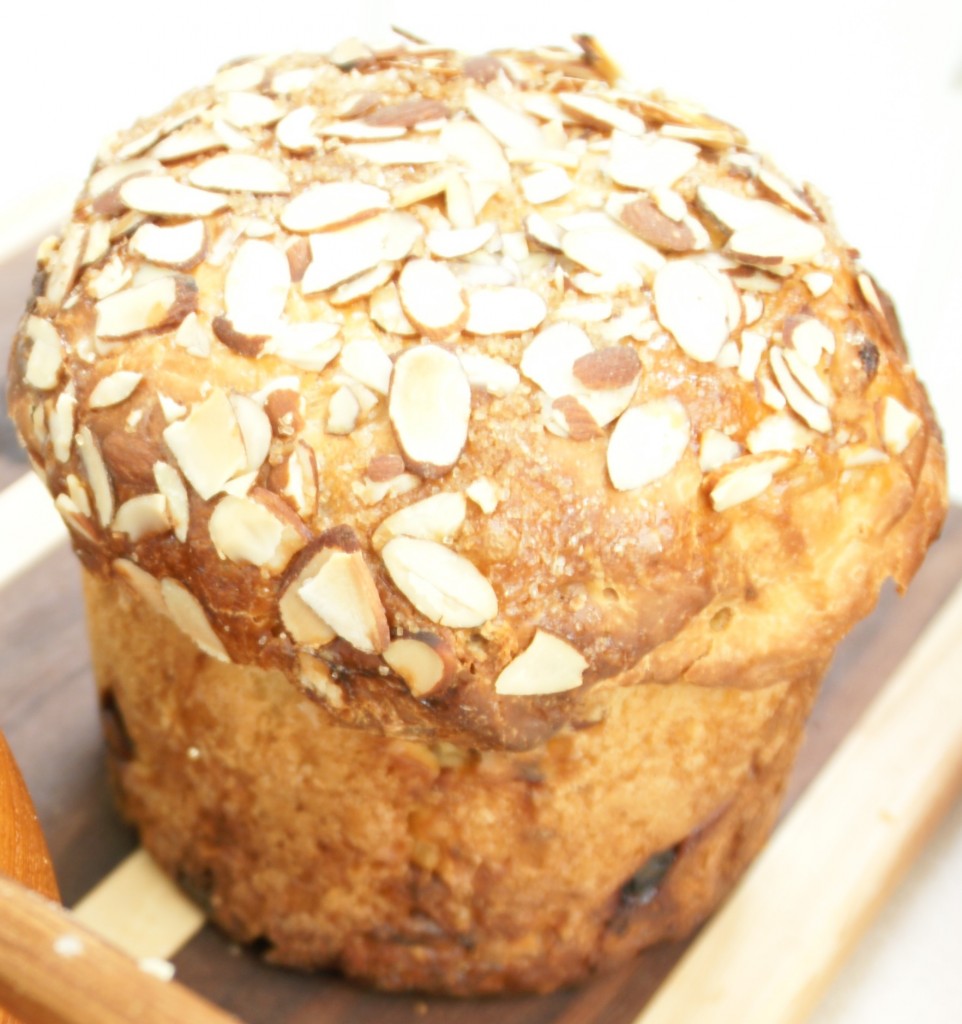 The European term for a sourdough starter is a "pre-ferment" or a "levin".  A starter can also be called a "culture" but all of these terms are referring to the same wild yeast fermentation process which  can be used with or without purchased yeast. A starter gives  Panettone a little more flavor and a longer shelf-life.  The following recipe calls for a starter. Use the one you have or follow the directions on this blog to create a starter. If you do not want to take the time to make a starter, it can be omitted, just adding slightly more flour or water to make a soft, almost sticky dough.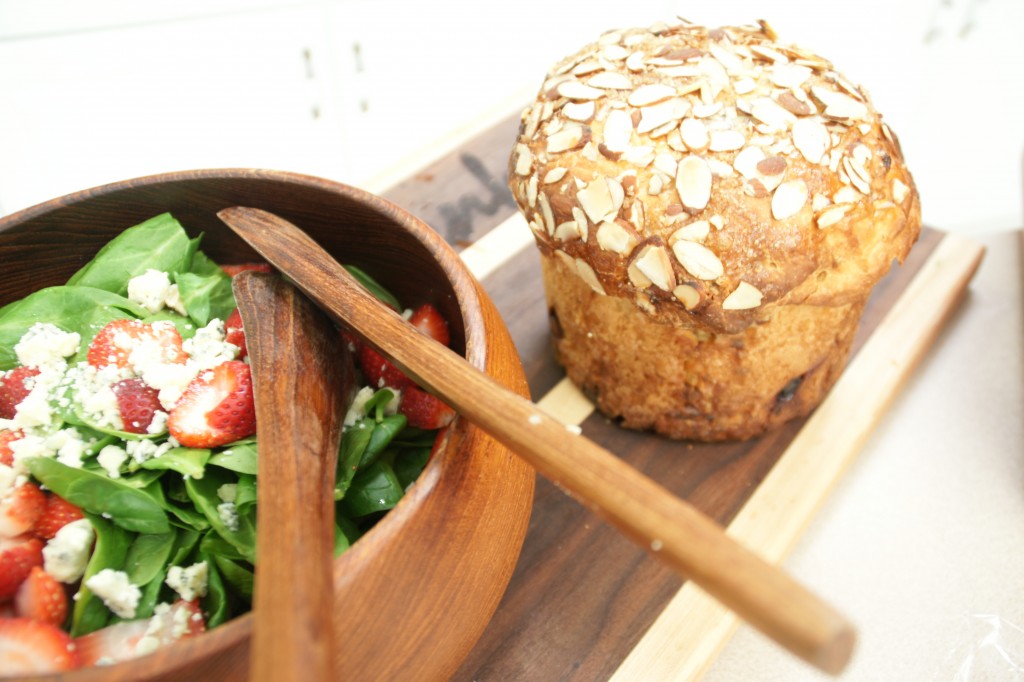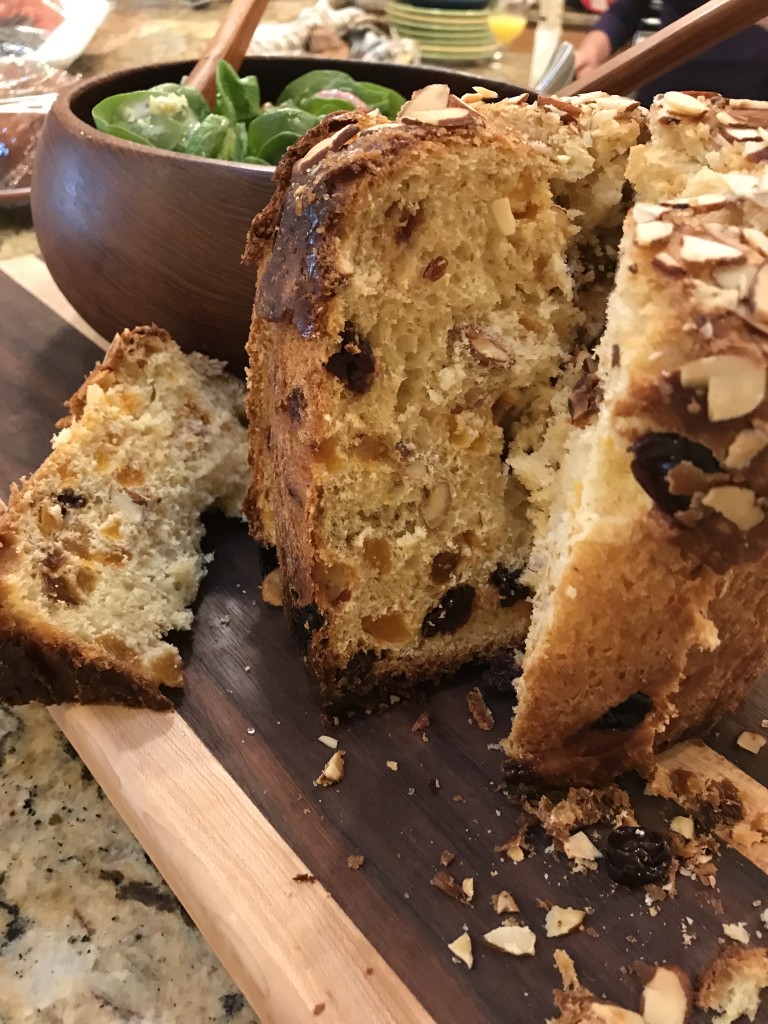 Panettone
3 cups bread flour
3 tablespoons gluten
2/3 cup water
1/2 cup active starter
1 tablespoon instant yeast
3 eggs
1/2 cup butter, softened
½ cup sugar
1 ¼ teaspoons salt
¼ teaspoon orange oil
1 teaspoon vanilla
1 teaspoon almond extract
½ cup golden raisins
½ cup chopped dried apricots
½ cup dried cranberries
½ cup chopped dried pineapple
1/2 cup sliced almonds, divided
2 tablespoons each grated orange and lemon zest
Combine all of the ingredients, except dried fruit and nuts, in a stand mixing bowl and mix just until combined. Then use dough hook and knead for about 5 to 10 minutes or until dough is smooth and soft.  Fold in dried fruits and nuts. Cover the mixing bowl with plastic wrap and allow the dough to rise for about 2 hours or until puffy and slightly risen. Spoon dough into a panettone mold or a can that has been sprayed with non-stick baking spray. Container should be about ¾ full. Cover with plastic wrap and allow to rise for 1 to 1 ½ hours or until light and slightly risen. Brush with egg white that has been mixed with 1 tablespoon of water. Sprinkle with 2 tablespoons sliced almonds and pearled sugar. Bake in a preheated 375 degree oven for 45 minutes or until no longer doughy. Let cool about 10 minutes and remove from mold unless paper molds are used which the Panettone can be cooled and served in.
Tips:
If Panettone is browning too quickly, cover with foil the last 15 to 20  minutes of baking.
Panettone is traditionally cooled upside down and can be cooled by carefully inserting skewers into the bread and hanging bread on a cooling rack, upside down.