Red Velvet and Double Chocolate mini bundt cakes send a special message of love for Valentine's Day.  I experimented with beets to turn the batter into red velvet with mixed results. Fresh beets give the batter a beautiful red color but turns a brown color when baked. A real red for a traditional red velvet cake requires a little red food coloring in addition to mashed beets.  The advantage is that the beets add antioxidants to mini bundt cakes.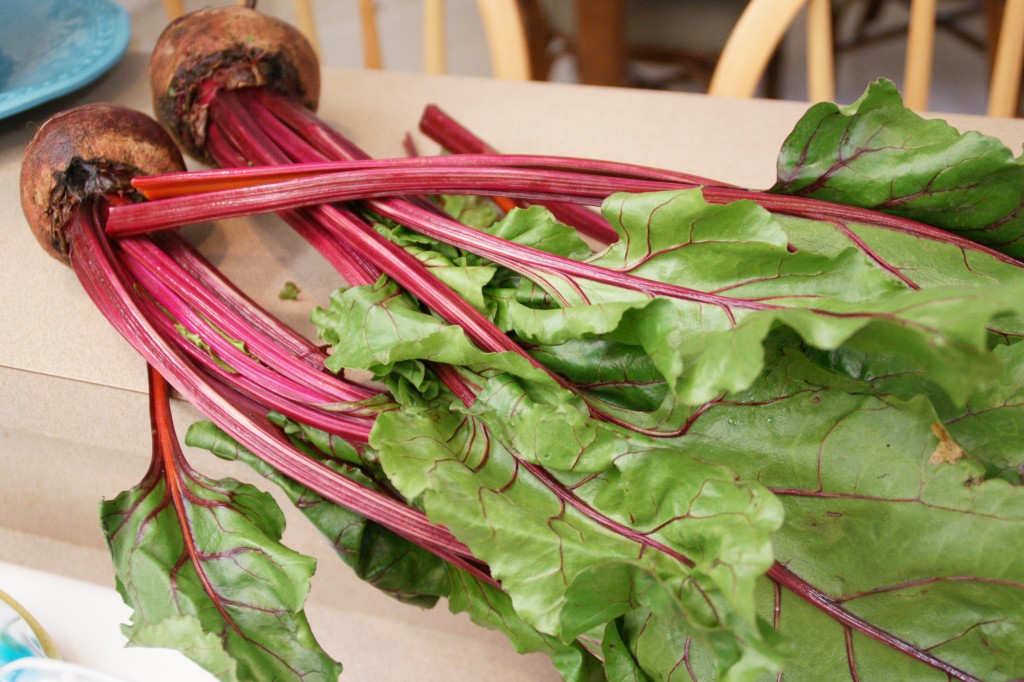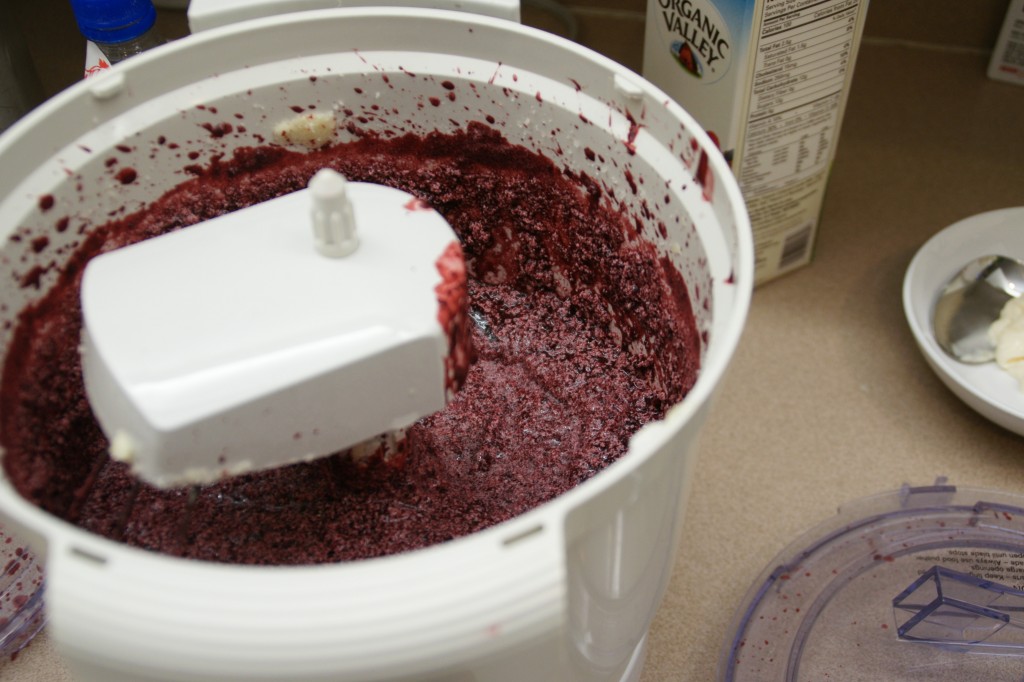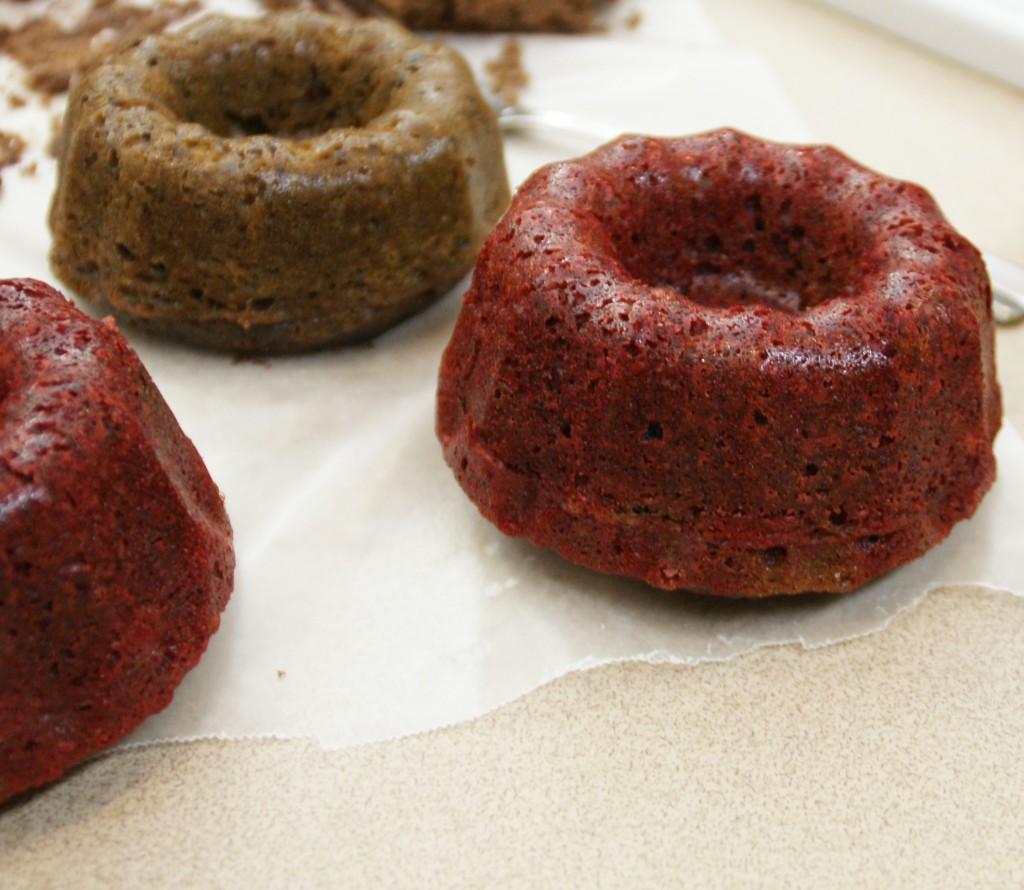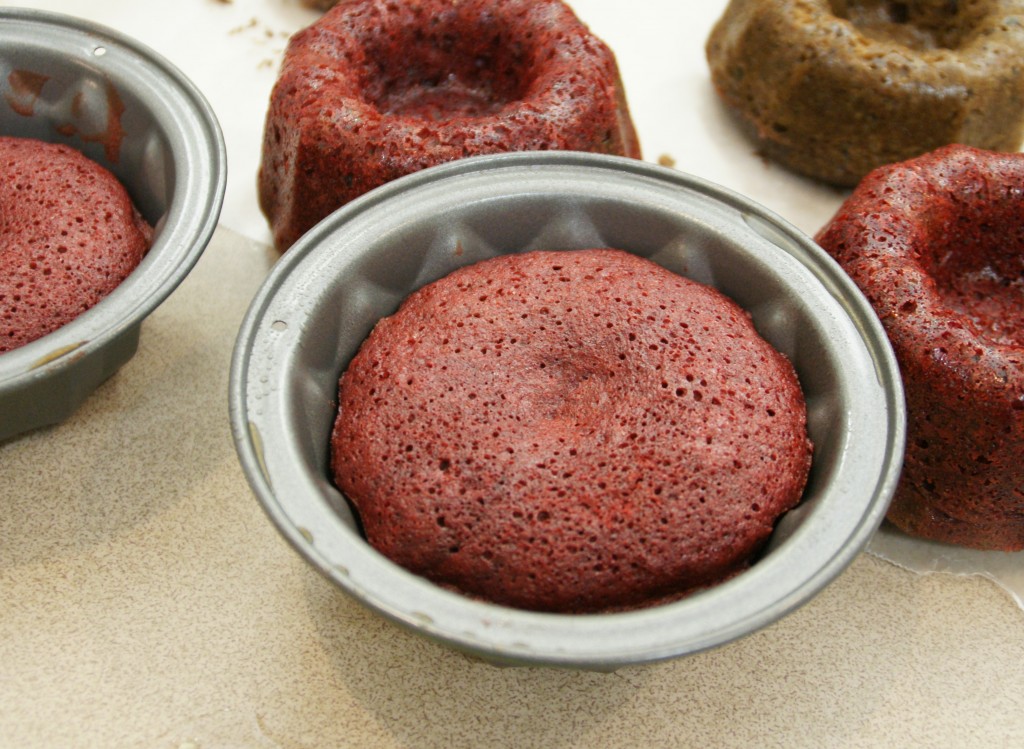 Turn bundt cakes out of the pans within about 10 mintues of when they come out of the oven but let cool completely before frosting or adding a fruit garnish. Bundt cakes often taste even better the second day but everyone who passed through my test kitchen just had to have one immediately while still warm….If that is the case in your house, no worries, melted frosting and warm cake has an allure all its own. I gave up long ago trying to keep hands off of my warm bundt cakes. But, (and that's a big but), if there are some still sitting when cool, store in  an air-tight container, either frosted or unfrosted.   Warm cake can be garnished with fruit when if it will be eaten within an hour or so but the fruit does not hold very long when it comes in contact with the warm cake.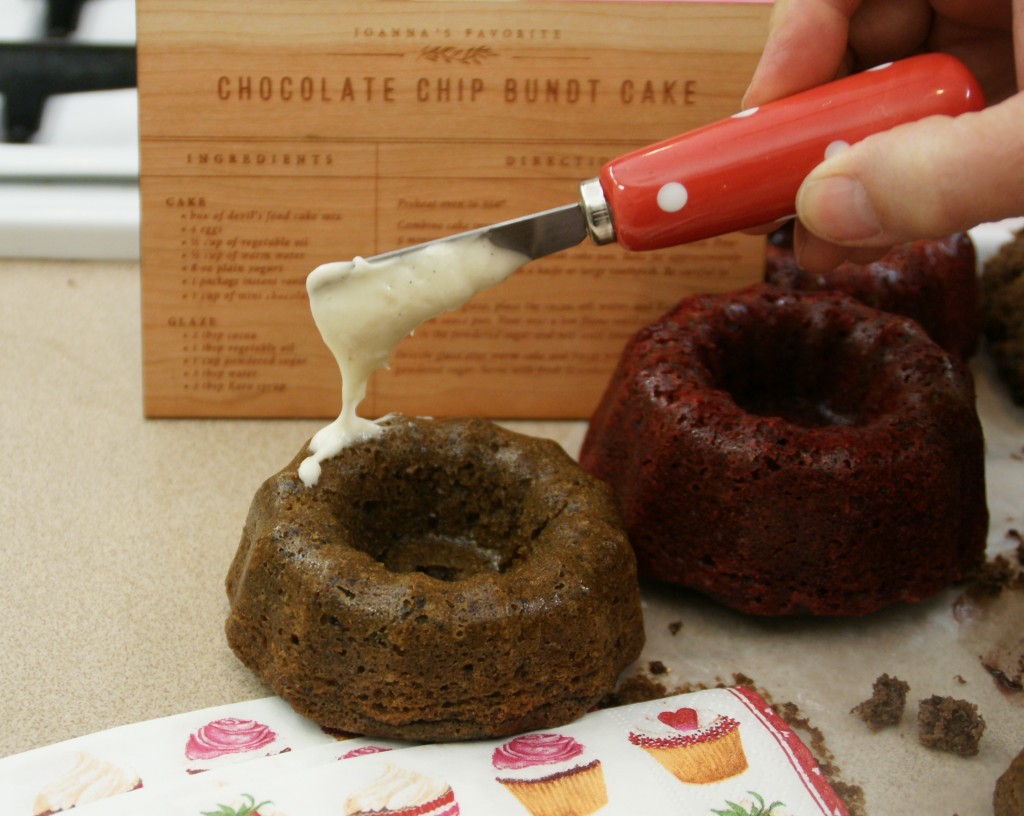 Joanna Gaines of Magnolia Silos fame sells recipes printed on cedar planks. It seems like everyone wants the recipe when I give food gifts so they are such a great gift for tucking into a box of bundt cakes.  The Magnolia Silos recipe starts with a box mix which I did not want to use because I really love making cakes from scratch, plus I really like the flavor of homemade cakes, plus I really like the whole foods/ingredients in homemade cakes and if I needed one more reason to make a cake from scratch, it would be so I could tell everyone I did it!  I love the oohs and aaahs and it is really about the same amount of time to bake this cake from scratch or from a mix.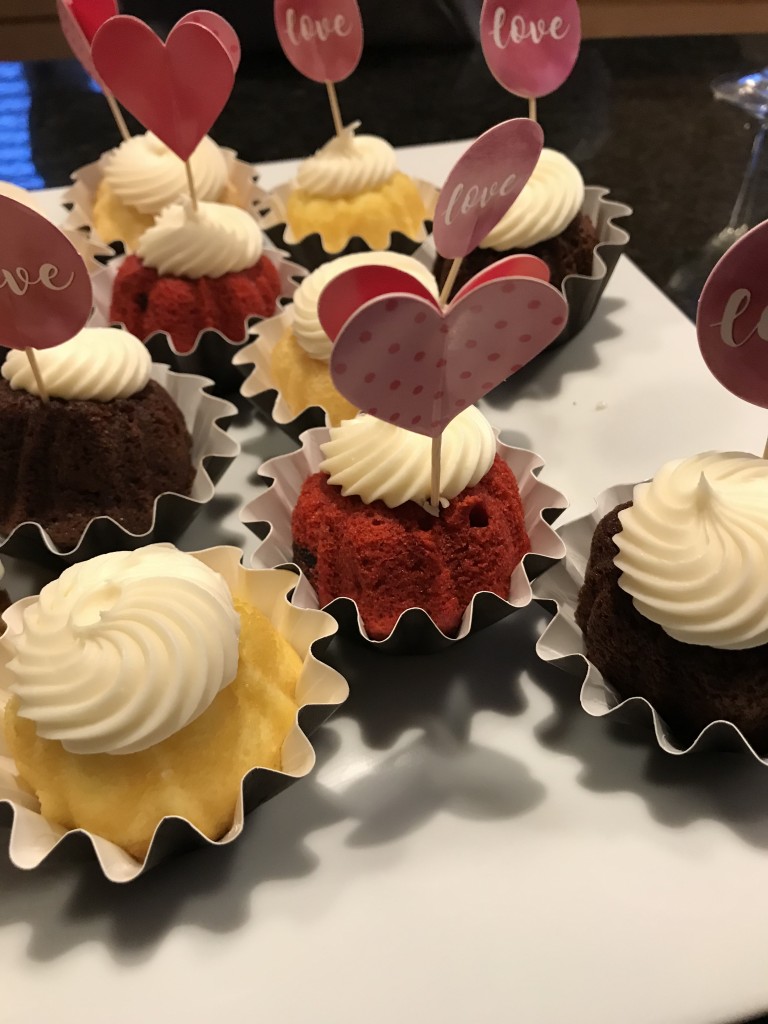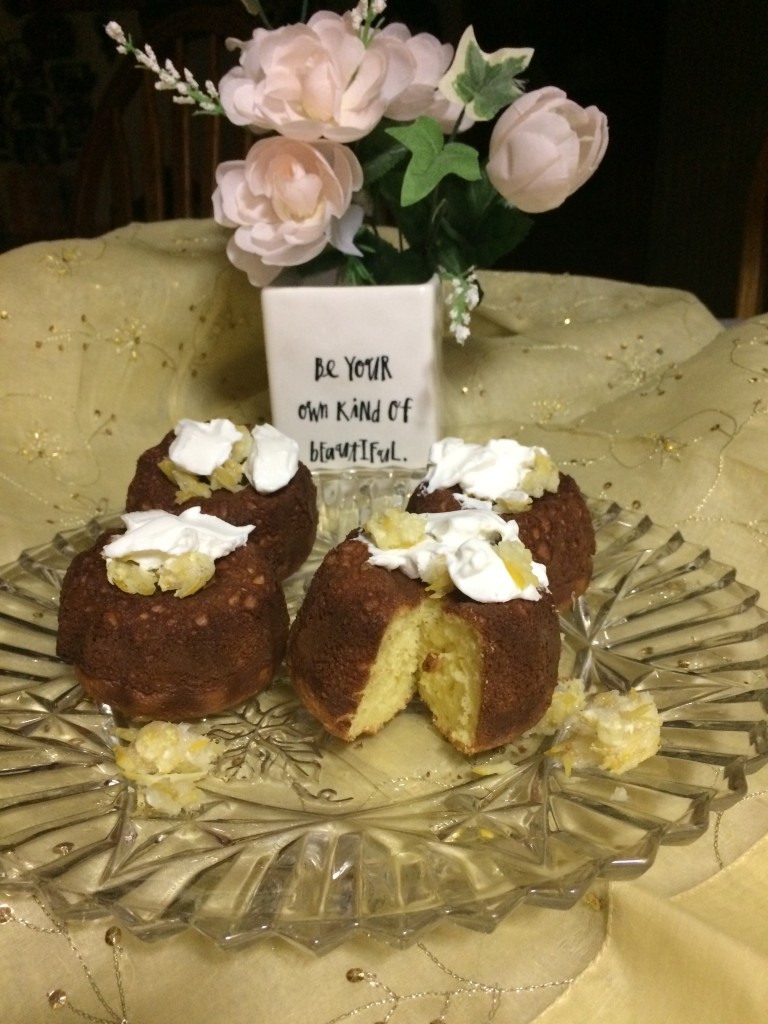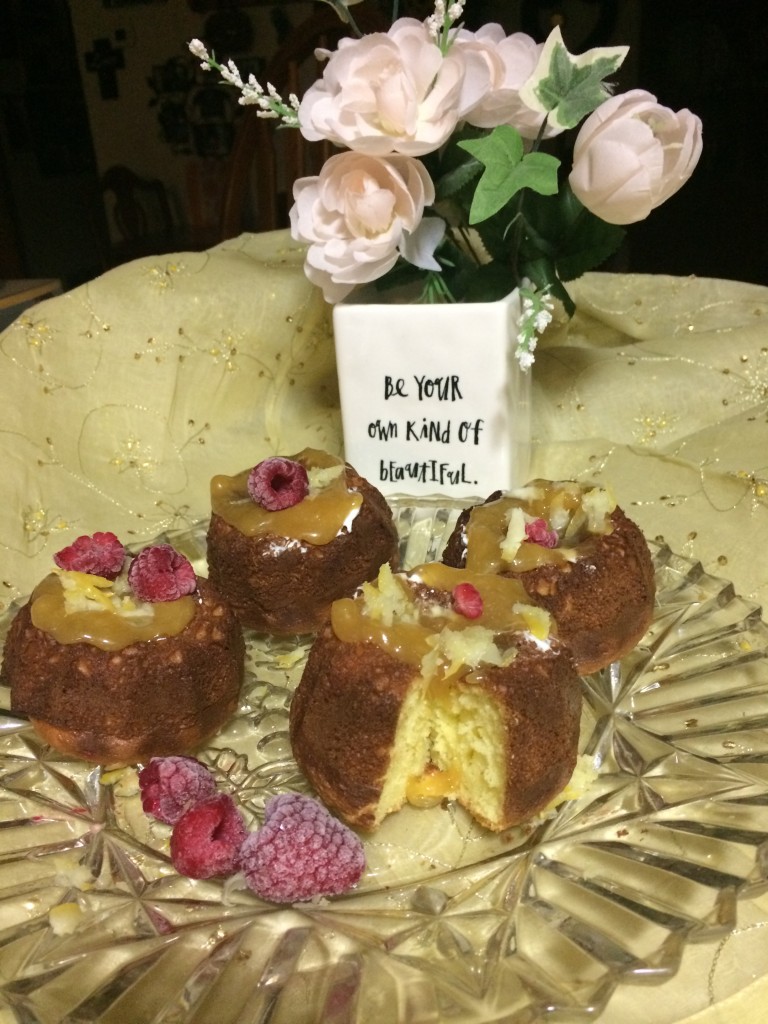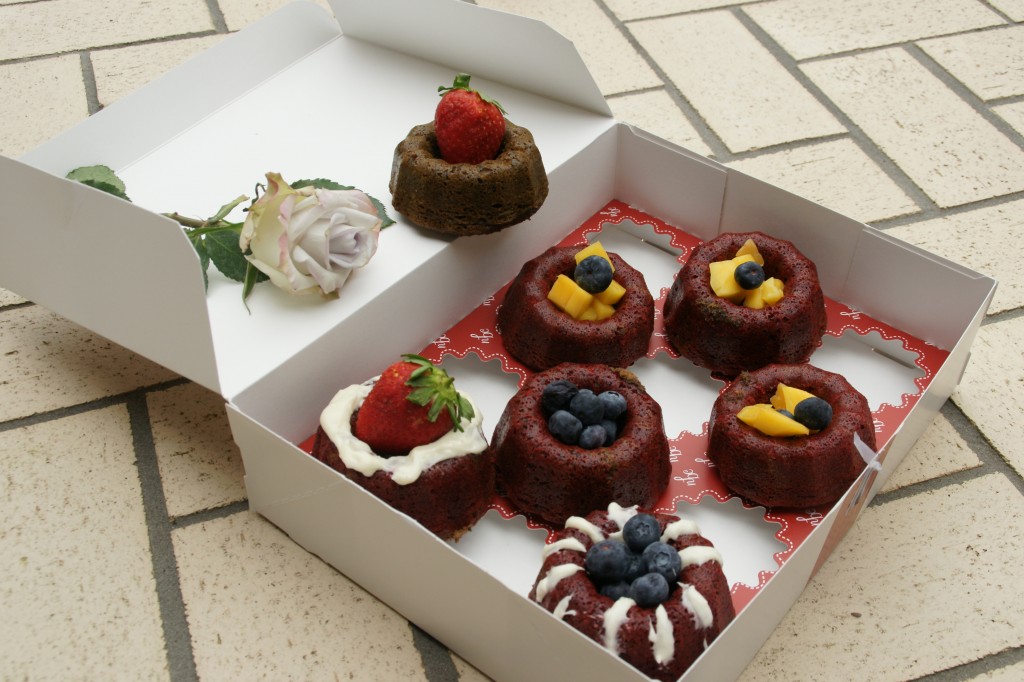 Both dark chocolate and beets  add antioxidants to Double Chocolate Mini Bundt Cakes.  Make the cake batter without the beets for double chocolate cake. Spoon half of batter into mini bundt cake pans and bake. Add cooked, mashed beets and red food coloring to the remaining batter and bake.  Red velvet cake is often dry, but beets keep the cake moist and tender.
Double Chocolate and Red Velvet Mini Bundt Cakes
1 cup butter
2 cups sugar
1 teaspoon vanilla
3 eggs
1/4 cup cocoa powder
2 cups cake flour
1 teaspoon salt
1 teaspoon baking soda
1 teaspoon vinegar
1 1/2 cups plain yogurt
1/2 cup dark chocolate pieces
Preheat oven to 350 degrees. Beat butter and sugar in mixing bowl until light and fluffy. Beat in vanilla, eggs and cocoa powder. Combine flour, salt and baking soda in mixing bowl. Stir flour mixture into butter/sugar mixture at the same time as stirring in vinegar and yogurt. Fold in chocolate pieces.
Spray mini bundt cake pans with cooking spray and immediately spoon batter in pans. Bake for 12 to 15 minutes or until top is slightly moist but springs back when touched.  Turn out of baking pans and allow to cool. Decorate with frosting or fresh fruit.
For Red Velvet Chocolate Cake:  Add 1 teaspoon red food coloring (optional) and 1/2 cup cooked, grated beets.  Microwave 1 beet that is  pricked with a fork for 3 to 4 minutes until tender at 100%.  When cool enough to handle, cut off stem and root end; peel beet. Process in food processor until finely chopped and stir into batter.
Makes about 12 Mini Bundt Cakes
For Vanilla Mini Bundt Cakes: Omit cocoa and chocolate chips. A high quality vanilla will make these mini bundt cakes even better.
For Red Velvet Cake with a strong red color and no food coloring, omit chocolate and chocolate chips. Prepare cooked and mashed beets and stir into batter.
For Lemon Mini Bundt Cake: Omit coca and chocolate chips from main recipe. Stir in 1 teaspoon lemon flavoring and 2 tablespoons lemon juice.
Cream Cheese Frosting
1 (8 oz) package cream cheese, softened
1/4 cup butter, softened
1 lb powdered sugar
2 to 4 tablespoons cream
1 teaspoon pure vanilla extract
Pinch of salt (optional)
Whip cream cheese and butter until smooth. Beat in powdered sugar, cream, vanilla and salt. Beat several minutes or up to 10 minutes for the lightest fluffiest frosting ever. Pipe onto the center of each bundt cake or drizzle lightly over the top.