I am presenting a culinary medicine program for the Skillet Creek Watershed Festival and I wanted to feature some of our favorite farm crops. Soybeans and chocolate don't usually go together but they are a really great combination for brownies. We tested them on all kinds of groups and they got rave reviews every time. No one suspected they were eating anything but a decadent chocolate brownie.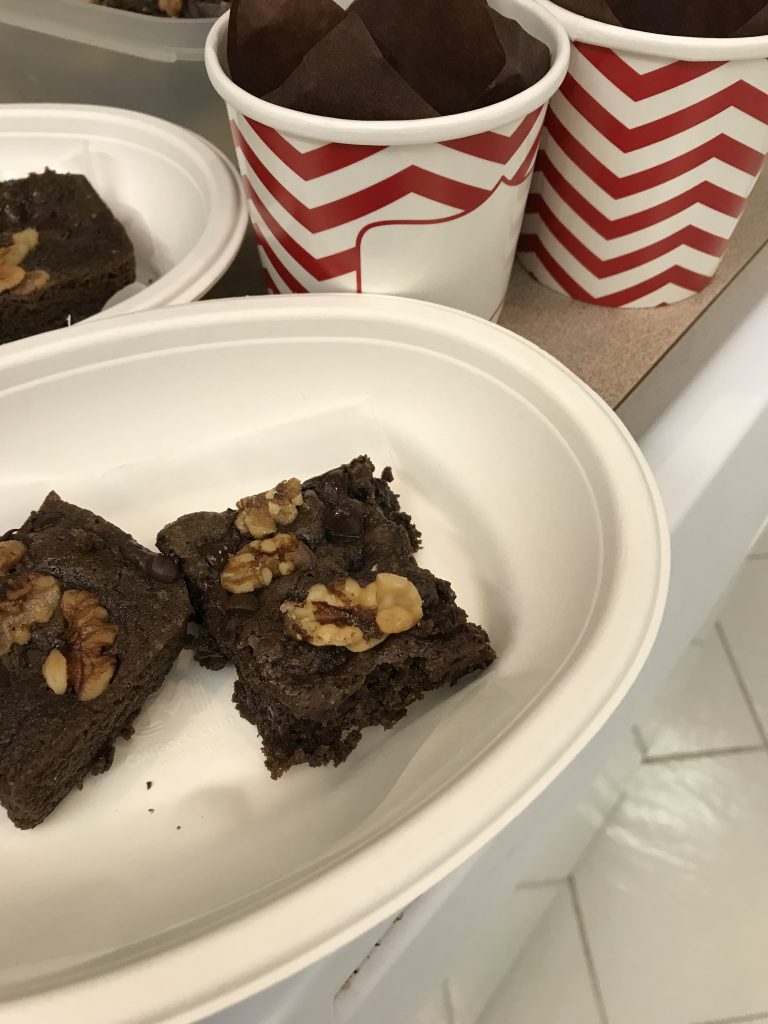 Hot Fudge Sauce over Chocolate Mousse With Whipped Coconut Milk and Black Bean Brownies
¾ cup sugar
½ to ¾  cup coconut water
1 pound silken tofu
8 ounces high-quality bittersweet or semisweet chocolate
1 teaspoon vanilla extract
1 ½ teaspoons ground cinnamon
Chocolate shavings (optional)
Heat 3/4 cup coconut water in a cup in the microwave for 1 minute or until hot. Combine chocolate and milk in blender and puree until chocolate is melted. Add remaining ingredients except for chocolate shavings in a blender and purée until completely smooth, stopping machine to scrape down its sides if necessary. Divide among 4 to 6 ramekins and chill for at least 30 minutes. If you like, garnish with chocolate shavings before serving.
Coconut Whipped Cream
One 15-ounce can full-fat coconut milk
1 tablespoon sugar or more to taste
1 teaspoon vanilla or more to taste
Refrigerate coconut milk in the can for several hours or overnight. Use the solid white layer for the whipped cream and whip it in a mixing bowl until light and fluffy. Beat in sugar and vanilla. Save the water at the bottom of the can for the mousse.
Hot Fudge Sauce
1/2 cup butter
1/3 cup unsweetened cocoa
½ cup corn syrup
1 1/2 cups sugar
1 can (12 oz) evaporated milk
2 teaspoons vanilla extract
Dash of salt (optional)
Combine all ingredients in 2-quart measure. Microwave for 3 to 4 minutes or until boiling, stirring several times to keep it from boiling over.  Drizzle over mousse with coconut whipped topping.
Decadent Chocolate Bean Brownies
1 1/2 cups cooked beans, Black, Soy, or Pinto
2 tbsp dark cocoa powder
3/4 cup quick oats
1/4 tsp salt
1 cup sugar
1/4 cup cold pressed sunflower oil
2 eggs
2 tsp pure vanilla extract
1/4 tsp baking powder
1/4 tsp baking soda
2/3 cup chocolate chips
more chips and walnuts for sprinkling on top
Combine beans and cocoa in a food processor and process until well blended. Add remaining ingredients except for chocolate chips in a food processor and process 2 to 3 minutes or until well blended. Stir in chocolate chips. Spread in an 8×8-inch pan which has been sprayed with cooking spray. Top with more chips and nuts. Bake at 350 degrees for 20 to 25 minutes or until edges are set. To slice perfect squares, refrigerate. If you like fudgy brownies, eat the edges while warm and refrigerate the rest.
Candied Jalapenos
1 pound jalapeno peppers
2/3 cup cider vinegar
2 cups white granulated sugar
1/2 teaspoon turmeric
Slice the peppers into uniform 1/8-1/4 inch rounds.
In a large pot, bring cider vinegar, white sugar, and turmeric, to a boil. Reduce heat and simmer for 5 minutes. Add the pepper slices and bring to a boil. Boil about 4 minutes. Use a slotted spoon to transfer the peppers to a jar. Turn heat up under the pot with the syrup and bring to a full rolling boil. Boil hard for 5 minutes. Pour over peppers. Store up to 3 months in refrigerator or process in a hot water bath for longer storage.
Sour Dough Focaccia Bread
1/3 cup sourdough starter
3 cups flour
1 1/4 teaspoon salt
1 1/2 cups warm water
1/4 cup olive oil
1/2 teaspoon coarse salt, optional
1/4 cup grated hard cheese
3 garlic cloves, minced
4 sprigs fresh rosemary leaves
Combine sourdough starter, flour, salt , and water in bowl or bread machine. Knead for 8 to 10 minutes or until smooth and no longer sticky. Remove dough and fold over on itself several times. Place in a greased bowl, turning greased side up. Cover with a wet towel or plastic wrap and allow to stand until double, about 3 hours.  Spread half of olive oil over a 11 x 14 baking pan.  With hands stretch dough to fit a greased baking pan.  Spread with remaining olive oil and minced garlic. Top with cheese, salt and rosemary leaves. Let rise about 2 hours or until double in bulk. Bake at 400 degrees for 15 to 20 minutes or until lightly browned.