Below is my Tiny Steak and Veggie Bites video. They are so fun to make and can be served as a little appetizer next to a great chimichurri sauce. Skip to the end of the blog for recipes.
Hope you enjoy the video.
Chimichurri sauce brings out the umami in steak and dresses the vegetables in steak bites with just the right touch of seasonings. The first Time I tasted steak with a chimichurri sauce, I just had to find out what was in this delicious mixture. Come to find out, it had all of my favorite flavors all rolled into a full-bodied olive oil. The sauce used in this recipe has lots of minced parsley and cilantro with garlic and shallots, peppercorns and salt. Together they bring out a wonderful flavor in the steak wrapped sweet potatoes, beets and shallots.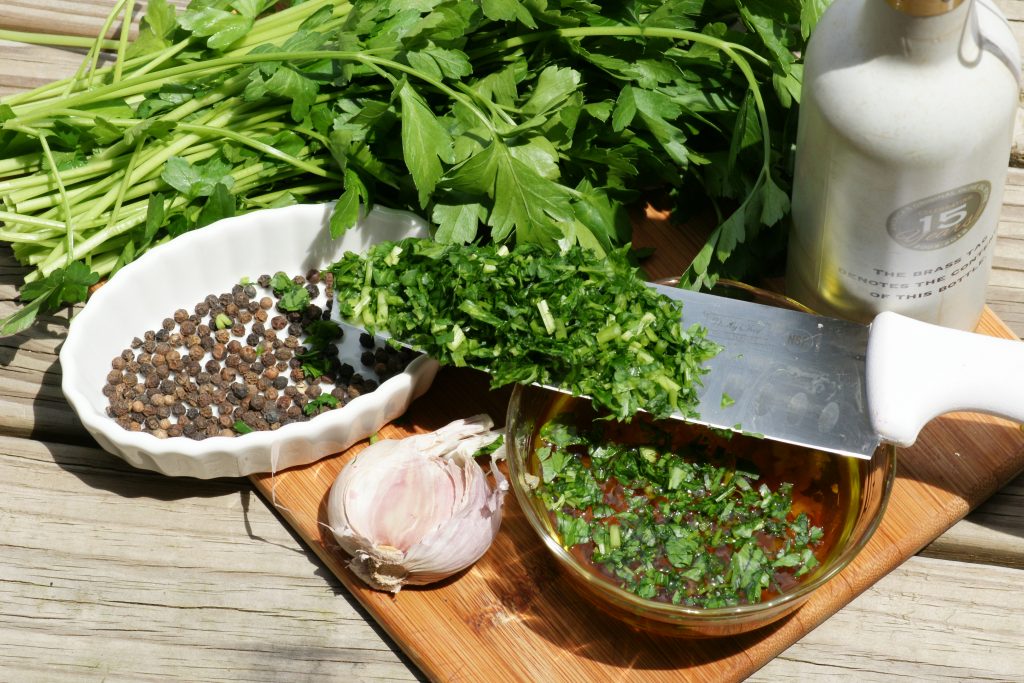 All of the beautiful colors of beets, from the leaves to the roots, can be cooked. In this recipe I just use julienne slivers of the root but the greens can be sautéed and served as an accompaniment to the steak and veggie bites. I microwave the vegetable slivers each separately to keep the red beet color from turning the shallots and sweet potatoes red. It takes only a few minutes to cook each of the vegetables in the microwave and no added oil is needed.  If roasting the vegetables in the oven, rub or toss with oil and plan on at least 30 minutes if cooking the root vegetables whole. If the vegetables are cut into slivers before roasting, time can be reduced to about 15 minutes.
I marinated the flank steak with a smidgen of oil and vinegar. The acidity of the vinegar serves as a tenderizer. Marinate the steak at least 15 minutes or up to several hours. It can be marinated overnight but the steak will turn colors and when cooked even to a rare stage, will not have the beautiful warm, red color of a medium-rare piece of steak.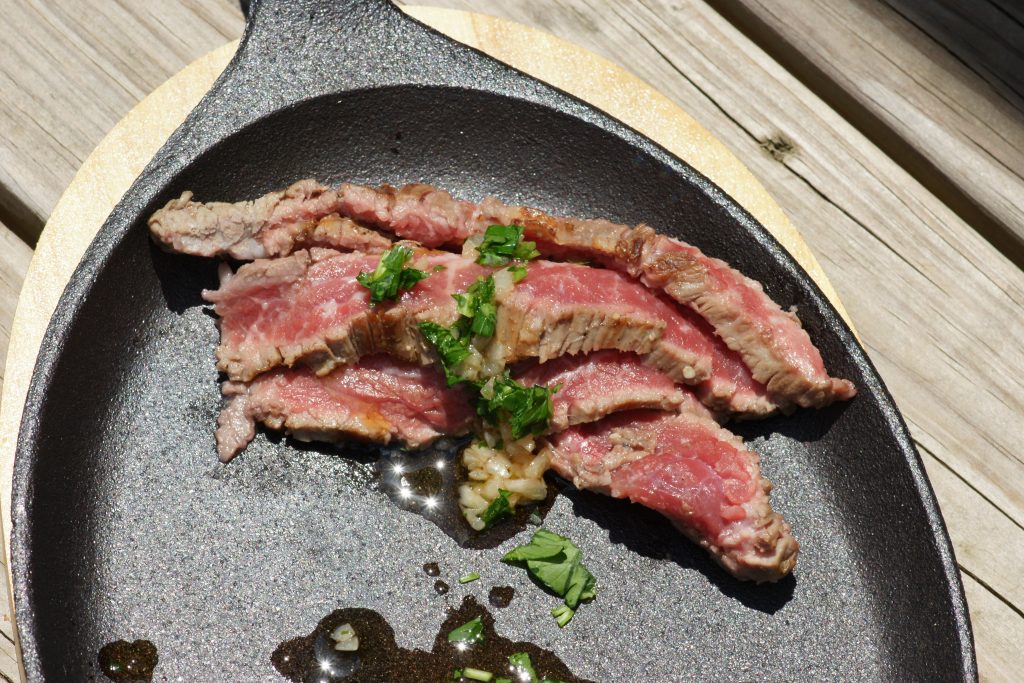 Julienne strips of beet, sweet potato and shallot are rolled in a thin slice of flank steak. I did not secure these with a toothpick but if you are planning on transferring to a serving platter or serving as a finger food, a toothpick would be handy to hold it all together.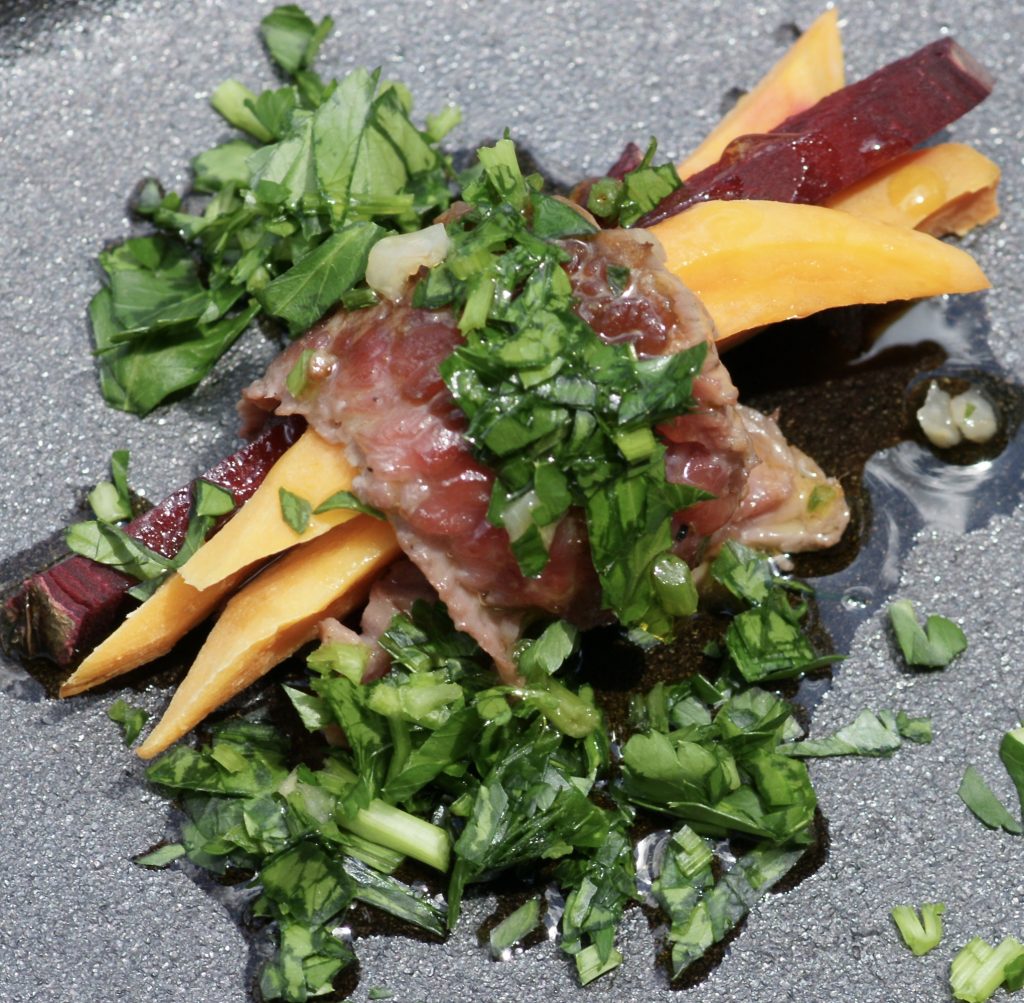 Chimichurri over Steak and Veggie Bites
1 to 1 ½ lb flank Steak
Marinade:
¼ cup cooking oil
¼ cup vinegar
½ tsp pepper
1 teaspoon salt
2 tablespoons snipped chives
2 cloves garlic
Sage
Rosemary
Oregano
¼ preserved lemon or zest of one lemon
Filling:
2 sweet potatoes, julienne sliced
2 beets, julienne sliced
2 shallots, julienne sliced
Place flank steak in a bag or shallow dish. Add marinade ingredients and turn several times to coat flank steak. Marinate for ½ hour or up to several hours.
Place julienne slices of sweet potato, beets and shallots each in a separate microwave dish, add 1 tablespoon water. Microwave (100% high) 2 to 3 minutes or until tender, stirring once. Drain and let cool.
Remove flank steak from marinade. Grill flank steak over very hot coals or on a preheated gas grill until a really nice brown sear develops, about 5 minutes. Turn flank steak and grill just a few minutes so the outside has grill marks and the center is a warm pink or medium rare.
While still hot, carefully thinly slice flank steak across the grain. Take one thin slice of beef and wrap around a few strips of sweet potato, beet and shallots. Repeat with remaining ingredients, serve hot with chimichurri sauce. Makes 20 steak and vegetable bites.
Chimichurri Sauce
1 handful fresh parsley
1 handful fresh cilantro
2 cloves garlic
1 medium shallot
1/2 cup olive oil
2 tablespoons red wine vinegar
1 teaspoon salt
1/4 teaspoon black pepper
Combine all ingredients in a blender or food processor. Process 30 seconds or until all the herbs are blended but still a little chunky. Serve with steak bites.