Produce from Frog Song Farms arrived on the "Fox TV" set. Andria and I do not know what is in it. We wanted to peek, but we kept the box sealed so we could open it on live TV. The pressure will be building and we are preparing for a challenge. We don't know what produce is in the box until we cut open the seal and check it out. It will be fresh, seasonal produce from the farm, but that is all we know. Our task is to turn this mystery  produce into a delectable entree or side dish in just 20 minutes. How much of the produce did we use and how long did it take to prepare? Take a look for yourself. Here is a photo of what came in the box and further below are the recipes we dreamed up in minutes.
Between the dicing, chopping, sauteing and cooking, we talked culinary medicine. The strength of learning culinary skills for medical students is that it is a tool to show patients how to take their health in a new direction.  Instead of a negative message like "you have to stop this…" "you need to quit that…", it becomes a positive message. Culinary Medicine  gives future medical doctors the experience and words to explain to patients that it is possible to cook whole foods even with crazy, busy lives. The power of teaching culinary medicine to individuals and the community as a whole is that healthy cooking can be fun. Life is stressful and we all "do the best we can with the resources we have". Teaching culinary skills adds to those resources.
Eating healthy is the doorway to good health. There are barriers like a lack of cooking skills that keep us from moving towards healthy cooking. Andria and I wanted to show just a couple of cooking skills that we think are fun.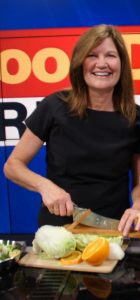 It is not easy to come home after a busy day and cook a meal that includes lots of healthy produce but it is worth the effort health-wise and making it fun can make it sustainable. These mini frittatas are fun to make and eat!
Mini Vegetable Frittatas
3 eggs
1/4 cup milk
1/4 teaspoon salt
1/8 teaspoon pepper
1 teaspoon Dijon mustard
1/4 cup shredded cheese
3 tablespoons shredded Parmesan cheese
1 cup chopped, lightly cooked broccoli, red pepper, kale or other favorite vegetables
Combine all ingredients in a mixing bowl and mix until eggs are blended with cheese and other ingredients. Coat a small muffin tin with non-stick cooking spray. Pour about 1/4 cup of egg mixture in each muffin cup. Bake at 350 degrees for 20 to 25 minutes or until set. Serve warm.
Makes 6 mini Frittatas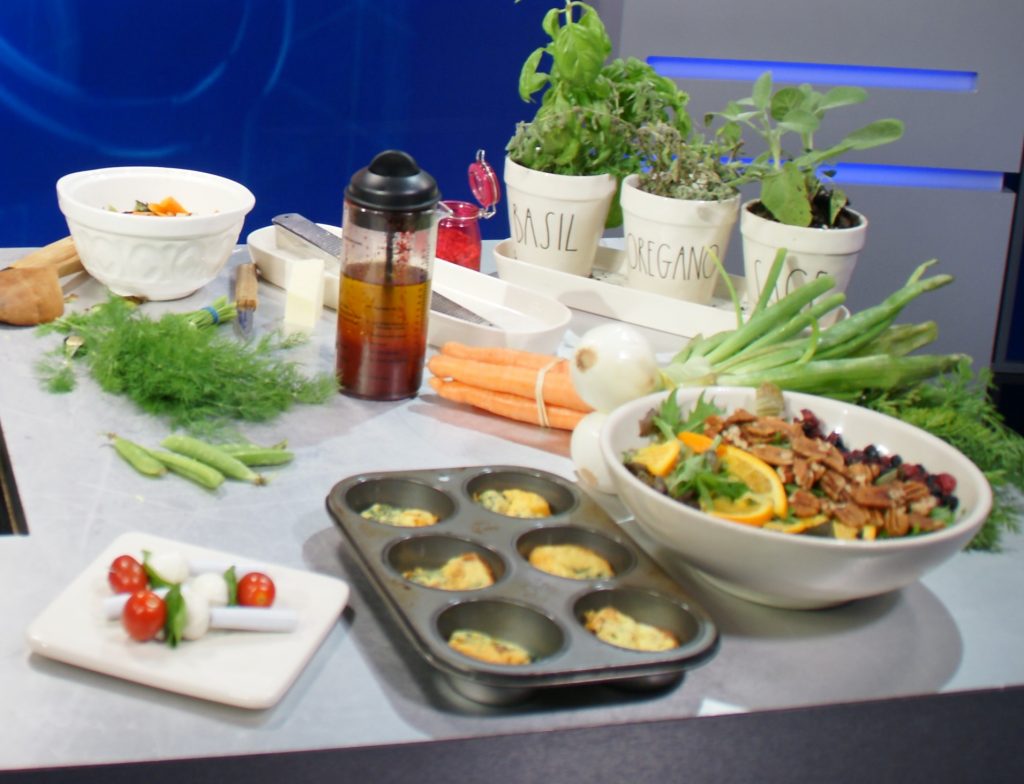 When Andria was working and living in Italy, I visited her twice. We found out Italians serve these egg based vegetable frittatas at any meal of the day. Italians do not reserve eggs just for breakfast.
We also make a simple stir-fry on the air. We often think of stir-fries with oriental seasonings. This one uses an Egyptian blend of nuts, spices and herbs called  dukkah for a amazing flavor.
Stir-Fried Vegetables Seasoned with Dukkah
1 medium onion, julienne sliced
2 tablespoons oil
2 cloves of garlic, minced
2 cups carrots, cut into matchstick-sized pieces
1 head Napa cabbage, sliced
1 lb pea pods
1 tablespoon Dukkah, Mrs dash or other favorite vegetable seasoning
In a wok, cast iron pan or saute pan, heat oil slightly and stir-fry onion until translucent. Add garlic and stir-fry another minute. Add carrots, cabbage and pea pods. Stir fry about 3 to 4 minutes or until tender-crisp. Toss with Dukkah or seasoning.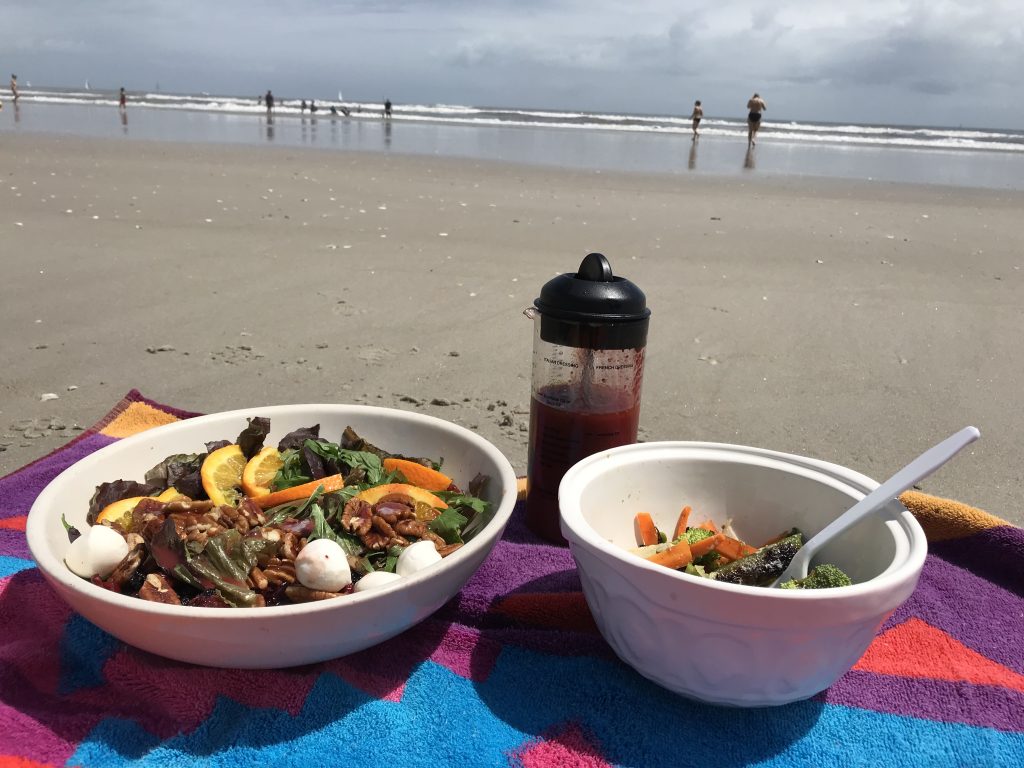 Balsamic-Basil Penne
1 lb. penne pasta
3 cloves garlic, minced
1 tablespoon oil
1 cup grape tomatoes, cut in half
1/4 cup balsamic vinegar
1 cup broccoli pieces
1 bunch basil, cut into strips
1/2 cup Parmesan cheese
Prepare pasta according to package directions. While pasta is cooking, saute garlic in oil for about 30 seconds. Add tomatoes and cook over medium heat until softened, about 3 minutes. Add balsamic vinegar. Cook until slightly thickened about 2 minutes, stirring constantly. Add broccoli to pasta the last minute of cooking so it turns bright green. Drain pasta. Add sauce and stir in basil. Add salt and pepper to taste. Garnish with cheese.
The greens in the lower left hand corner of the photo are mizuno, a Japanese salad green. A wonderful, mild flavored addition to our salad that we made on the FoxTV set.
Mizuno with Strawberry Viniagrette
Salad:
4 cups mizuno, red romaine  or other salad greens, torn into small pieces
1/2 cup dried berries
1/2 cup toasted pecans
3 very thin slices of fresh orange
1/2 cup crumbled goat cheese
Dressing:
2 cups strawberries, pureed
1/2 cup olive oil
1/4 apple cider vinegar
1 teaspoon Dijon mustard
1/4 teaspoon salt
1/8 teaspoon pepper
Combine salad ingredients in a serving bowl. Combine dressing ingredients in a blender. Blend until smooth. Drizzle over salad just before serving.