One of my favorite things about the farm was foraging for berries and other edibles in the woods. Berries were a thing to be prized. If we found a bush, we would eat them on the spot, knowing that finding that same bush again before the deer or other animals was too risky. One day Jeff was harvesting and at lunch he said "Hey Jacque, I found some berries". He knew that was all it would take to get me to scamper off into the woods to find a few berries for a pie. I am sure he was hoping for a piece when he got done with the field that day.
It was a great way to grow up. There were mulberries, black raspberries, chokecherries, gooseberries and more growing wild in the fence rows and woods. Aronia berries were not something we found when I was growing up on the farm but they are native and it is likely they were in the woods a few generations ago since they grew wild in many parts of the country.
Berry Smoothie
1 cup yogurt
1/4 cup berries
1 banana
1/2 cup of fruits or vegetables such as carrot, oranges, pineapple
1 cup ice cubes
Combine all in blender and blend until thick and icy. Serve immediately.
My sister Becky discovered this wonderful, tart berry and decided to put sticks of aronia berry plants into a field. I think she told me she has picked about 400 lbs of berries and cleaned them herself. She sent me home with a huge bag and I made Aronia Berry Syrup that reminds me of the syrups I made as a child out of chokecherries and other berries.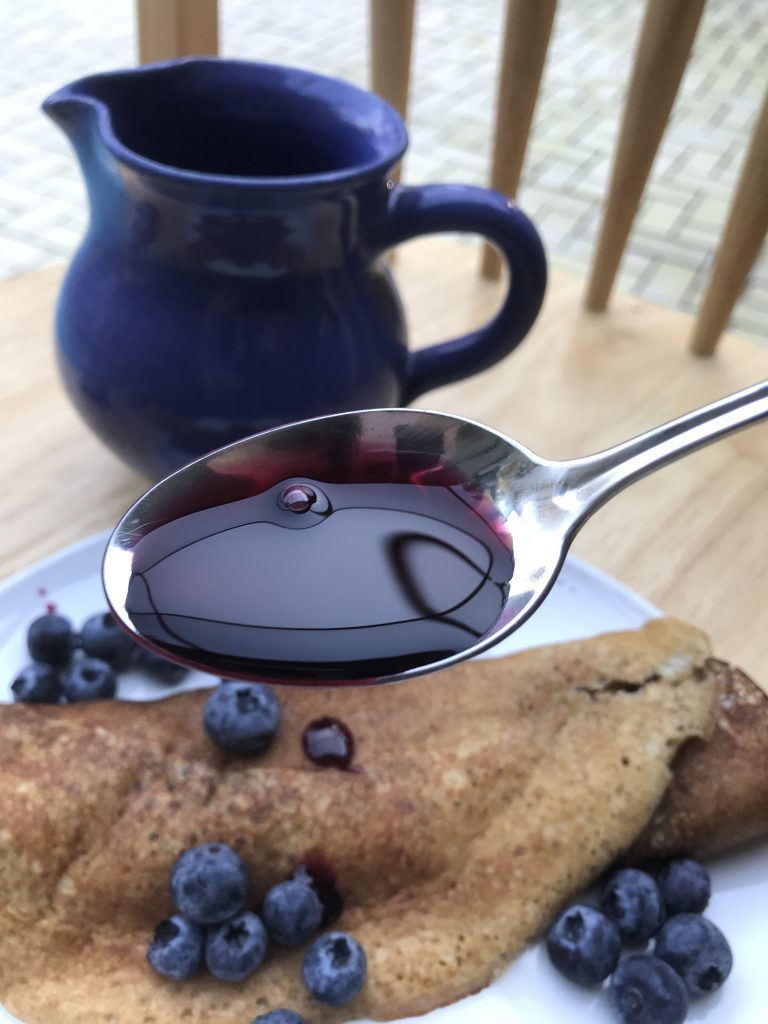 The aronia berry syrup is so good on buckwheat crepes but another favorite is to add it to yogurt that I make in re-purposed jars. Yogurt and aronia berry syrup keep for a long time in the refrigerator. Perfect to pack in a lunch.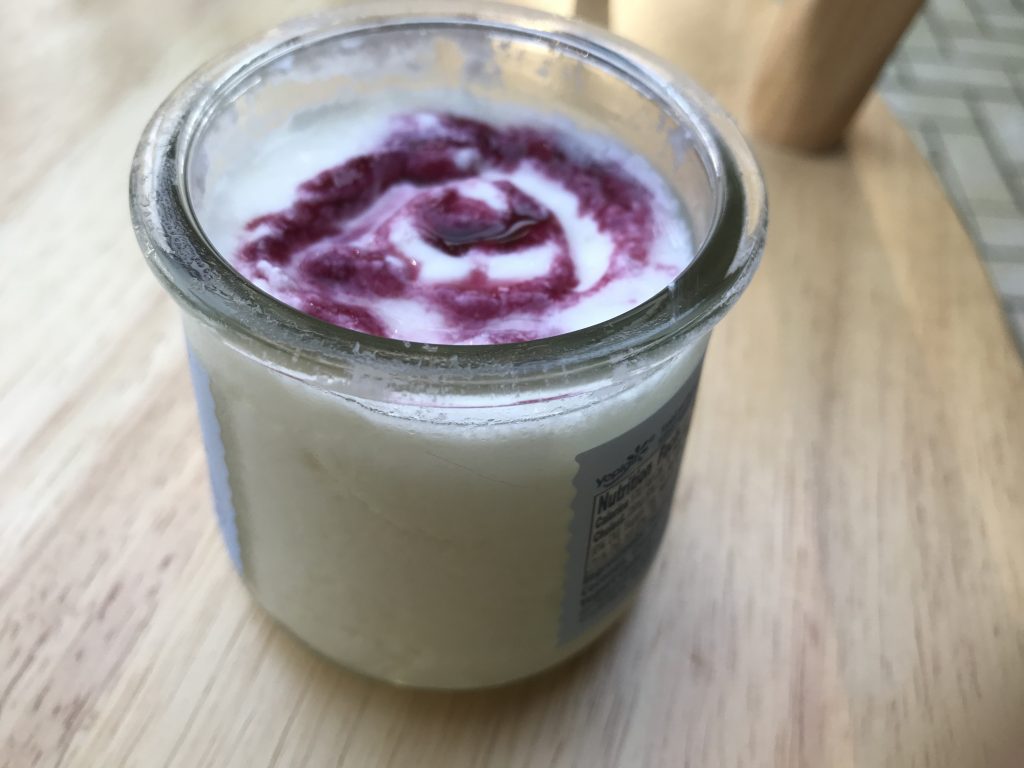 Becky's French Apple & Aronia Berry Pie
Pie Filling:
4 cups apples peeled & sliced
1 cup aronia berries
2/3 cup sugar
¼ cup flour
½ tsp cinnamon
Single crust for pie with edges crimped
Topping:
1 cup flour
1 cup brown sugar
¼ tsp salt
¼ tsp cinnamon
½ cup butter
Combine filling ingredients and put in prepared pie crust. Mix crumble topping by cutting the butter into the dry ingredients until it resembles a coarse meal consistency.  Sprinkle on top of the apples and berries.  Bake at 325 degrees for 50 minutes or until apples are tender when pricked with a fork.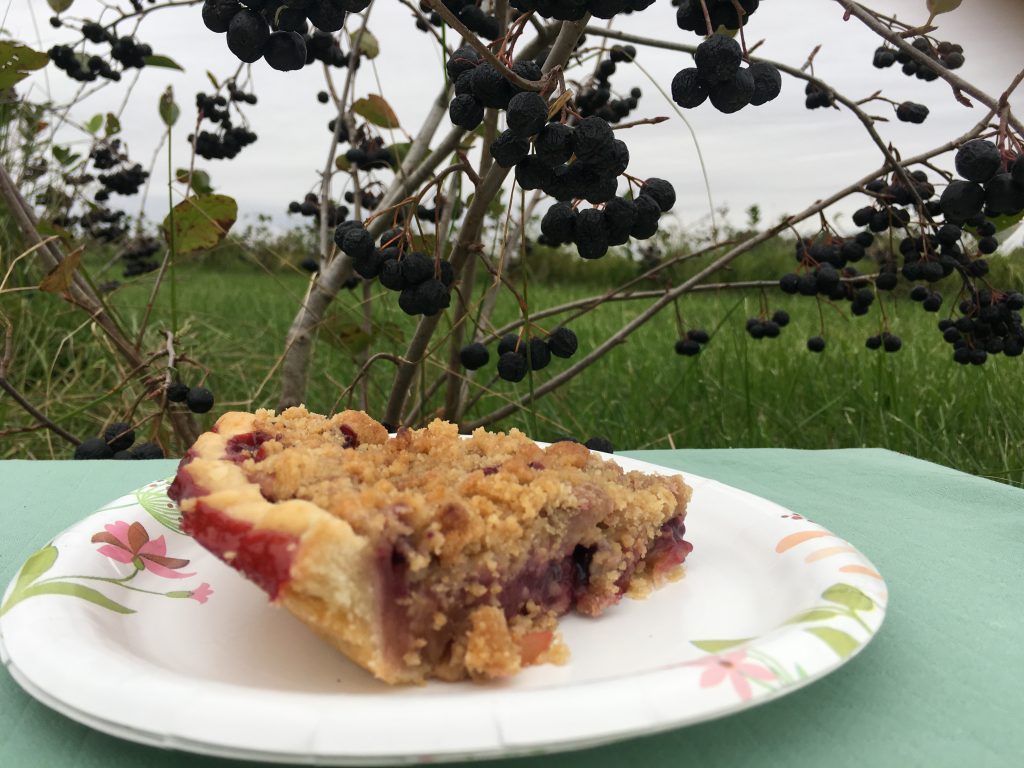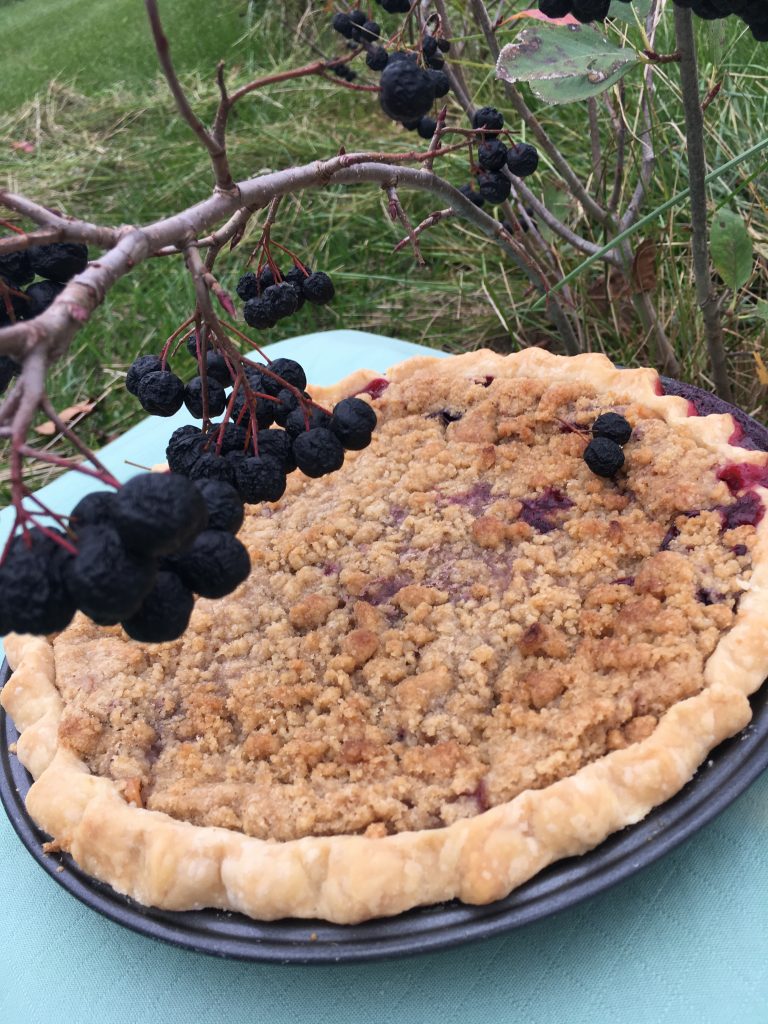 Here is Becky's story:
We started an aronia berry acre when we learned how healthy they were.  They are full of antioxidants and good for every organ in the body. Through experimentation we have grown to enjoy them in lots of different ways. From drinking the juice, adding them to baked goods, processing them in jams and jellies, adding to chocolate candies, simply snacking and the list just keeps on going.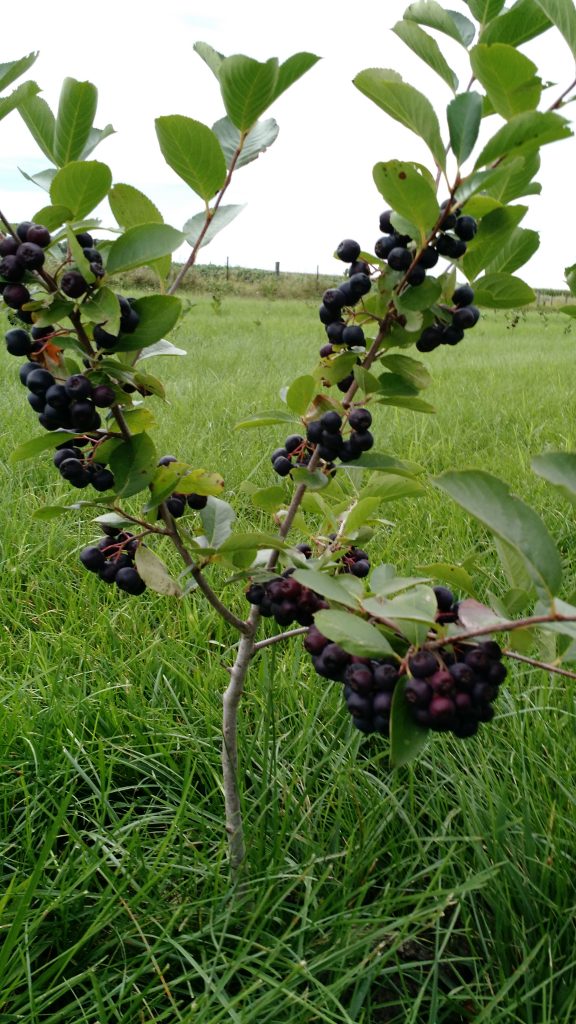 It is pretty hard to beat a piece of the American apple pie but adding aronia berries enhances the color, flavor, and adds a little more nutritional value. This is now our new favorite apple pie.
Email Becky at krfazenda@yahoo.com if you would like to taste some aronia berries.
Berry-Almond Tart
1 cup all-purpose flour
¼ cup sugar
1/2 teaspoon baking powder
¼ cup butter, cut into small pieces
1 large egg
½ cup almond paste
1/3 cup sugar
3 large eggs
1 teaspoon finely grated lemon zest
1 teaspoon of rose water, optional
6 tablespoons (3/4 stick) unsalted butter, softened
1/3 cup all-purpose flour
1 cup fresh or frozen aronia berries, raspberries or other berries
Combine flour, sugar, baking powder and butter in a food processor. Process 3 or 4 short bursts, just to cut in butter slightly. Add egg and mix for just a few seconds until mixture is no longer dry. Form dough into a ball and flatten into a disk. Roll out on a floured board to about 1/8-inch thick. Place in a tart pan and press dough lightly to cover bottom and sides. Combine remaining ingredients in a food processor and process until smooth. Pour almond mixture into crust. Top with berries. Bake at 350 degrees for 45 minutes or until almost set in the center. Allow to cool before serving.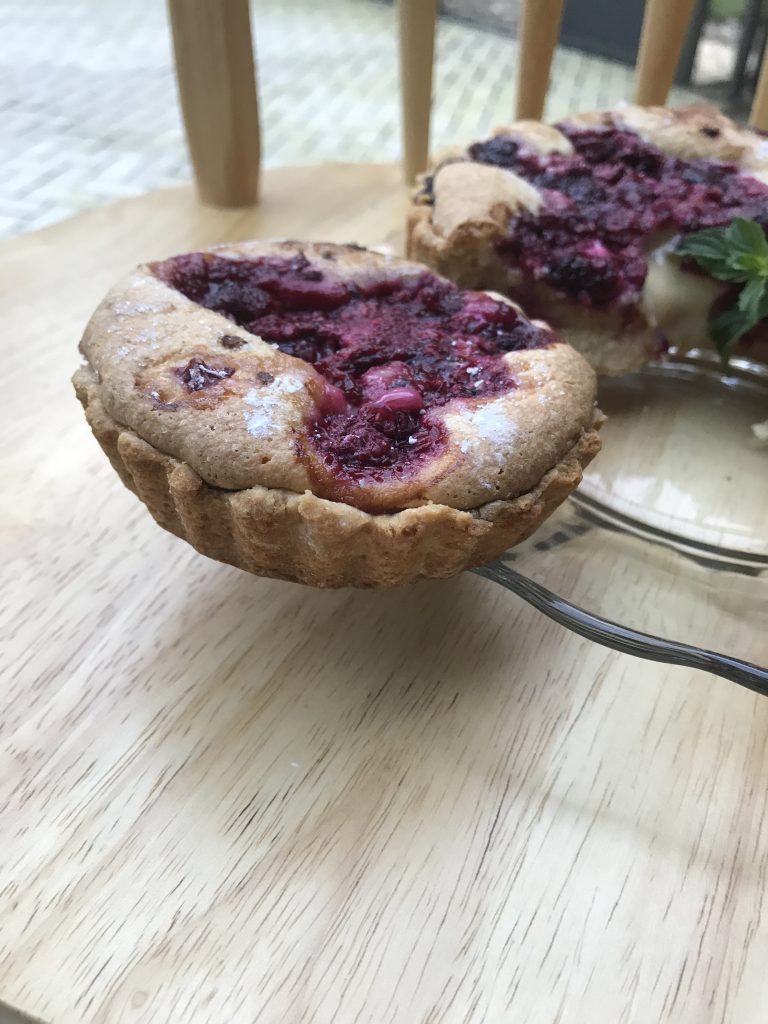 Aronia Berry Syrup
5 lbs berries
1/2 cup water
Sugar to taste (I used about 2 cups)
Combine cleaned berries and water in a deep pan. Bring to a boil and lower the heat so mixture simmers. Cook for 30 to 40 minute or until mixture is thick. Strain through a cheesecloth. To make syrup, add sugar and cook mixture until thickened.